May 14, 2018 Cheap Eats
Top 10 Cheap Eats in Auckland
Metro's food judges whittle down Auckland's Top 50 Cheap Eats 2018 to the best of the best. In no particular order, here are the top 10 places to get great food for $20 or less.
Petra Shawarma
It's certainly cheap but the food doesn't come fast at Petra Shawarma — a price we happily pay for the lack of shortcuts in the kitchen. Mains of chicken, lamb and beef, served with rice or as sharwamas, shine with a commitment to quality ingredients. Service is friendly enough but often slow to the point of glacial, so spare yourself a hissy fit by showing up before the famished stage.
482 New North Rd, Kingsland
? Vegan-friendly ? Vegetarian-friendly
For more great videos, check out our Youtube Channel.
Epolito's Pizzeria
There's quite an art to edging out the door of Epolito's with a massive pizza box or two in hand, not to mention manoeuvring it into your car. In true New York style, the pizzas here are big — they come in large (14-inch) or extra-large (18-inch) sizes. The bases are hand-stretched and just the right degree of chewy. As for the toppings, owner Chickalena Rose keeps them simple, and the meatballs and sausage are homemade to family recipes.
166 Richmond Rd, Grey Lynn
? Vegetarian-friendly ? Licensed
Chongqing Noodles
They had us at "slobbery chicken". Literally translated as "mouth water chicken", this is one of the most famous Sichuan dishes and features tender poached chicken in a mouthwatering chilli sauce, with lots of fresh herbs. Here it's made beautifully — searingly hot and juicy. The rest of the menu is equally well executed, from the comforting braised-beef noodle soup or dumplings in spicy sauce to pork ears and trotters, beef tendons, chicken feet, and tripe for the adventurous.
340 Dominion Rd, Mt Eden
? Vegetarian-friendly
Eden Noodles Cafe
Years pass, but the crowds still brave all weathers in long queues outside this tiny hand-pulled-noodle shop. Perhaps they're trying to work through the lengthy menu, though judging by hundreds of social media posts we'd say that — like us — the diners are still there for dumplings in spicy sour soup, or mouth-numbing, porky dan dan noodles. Owner Mrs Xiao is constantly tweaking her custom sauces to achieve ultimate lip-tingling satisfaction. Looking to branch out? Try the noodles with dry seafood and special sauce with a little soup.
105 Dominion Rd, Mt Eden and 14 Corinthian Drive, Albany
Mamak
Malay words line the walls of Mamak; some are useful, others foreshadowing ("makanan memang sedap" or, "the food was delicious"). A bowl of heavily spiced Sarawak laksa may be the champion here, but the Penang assam is a worthy contender; tangy with tamarind and pineapple and served with dollops of heh ko (prawn paste). Other recommendations include hawker classics Hainanese chicken, char kway teow, nasi lemak or roti canai. Pair the meal with a glass of teh tarik (a Malaysian specialty tea), served hot or cold and pulled theatrically for you at the counter, often by the owner himself.
6 Huron St, Takapuna
? Vegetarian-friendly ? Licensed ? Halal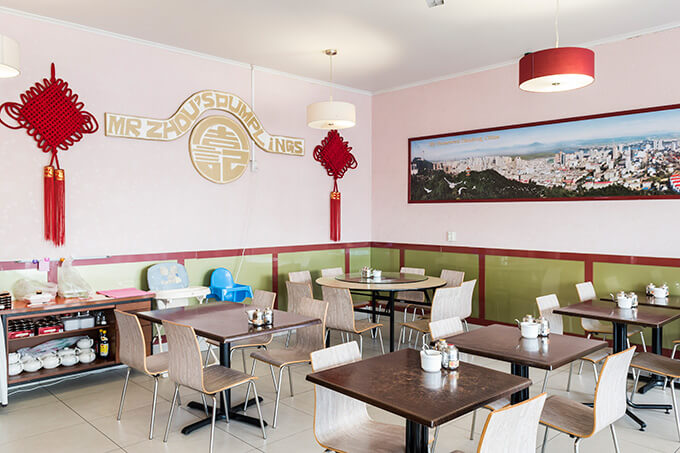 Mr Zhou's Dumplings
There aren't too many woes that a giant plate of juicy steamed or fried dumplings from the extremely popular Mr Zhou's can't fix. Pork-and-cabbage are great if you're looking for a soy-savoury comforting option — or try pork-and-fennel if you want a stronger flavour hit (the beef, chicken and vege varieties are especially popular with kids). Perfect your ultimate combination of black vinegar, soy and chilli oil for dipping, and you're away.
3130 Great North Rd, New Lynn and 839 Mt Eden Rd, Mt Eden
? Vegan-friendly ? Vegetarian-friendly
Paradise Indian food
This popular Mughlai restaurant is slowly taking over the Sandringham shops: it now has three branches within walking distance of each other. Why? Because Paradise is the most consistently good restaurant on the strip. Use your hands to rip apart tandoor-cooked breads and scoop up your biryani or generously meaty curry. The owners have recently set up a free food station in the takeaway arm of their operation, with excess food given away rather than binned — admirable indeed. Halal.
591 Sandringham Rd, Sandringham
? Vegan-friendly ? Vegetarian-friendly
Ramen Takara
Ramen Takara is often used as our yardstick for all vendors of this soupy noodle dish. For many of our judges, it's their top pick. Whether you prefer a deep, comforting savoury-style sesame, pork, soy, miso, kombu or seafood-based broth for your noodles or something a little spicier like the tom yum and tan tan variations, Takara has you covered. Definitely don't miss sides such as crispy renkon chips and agedashi tofu. There's a food truck available for events, and rice noodles on offer for vegans.
4 Anzac Rd, Browns Bay and 272 Ponsonby Rd, Ponsonby
? Vegan-friendly ? Vegetarian-friendly ? Licensed
Tianze Dumpling House
Ignore the all-red frontage of Tianze Dumpling House at your peril. Do you really want to miss out on a range of dumplings that rivals the very best that Dominion Rd offers? Chef/owner Levi Sun, who hails from Dalian, crafts 17 different dumplings, which come boiled, pan-fried or steamed. Our favourite? Pan-fried prawn, pork and chive. But we also love chef Sun's shredded pork in sweet bean sauce served with 10 mini-pancake wraps, and his Mongolian lamb chops with pancakes.
695 Sandringham Rd, Sandringham
? Vegan-friendly ? Vegetarian-friendly ? Licensed ? BYO
For more great videos, check out our Youtube Channel.
Wang Wang Spring Pancake
It's theatre at the table at Wang Wang Spring Pancake, where plates of shredded crispy vegetables and tastebud-tempting meat accompany gossamer-thin, see-through pancakes for you to make your own spring rolls — to eat them means to "bite the spring" for good luck after the winter. Wang Wang also delivers braised eggplant on rice, and sticky stewed pork belly with pickled cabbage to die for. Closed Mondays.
704 Dominion Rd, Balmoral
? Vegetarian-friendly