May 17, 2018 Cheap Eats
Slurp city
These are the top five places in Auckland to get cheap and delicious noodle dishes, from the Metro Top 50 Cheap Eats list for 2018.
Ramen Do
Japanese chef Hidenobu Tanimukai trained in his hometown of Sapporo at the locally renowned Teshikaga Ramen shop. At 60, he's been making ramen his entire working life. Here, both traditional ramen and tsukemen noodles are machine-made in-house. The machine consists of three main parts: the mixing bucket, roller, and cutter. For ramen noodles (pictured), Tanimukai begins with flour, 10 eggs, gluten, salt and kansui (an alkaline solution), which form a crumbly dough. After mixing — which takes three hours — the dough is rolled around lengths of pipe to rest. Later it is re-rolled into 1.2mm-thick sheets and then passed through the curly cutter — curly noodles bring more soup into the mouth when eaten. For tsukemen (dipping noodles), Tanimukai uses oatmeal as well as regular flour to give a stronger taste and distinct texture. Since they're dipped into the broth for this dish rather than submerged, the noodle flavour should complement the stock. Tsukemen noodles are cut straight to allow for adequate drainage post-dip.
167 Symonds St, Eden Terrace

Yong's Hand Pulled Noodles
At this food-court gem, where noodles are pulled to order, the focus is on technique rather than ingredients; the dough contains only flour, water and salt. Head chef James Mu pulls, flicks, stretches and twists lumps of dough into submission, giving softness and elasticity. Softened dough is then shaped into triangular, round — large or thin — or flat wedges to be pulled. From here the dough is split into individual noodles between the chef's fingers — then pulled to give length. Seven pulls is traditional, Mu tells Metro, but for a thinner noodle there can be up to 12 pulls. Mu says there are more than a million lanzhou beef ramen shops like his across the world, and the best of these pull their noodles to order and make stocks in-house. "Everything is better hand-made," he says.
15 Pearn Cres, Northcote (also central city, Howick)
Read more: Top 10 Cheap Eats | Auckland's best bars | Auckland's best cafes | Auckland's best restaurants | Best hangover cures in the city
Zool Zool
Chefs Kazuya Yamauchi and Toru Hirae make their Tokyo-style noodles daily then give the dough a chance to relax. "They taste better after three or four days in the fridge," says Hirae. They don't use exactly the same technique or recipe every time, either, because the dough is temperamental, changing in elasticity and chew depending on, amongst other things, the humidity at the time of making. The recipe begins with a 50/50 mix of strong bread and pastry flours along with water, salt, and cold kansui. The latter gives a yellow colour and provides a distinct, natural aroma — eggy without any egg. This basic liquid also gives stability to the noodle, making sure it won't disintegrate when left in hot soup, and gives a firm springiness on the tooth. Zool Zool serves 125g of thin noodles in broth, while 160g of thick noodles are used in zoolmen (reduced broth) dishes because a denser noodle is more pleasing to eat dry.
405 Mt Eden Rd, Mt Eden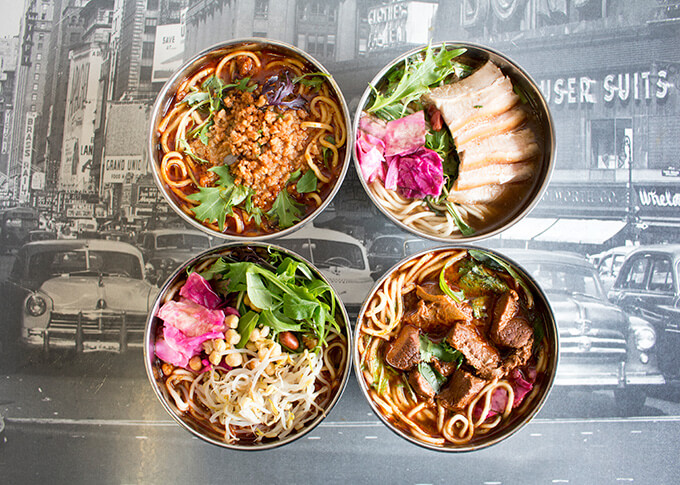 Eden Noodles
Sichuan Dan Dan Mian Eden Noodles Cafe (to use both its Chinese and English names) gets through 60kg of noodles every day, and 30kg of dumplings. Knowing this, you might understand why chef Lui Zhi and co-owner Mrs Xiao stopped making noodles in-house five years ago — it would be impossible to keep up with demand. Instead, Xiao now sends ingredients (including eggs, flour and alkaline liquid) and secret recipes to local Chinese-owned noodle factory Kwongson Foods. Some might consider outsourcing sacrilege, but Xiao knows a thing or two about quality, having been in the noodle biz for 20 years. That time includes 12 years at cooking school and five years when she cooked in hotels and restaurants across Sichuan. Her obsessive commitment to quality and tradition even saw her fly back to Sichuan to buy a special noodle blade (dao pian) that has a unique curvature to cut the dough wide in the centre and flat on the outside, meaning the finished noodles carry her custom chilli sauces better. This gift to the Kwongson factory ensures Xiao's noodles stand out from the pack.
105 Dominion Rd, Mt Eden and 14 Corinthian Drive, Albany
Shaolin Kung Fu Noodle
Owners Mike Xu and May Wang are from the Henan province in central China. Their halal kitchen is helmed by Mr Ha, who has worked with the couple since he was 17 years old, first at their restaurant in China and then when he was asked to move to New Zealand to help them set up the Dominion Rd branch of Shaolin Kung Fu in 2010. They make four types of noodles here — kung fu style, cleaver cut, fried style and thin — and have recently started using vegetable juices to colour and flavour some of the dough. This is not uncommon in Chinese cooking, with beans often added to steaming rice to encourage various textural and taste changes. Noodle making begins at 10.30am each day, with all recipes using eggs, flour and water in differing ratios. Kung fu noodles are hand pulled and thick; they're made by pulling and rolling dough through the hands. Fried are longer and udon-shaped. Thin are pulled further. Cleaver noodles — a speciality of the house — are short and lumpy and shaved straight into boiling water from a large rectangle block of dough. "What should we order?" we ask manager Carl. "I only like fried rice," he replies.
Shaolin Kung Fu Noodle, 636 Dominion Rd, Balmoral (also at Albany, central city, and Somerville)