Apr 18, 2019 Cheap Eats
After years on the road, Olas Arepas food truck has found a permanent home right in the middle of Ponsonby central. They'll be serving the same faithfully traditional South American dishes, with the same commitment to healthy food with as little environmental impact possible – but tracking them down just got a whole lot easier.
Olas Arepas make, would you guess it, arepas – a flatbread made of white maize dough which is then stuffed like a sandwich with everything from scrambled eggs, pulled pork or black beans, to coleslaw and sweet plantains. The husband-and-wife team behind Olas, Maurizio Trotta and Sofia Dostal, colour their Venezuelan-style arepas green with coriander and kale or red with beetroot and chia seeds. Because fresh hand-made cheeses are in short supply in New Zealand, they use cheddar, feta and halloumi. They have stuck closely to the traditional style of making arepas which originated hundreds of years ago in what is now Venezuela and Colombia.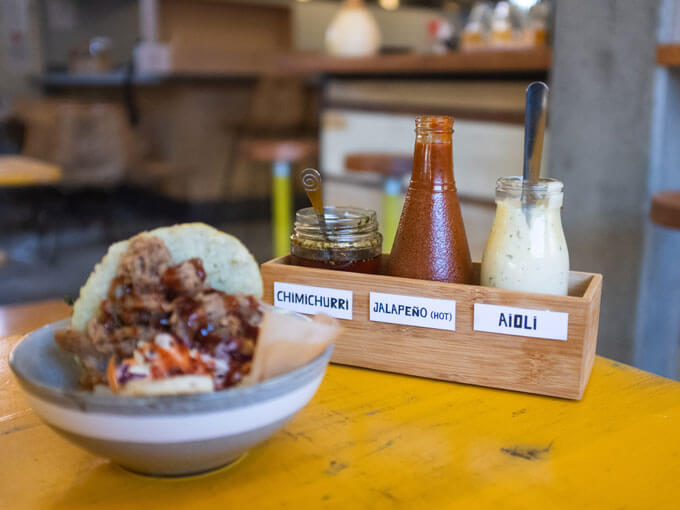 Trotta is Venezuelan and Dostal was born in Argentina, where the pair met. He's the chef and she takes care of the admin and front of house duties.
Olas have 13 filling options, each with a name harking back to its own folklore origin story and a corresponding number, for those shy about their Spanish pronunciation. Number 7, a shredded chicken salad arepa with avocado and house-made mayo, is named Reina, meaning queen. It was named for a beauty queen who nearly starved herself to death before a beauty contest. Before she could do so, she ate an arepa with this filling. Dark story but the chicken used is free range, so.
Also on the menu are cassava fries, fried plantain tostones (chips) and an ensalada mixta (mixed salad) of greens, cherry tomatoes, avocado and heart of palm (which has a similar texture to artichoke heart but has a milder, fresh and grassy flavour). Then there is vuelva ala vida, a fish, prawns, mussels, calamari and tomato dish. It's described as a South American ceviche but directly translates to "come back to life" as in: "this is going to help you come back to life after a hangover". Maurizio explains it's more of a relative of ceviche than an imitation of it, as it's cooked for a minute before being chilled in ice and soaked with lemon juice (ceviche is typically 'cooked' without heat using citrus juice only).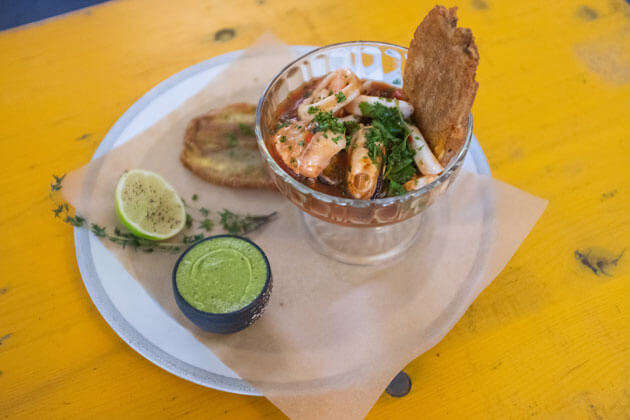 For dessert, there's a chocoflan, a hybrid of flan and chocolate cake (flan is a big thing all over South America, Dostal says) as well as milhojas de dulce de leche – a dainty and stack of pastry, sweet vanilla cream and dulce de leche which looks like a tiny wedding cake.
To wash it all down, try a papelon con limon – a fresh lemon and sugarcane juice (one of Colombia's favourite drinks). Dostal says in South America you walk down the street and mangoes drop from the trees, making fresh fruit frappes a staple. Here in New Zealand Olas are serving a few flavours; mango, strawberry, passion fruit and guava. A similarly chilled refresher, the cocada is a fragrant and icy cinnamon and coconut milkshake.
The food truck is still around and available for catering, but there's something great about having a permanent spot to head to for a heart fix of South American fare.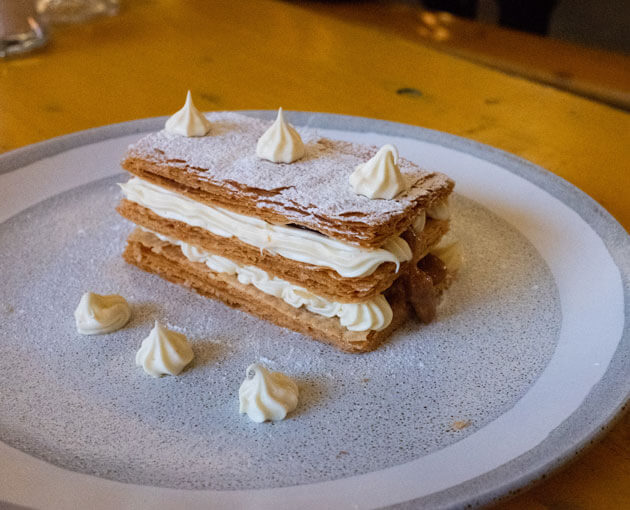 Olas Arepas is open Monday – Sunday, 11am-10pm in Ponsonby Central.
Photography: Alex Blackwood