Mar 13, 2020 Cheap Eats
"Modern" Chinese. What does that even mean? Well, here, the good-looking fit-out is fresh, the food is plated on pretty gold plates, and the $8 cocktails flow on tap. Mr Hao is a late-night Chinese skewer bar aiming to bring something a little different to Dominion Rd.
Owner Paul Wong – back in New Zealand after being away in China for about 12 years – never intended to open a restaurant so quickly after returning. He'd only been in Auckland for a few months before the opportunity arose to snap up the old Monzu space (also previously Merediths) on Dominion Road. "I got too bored at home," Wong laughs. Since then, it's been transformed into a casual sleek eatery, with black tables and booths standing out stark against red walls. Neon branding, glowing red at night, says exactly what people will soon come to Mr Hao to do: eat BBQ and drink beer.
Wong is no stranger to hospitality, helming numerous restaurants over in China, spanning French, Italian and Sichuan cuisines. (Readers from Shanghai might be familiar with the Mr Nice restaurants, opened by Wong.) His Mr Hao partner and co-owner, Julian Diprosé, comes from a hospitality background too, working as the general manager at several eateries over the years. Together, they've opened something a little different from the current Chinese restaurants in Auckland's scene.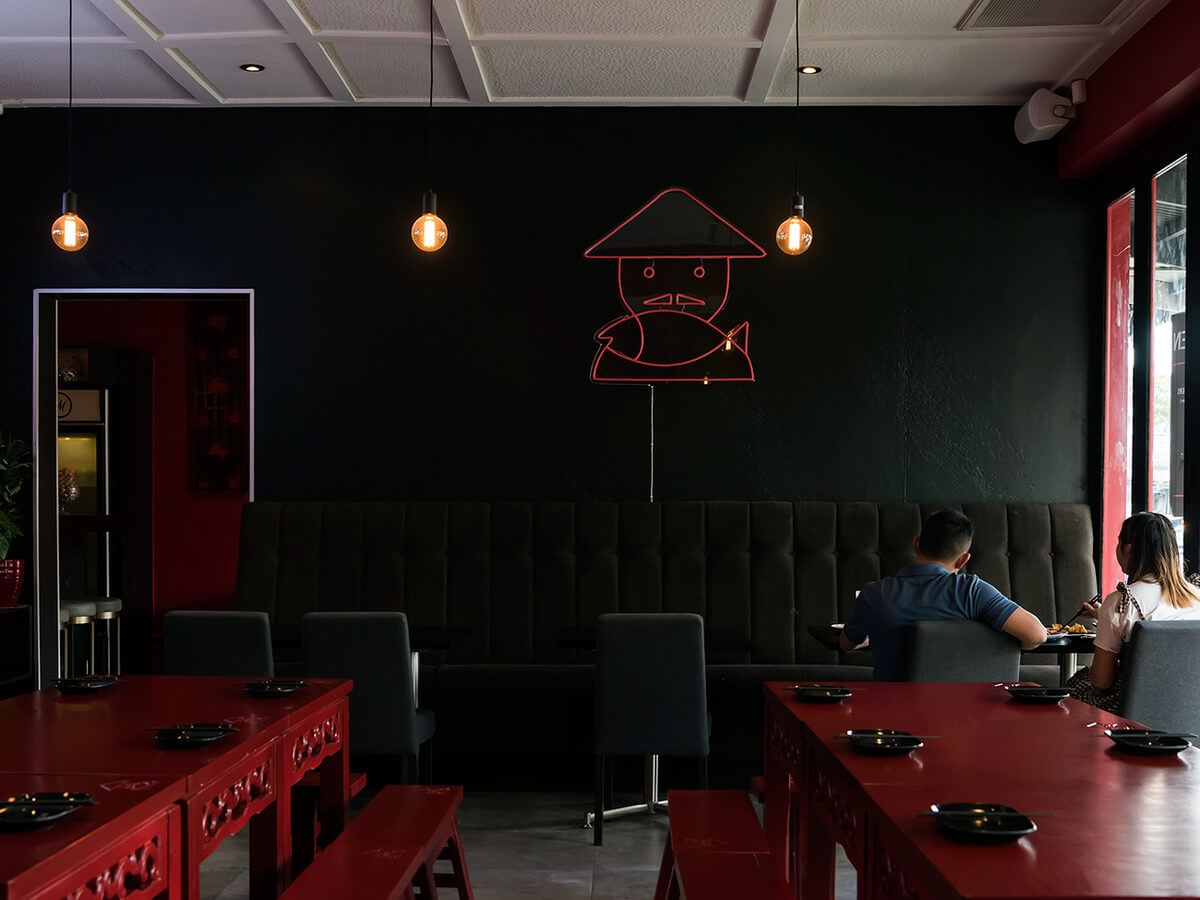 The concept is simple, taking after the late-night Chinese dining-and-drinking spots in China called shaokao. In Auckland, Wong saw the opportunity to cater to those looking for an after-dinner bite; somewhere besides a traditional bar for young people to convene in groups and keep drinking into the later hours. The style of food takes inspiration from all over China, including down south near the sea, where BBQ seafood is the cuisine of choice. "We've tried to keep it authentic, but with New Zealand produce." So there are skewers – spiced meats, seafood and vegetables skewered on metal – there are BBQ meat and seafood, there's cucumber salad, there are oysters, and a whole lot more.
A beef BBQ skewer is 60g of ribeye beef but costs as little as $3; two chicken wings are only $3.50. "I wanted something that's accessible to everyone," Wong explains. So the food is affordable, but the vibe is modern, with small, attentive details – like their cute Mr Hao logo engraved on the chopsticks – that speak to the level Wong aims to achieve.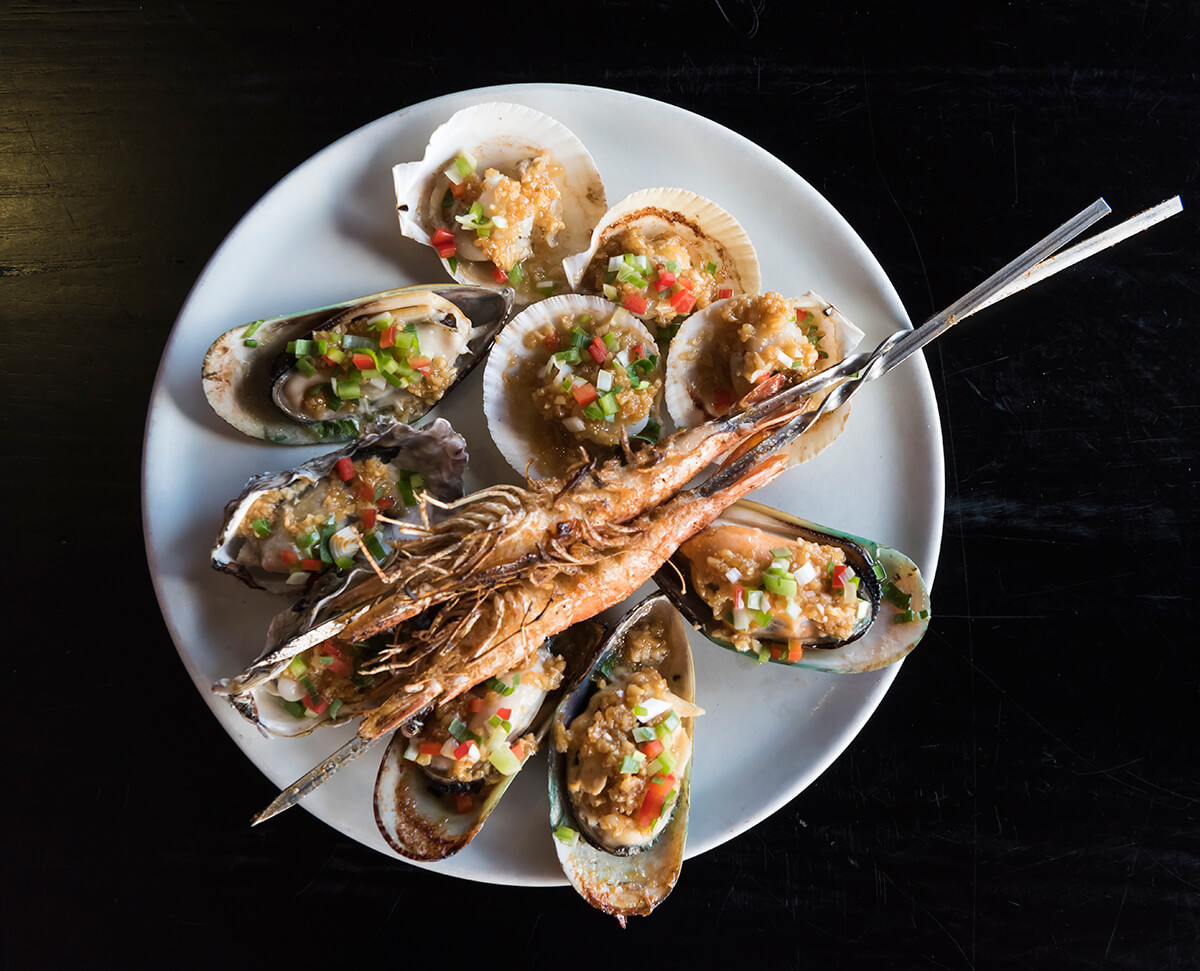 Apart from the skewers – which also include items like chicken heart ($1!) and trotter – you can choose from three large sharing plates for large groups to pick at (like the crowd-pleasing giant platter of 'mala' fried chicken), and fresh seafood, where produce like oysters and scallops come topped with sharp garlic. Good value, too, for the flounder at $9, and a BBQ seafood platter for $18. The variety of small snacky items make it easy to call in for a bite after dinner, too – a "second dinner" Wong jokes.

All the food is designed to be washed down with beer – Asahi and a Mr Hao Lager on tap – or an $8 tea cocktail, also on tap, not too complicated and lightly refreshing. Light drinks to balance with flavour-packed spicy food is the idea.
They've only been open for a couple of nights now, so things are still evolving and changing with demand. Though places like Gogo Music Cafe and Maya BBQ – both also on Dominion Road – are already done a fine job slinging Chinese BBQ skewers, Mr Hao aims to elevate the experience a bit and offer a (maybe boozy) good time to late-night revellers.
Mr Hao
365 Dominion Rd, Mt Eden
Open now.