Jul 15, 2019 Cheap Eats
Sisters Genet and Eden Tilahun are serving up Ethiopian food— swathes of injera, hearty stews and freshly-roasted aromatic coffee – in a small red food truck in New Lynn.
The trail of incense wafts over from a red food truck parked near the main entrance of sprawling LynnMall. People whose interests are piqued by the sweet scent pop their head in to peer at the pots lining the wall, squinting quizzically at the menu. Their ignorance can be forgiven: Mesob is only the second permanent spot in Auckland to sell Ethiopian food.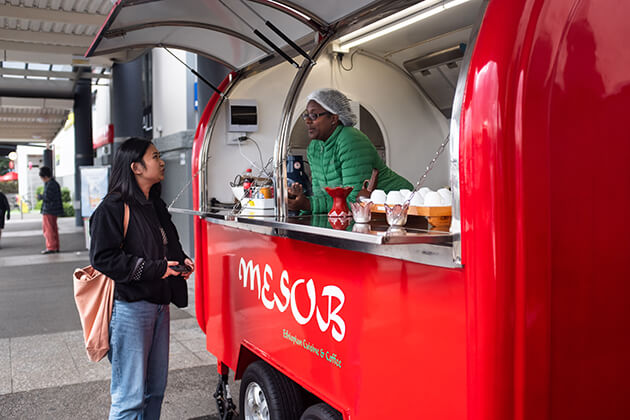 I, too, had never eaten Ethiopian food, though there is one other place in Auckland to get it, at Café Abyssinia in Mt Roskill. My Sri Lankan friend told me she once had an Ethiopian meal which closely resembled Sri Lankan fare, the injera reminding her of thosai, and the legume stews make me recall Indian dahls. But I quickly find that Ethiopian food stands distinctly on its own.
READ MORE: 11 great options for alternative breakfasts in Auckland – no eggs benedict in sight!
Sisters Genet and Eden Tilahun emigrated from Ethiopia to New Zealand 16 years ago, and it's Genet Tilahun I talk to when I arrive, who is manning the truck solo. The sisters launched their food truck at Auckland International Cultural Festival Day and have been outside LynnMall for around eight weeks now, finding an outpouring of support from the community. For the short time I'm there, two Ethiopian families pass through.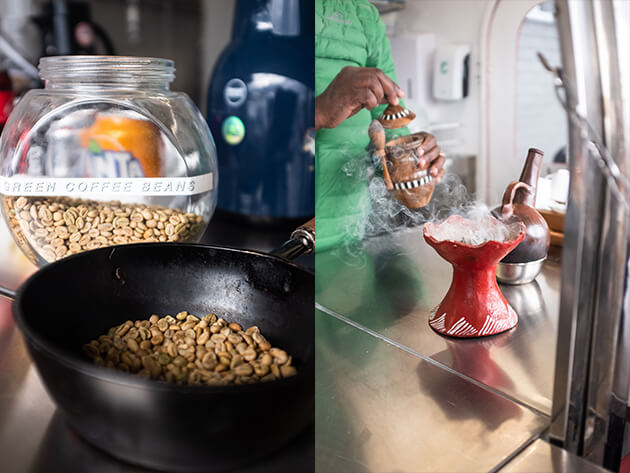 Tilahun has also found customers with no prior knowledge of Ethiopian food have been incredibly receptive – especially vegans. She offers customers a little taste over the counter. When I ask Tilahun how she would describe Ethiopian food, she simply says, "tasty."
The sourdough flatbread (injera) covers an entire plate (or, some might say, is the plate) and is a common base of an Ethiopian meal, spongy and sour. The idea is to tear pieces off with your hands, using it to scoop up the stews plopped on top, though spoons are available if you prefer. Its spongy, malleable quality means it's easily manipulated to encase the stews, mopping up dollops to pair with the sour bread. The act of eating with your hands always wells up an unmistakable feeling of home in me; it brings up memories of, when I was very, very young, watching my great-grandmother pinching at piles of rice spilled out on a green banana leaf. I do it here, licking traces of spiced stews off the tip of my finger.
At Mesob, the food is mostly vegan. Tilahun says that a good chunk of their Ethiopian customers fast from animal products on Wednesday and Friday due to religious reasons, so the food reflects that. On the day, we tried three different vegan stews: misir kik wot (red lentils), misir difin wot (brown lentils) and ater kik alicha (yellow split-peas). It is exactly as Tilahun described: tasty. The misir kik wot is slowly simmered with finely-chopped onions and berbere, an Ethiopian spice blend, just mildly spicy. The injera soaks up the stews and, together, it's more than enough for a satisfying lunch. On some days there is also doro wat (a chicken stew) or key wot (with beef). The recipes are all taken from Tilahun's grandmother, who was "an amazing cook".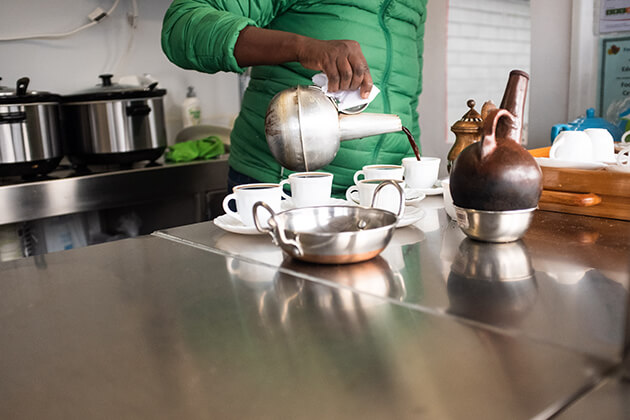 Abyssinian coffee is a very slow process, roasted from scratch in a small pan until dark brown, grinded and brewed on the stove over medium-heat in a jebena, a long-necked traditional container to brew Ethiopian coffee. At Mesob, it's then poured into tiny cups. Ethiopian coffee is not one to takeaway while you're in a rush, but one could imagine sitting around with friends, talking, refilling the small cups. Tilahun burns more incense. "We do this when we serve coffee," she explains to me. It's not usually served with milk, but a little sugar to taste if you have a sweet tooth.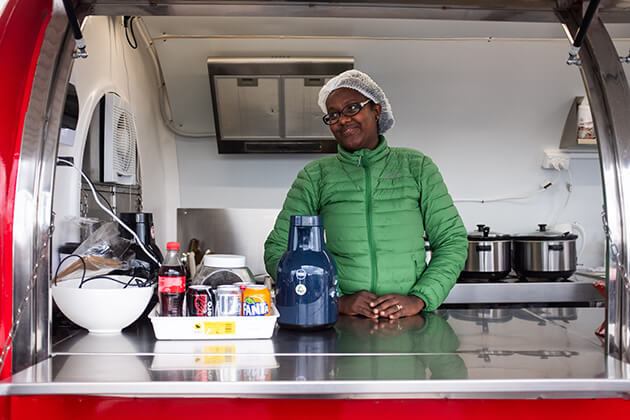 Genet and her sister Eden are hoping to open up a restaurant soon, but for now, you'll find them at LynnMall.
Photography by Alex Blackwood.
Mesob Ehtiopian Cuisine & Coffee
Main entrance of LynnMall, by AA
3058 Great North Road, New Lynn