Sep 16, 2015 Cheap Eats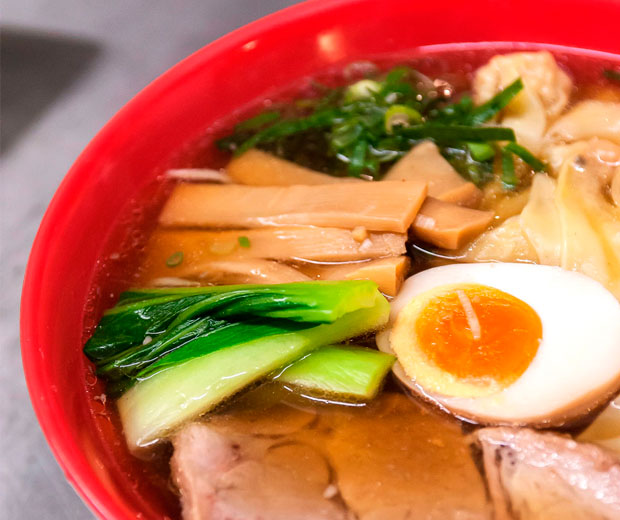 Ramen at Ramen Takara, photographed by Simon Young
The best places to eat Japanese food in Auckland for under $20.
BANZAI
8/583 Dominion Rd, Balmoral
"Banzai" translates as "hurrah!" Which is what you'll squeal once you score a table here. Banzai does an exemplary take on prawn tempura sushi roll, while the karaage chicken ticks all the right fried-fowl boxes. Add miso soup and a few slugs of warmed house sake and you're set. Closed Mondays.
BIAN SUSHI
183 Symonds St, Eden Tce
Allan Jung has run Bian for 11 years, making some of the best sushi in town. His donburi, especially the teriyaki chicken, spicy chicken and teriyaki salmon, are also very good. And the pork katsu is proof that curry definitely has a place in Japanese cuisine.
HAPPY JAPANESE
3113 Great North Rd, New Lynn
Happy Japanese has moved from Kelston, which has made people in the know in New Lynn very happy indeed. The menu is simple and familiar — don buri through karaage and sashimi — but everything is done so nicely. The curries are a highlight.
NISHIKI
100 Wellington St, Freemans Bay
The waiters run around, everything is loud and it gets smoky, and these are just some of the reasons Nishiki has always been popular with locals and those in the know. There's also the food: izakaya classics, all done just so. And it's BYO, we love that too.
RAMEN DO
167 Symonds St, Eden Tce
This unassuming ramen bar is a haven from sprawling Symonds St. They make their own noodles and stock fresh each day, and you get to grind your own sesame seeds at the table to add for a garnish. The food is complex, rich and utterly nourishing. We love the char-shu miso ramen, and the exemplary Japanese service.
RAMEN TAKARA
272 Ponsonby Rd, Ponsonby
How we rejoiced when this famed Browns Bay ramen joint opened recently on Ponsonby Rd. There's a heated courtyard and the same list of authentic, rich noodle soups you'll find up the coast. Choose your own noodles, or go with what they suggest. The black sesame tan-tan is spicy and umami-laden and well worth a try — that's if you're venturing away from the hard-to-beat pork tonkatsu. They have a great drinks list, complete with cocktail specials.
SAKE BAR NIPPON
415 Manukau Rd, Epsom
Quiet date night? Forget it. From the booming of the taiko drum to the rousing "Irassaimase!" welcome, your quest for zen — and romance — may lie elsewhere. The huge menu spans all the usual suspects (skewers, sushi, sashimi et al), with plenty of fries and grills too. Like the hefty cabbage, bacon and prawn okonomiyaki (pancake), which is perfect for soaking up sake. Set menus suit larger groups, and party animals love the karaoke.
TANPOPO RAMEN
13 Anzac Ave, central city
You can get authentic ramen in outlets all across town now, but Tanpopo Ramen is still one of the finest. Our favourite? The vegetable-filled miso ramen, with pork-based broth and sweetcorn, seaweed and spring onion garnish. Ramen master Machio is at the helm in the kitchen. Don't leave without trying his kimchi.
YOKOSO
241 Dominion Rd, Mt Eden
They have a window on to the street for takeout, while inside it's all woody rusticity with live vibes provided, on occasion, by the ukulele-strumming owner. The simple menu delivers value and gratification aplenty, from the comprehensive sushi selection to the crunchy sauce katsu don: deep-fried pork and rice slathered in sweetish sauce and drizzled with Japanese mayo.
ZOOL ZOOL
405 Mt Eden Rd, Mt Eden
Zool Zool is a grown-up restaurant hiding in a ramen shop. The tonkatsu ramen, made with pork bone broth, is lovely and slurpy, the toppings tasty, and the noodles very moreish. Then there's the "popcornesque" crispy baby crab: small, crispy, lightly battered, a little salty, crabby and ever so delightful. There's lots of sake, and even a ramen broth/wine match list. To finish? Try the crème caramel, which comes in a small glass pot with a gold lid. Very sexy.
READ MORE: Top 10 Cheap Eats 2015, South Asian Cheap Eats, Best Dumplings in Auckland, Korean Cheap Eats, Best Pizza in Auckland for under $20,