Oct 2, 2015 Cheap Eats
Click here for the 2018 Top 50 Cheap Eats in Auckland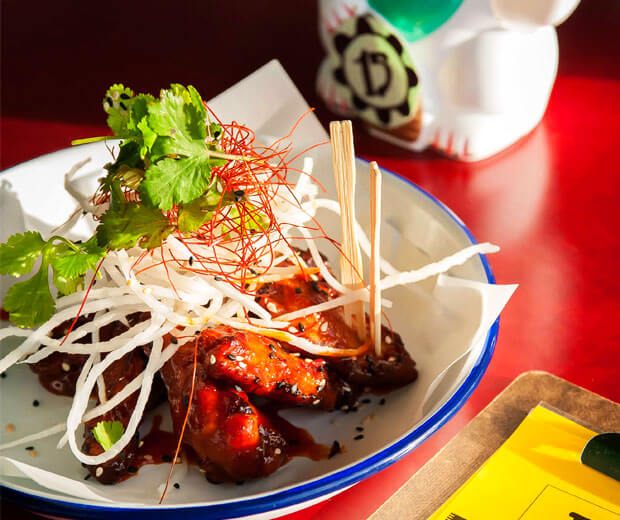 The best places in the central city to eat dinner for under $20.
ANGIE'S KITCHEN
17 Mount St, central city
Aunty Angie and Uncle Lee have been operating Angie's Kitchen on the university campus since 2008. A comprehensive Nyonya menu includes the delectable kueh pai tee, lobak and acar, while rice staples include nasi padang, nasi kampung or nasi kandar. Finish with pulut hitam, bubur cha cha, sago pudding or a Nyonya cake.
Nyonya/Malaysian 
BANNSANG
1C/47 High St, central city
Why does that queue stretch out of the door so often? Because inside you can find delicious galbijjim: short beef ribs with the special house sauce and vegetables in a vermicelli bone broth. We're also partial to the ojigo bulgogi (spicy squid and marinated beef), and the dishes all come with tasty Korean accompaniments.
Korean 
BONZ CAJUN KITCHEN
Elliott Stables, 41 Elliott St, central city
This small kitchen in Elliott Stables delivers generous portions of very good food. The Cajun crab dip is served warm, with lumps of crab meat, and juicy strips of southern-fried chicken are coated in a crisp, lightly salted crust. Other classics include baby back ribs, jerk chicken, jambalaya, gumbo, blackened fish and corn bread. A good pre-show option.
Southern American
DAK HANMARI
490 Queen St, central city
"Dak" means chicken in Korean and so, while there are other things on the menu here, you really should order poultry. There's dak galbi, a classic working-class Korean dish of chicken thighs in chilli sauce and rice, which you cook yourself. And there's dak hanmari, a chicken soup which starts out plain and ends up a rich, nourishing broth. A plate of fried chicken will keep hunger at bay while you cook.
Korean
ELA CUISINE
Elliott Stables, 41 Elliott St, central city
In Malayalam, the language of Kerala, South India, Ela means "leaf" — and each item on the main menu at Ela has a different leaf flavour (curry leaf, fenugreek, fennel, coriander, spinach). Fish, grilled in a banana leaf, also features. All dishes are dairy- and gluten-free (except the paratha bread and biryani); instead, cashews add richness.
South Indian/Keralan 
FOOD TRUCK GARAGE
90 Wellesley St West, central city
Food Truck Garage is seriously all about healthy eating: no-carb burger salad, nut mince tacos, skinny cocktails and cold-pressed green detox juice, and the new signature dish, an outstandingly delicious "redergise bowl" of quinoa, red chard, beetroot, carrot, currants, flaxseeds and almonds in a miso dressing. And yes, they still do the signature beefroot burger too.
Salads, burgers 
INDOCHINE KITCHEN
42 Fort St, central city
Fort St's shared-space venture has been a little slow to develop into the fine informal outdoor dining precinct it deserves to be, but there's some very good eating here. The new Indochine Kitchen serves excellent Hanoi-style street food and inspired cocktails to go with it. We're especially partial to the smoky taste of the charcoal-grilled dishes, served with fresh greens and herbs.
Vietnamese 
MARIGOLD THAI
Food Alley, 9 Albert St, central city
Thai food's getting better all over Auckland, but this stall in Food Alley is still one of the best. Marigold serves puckeringly tart food from Isaan, the north of Thailand — it's pungent and sour and tangy — and you shouldn't go past the heavenly larb, or the som tam, made with carrot rather than green papaya, and with a dressing that is equal parts sour and spicy.
Isaan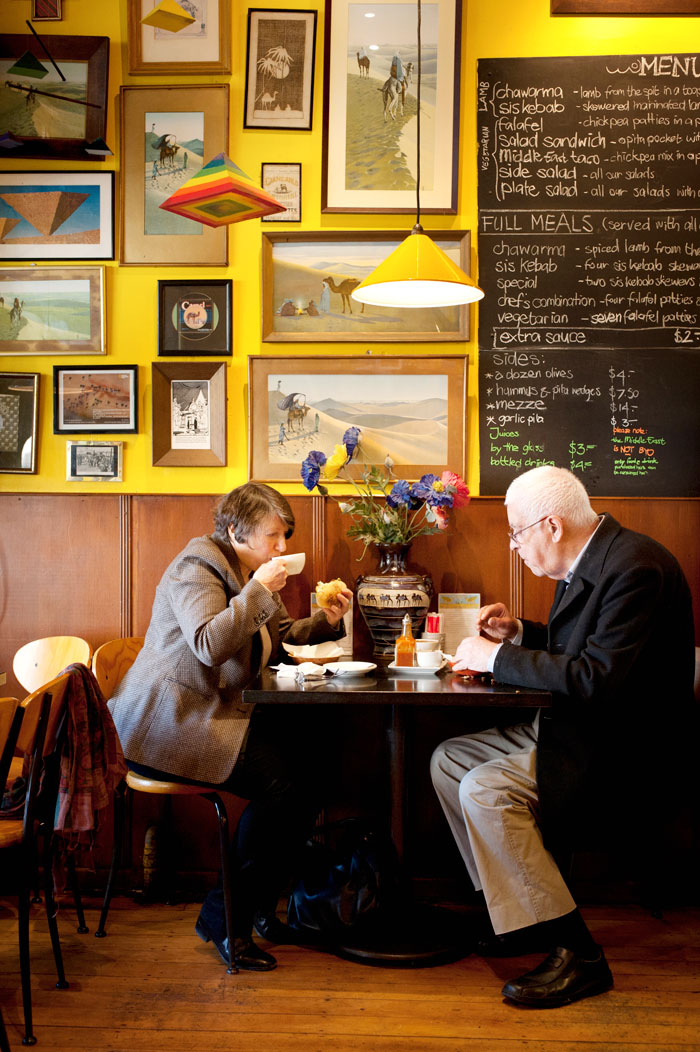 The Middle East Cafe.
THE MIDDLE EAST CAFE
23 Wellesley St, central city
One of our judges regards the lamb chawarma as one of the finest dishes in Auckland. The others say no — all he's doing by sticking to that is denying himself the delights of the falafel, the hummus and tabbouleh and all the other scrumptiously good food on the menu. It is not licensed, so people don't linger, which makes this the perfect spot for a quick bite before a show.
Middle Eastern
NO 1 PANCAKE
Cnr Wellesley and Lorne Sts, central city
This tiny hole in the wall serves hot, slightly oily Korean pancakes, and it's so popular the council has decided to widen the footpath outside just to accommodate all the customers. About time too. The pancakes are round, doughy and yummy, especially the classic bulgogi: beef and cheese with cabbage — the perfect downtown warmer on a cold, blustery day.
Korean
SANCHUN BAMBOO HOUSE
9 Commerce St, central city
Homestyle dishes are cooked and served here by friendly hosts who hail from downtown Busan. You'll find the usual menu staples, from bibimbap to bulgogi, plus value set meals for two or more. Most everything comes with multiple banchan (side dishes); the potato one is a standout. Hite beer, plum wine and soju feature on the drinks menu.
Korean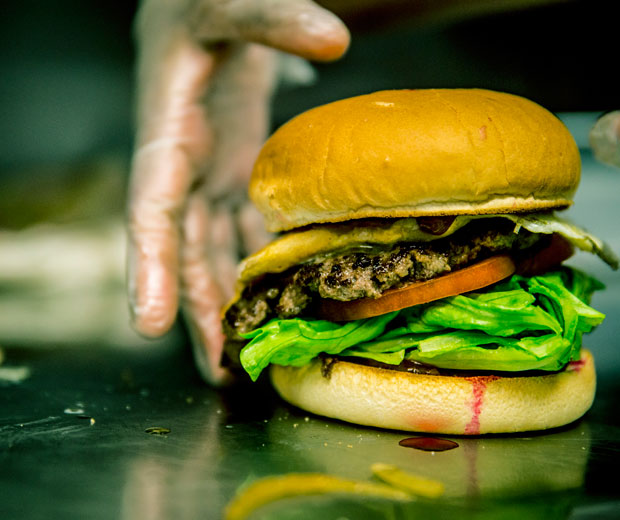 Cheeseburger at The White Lady. Photo by Vicki Leopold.
TANPOPO RAMEN
13 Anzac Ave, central city
You can get authentic ramen in outlets all across town now, but Tanpopo Ramen is still one of the finest. Our favourite? The vegetable-filled miso ramen, with pork-based broth and sweetcorn, seaweed and spring onion garnish. Ramen master Machio is at the helm in the kitchen. Don't leave without trying his kimchi.
Japanese
THAI STREET
12 Jellicoe St, Wynyard Quarter
Now here's a dish to savour: Penang pedyang, a red curry of duck, pineapple, grapes, kaffir lime leaves, coconut cream and bird's eye chillis with coconut rice. It's excellent: silky and creamy, happily spicy, a little sweet and salty, with al dente veges and lashings of thinly sliced tender duck breast. And there's lots more on the menu like that too.
Thai
WHITE LADY
18 Commerce St, central city
Eva Longoria came here! At 2am! And Instagrammed it! And why wouldn't she? The White Lady, a mere 70 or so years old, is still doing the business with burgers, despite all the fancy competition. Want something special? Try the steak burger.
Burgers
XI'AN FOOD BAR
11 Anzac Ave, central city
Xi'an (the former Imperial capital of China) is best known for the Terracotta Warriors, but honestly, the food's better, and Xi'an Food Bar is an excellent showcase. Don't miss the Chinese "burgers" — pulled lamb and pork in flatbreads, or the pita bread lamb soup, which is identical to what you'll find in Xi'an's Muslim Quarter. The star is the biang-biang noodles, hand-pulled and served with braised chilli pork. Outlets also in Northcote, Mt Albert and Panmure.
Xi'an/Shaanxi
---
Eastern suburbs, Mt Wellington, Otahuhu and Waiheke
Epsom, Mt Roskill, Newmarket and Royal Oak
Kingsland, Eden Terrace and Mt Eden
Ponsonby, Freeman's Bay and Herne Bay