Jul 17, 2019 Cheap Eats
METRO X UNIVERSITY OF AUCKLAND: A round-up of all the 10 best – and budget-friendly – food on the University of Auckland's campus.
Shaky Isles Coffee Co.
A pioneer of the hot chocolate with a stick of Whittaker's melting luxuriously into the milk, the always-bustling Shaky Isles is also a great place to catch up with friends between lectures and dig into an eggs bene.
Go for: a long catch-up with high school friends
Mojo Coffee
Located near the roadside by the HSB building on Symonds Street, Mojo is a popular spot for students' morning coffee fix. Tip: download their loyalty app for 10% off your takeaway coffee, every time.
Go for: your pre-lecture caffeine hit
Strata Cafe
Hidden on Level 4 of Kate Edger Information Commons (take the elevator), cabinet food abounds here: think sandwiches, pastas and sweet treats. The huge space makes it an ideal oasis to study and eat lunch alone – plus the balcony is lovely on a summery day.
Go for: a good spot to get away from the bustle below
Ha! Poke
Hailing from Hawaiian origins, a bowl of poke is one of the healthiest eats on campus, with both morning and afternoon options for all times of the day. Wake yourself up with a berry bowl, or fill up on the spicy bowl – we recommend adding salmon.
Go for: when you're feeling healthy
Barilla
An offshoot of their packed restaurant on Dominion Road, Barilla is an Auckland institution. We reckon their dumplings are a complete meal – vegetables, meat and carbs all in one pillowy package of goodness. Barilla serves them in a container of 15 and ready-to-go, making them a quick and easy option.
Go for: satisfying sustenance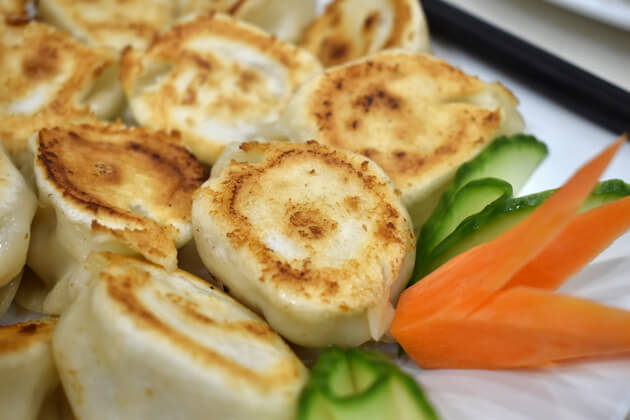 The Taco Joint by Mexicali
The Taco Joint plates up flavourful Mexican, with a whole range of vegetarian options including their BBQ jackfruit served in a burrito, tacos, nachos, quesadilla or salad. Their $6.50 budgie meal comes with no add-ons or fillings, but is topped generously with sour cream and hot salsa.
Go for: nachos to share with your study group
Munchy Mart
It might just look like a supermarket/dairy on the outside, but this place is a university student's best friend: shelves and shelves of sushi, donburi, sandwiches and pies sit alongside study snacks. It's a great place for a cheap lunch, and to make things even better, it has a hot-water dispenser, microwave and coffee machine – all of life's essentials.
Go for: when you're holed up studying
Moustache Milk & Cookie Bar
Moustache's giant melt-in-your-mouth cookies – $10 for 3 – make the perfect post-exam treat or study pick-me-up. We particularly recommend the classic choc chunk cookie.
Go for: a late-afternoon snack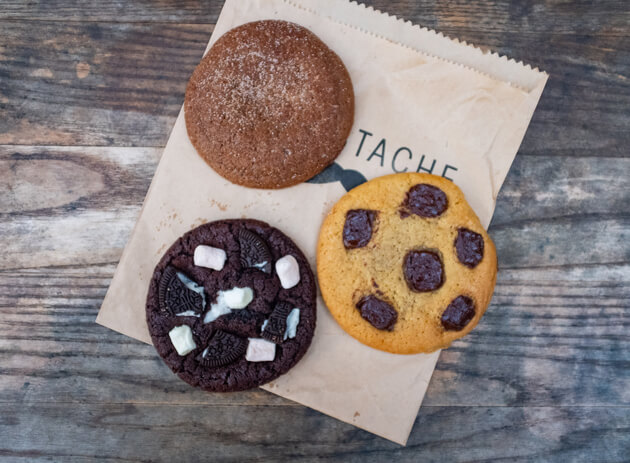 Uni Sushi
The ultimate grab and go. Choose from a smorgasbord of tasty bites, from sashimi to teriyaki chicken to vegan options. If you're feeling hungrier, their hot meals – like a steaming bowl of udon – are good value.
Go for: a meal on the move
Got Pasta
At this container food spot, watch macaroni pasta curl into shape through the machine then be cooked al dente with your choice of sauce ladled on top. The crowd-pleaser carbonara will serve you right.
Go for: fresh, fast Italian.
Good to know: Student budgets can be tight, so thankfully, the majority of eateries on campus provide an easy-on-the-wallet option, known as Budgie Meals. Priced at $6.50 or less, it's the ideal way to eat well on the cheap.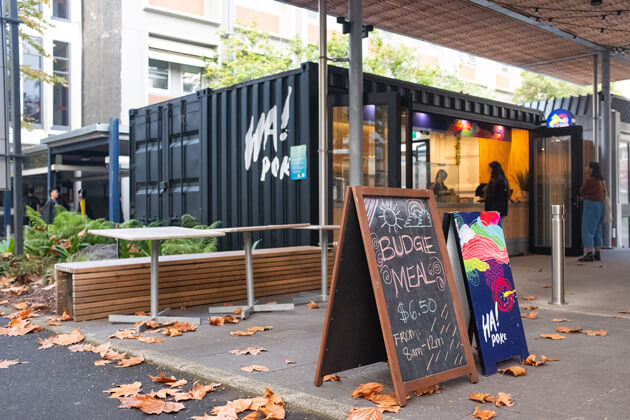 Sophie Gray, editor of Food magazine, shares quick recipes for the three simple meals every student should know how to cook
How to cook rice
Bring a large pot of water to the boil, add ½ teaspoon salt. Pour in rice –remember- it will triple in volume when cooked. Stir once to prevent sticking and set timer for 11 minutes. Drain and rinse under hot water, serve with curry, chilli or flavoured tuna. Freeze leftovers.
How to cook a jacket potato
Scrub potato skins and cut a cross on top, rub with oil. Bake at 190°C for 40-50 minutes until? soft or microwave around 7 minutes till cooked. Stuff with spag bol, or creamed corn, chilli, tuna or baked beans… Eat the skin, it's really good for you.
How to cook a surprisingly good spag bol
Brown 500g beef mince in a pan, add one chopped onion and ½ teaspoon crushed garlic, cook until soft. Add one 420g can condensed tomato soup and a pinch of mixed herbs. Simmer for 20 minutes. Serve with pasta, rice or stuff into a jacket potato, toasties, or spread on a pizza base.
Explore metromag.co.nz for Metro's Top 50 restaurants, cheap eats and cafes, guides and up-to-the-minute food content.
Follow Metro on Twitter, Facebook, Instagram and sign up to our weekly email