Nov 18, 2014 Cafes
Our pick of the places to go for your morning fix of happiness.
By Catherine McGregor with Delaney Mes, Anna King Shahab and Simon Wilson. Photos by Josh Griggs and Ken Downie.
We all know what makes a good cafe. A thoughtful menu that appeals whether you're on a health kick or a carb binge; coffee that's made right and staff who care about what that means; a room that's stylish and buzzy and relaxing, all at the same time.
But the really interesting cafes? They give us something we didn't even know we wanted until they opened their doors. Like the subtle Laotian flavours of Mt Eden's Bolaven, the innovative breakfasts at L'Oeuf in Mt Albert or the unexpected hipsterism of Albany's Black & Gold. Those cafes, among the 16 places new to our list this year, point also to the rise and rise of suburban cafe culture in Auckland. For more examples, check out Sprout (Mt Albert again), Charlie & George (Mt Wellington), or Meadow, the new cafe/bistro in Meadowbank.
And then there are cafes that achieve greatness simply by getting everything so very right. Leading the way here, still, is the big and bold Hip Group, whose past supreme award winners include Takapuna Beach Cafe and St Heliers Bay Cafe & Bistro. This year, they've done it again with their new and quite wonderful Rosie in Parnell — which, as it happens, is one of the reasons we named Parnell as the best suburb in Auckland just last month. Congratulations.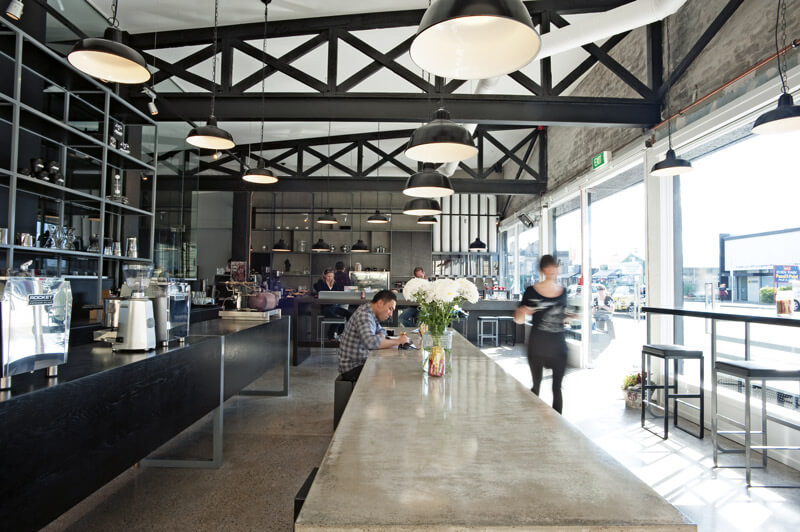 Atomic Roastery
420C New North Rd, Kingsland
It's our favourite place to go in Kingsland, and not only when the sun's out and you can nab a table on the street. Inside, it's all industrial and modern, with the roastery off to the side. Although Atomic has a well-formed yet small menu and a sprawling counter of food, it's coffee that rules here. Have it a multitude of ways — it's all excellent.
Must-try: Almond, date and cinnamon bircher with poached fruit.
Atomic Coffee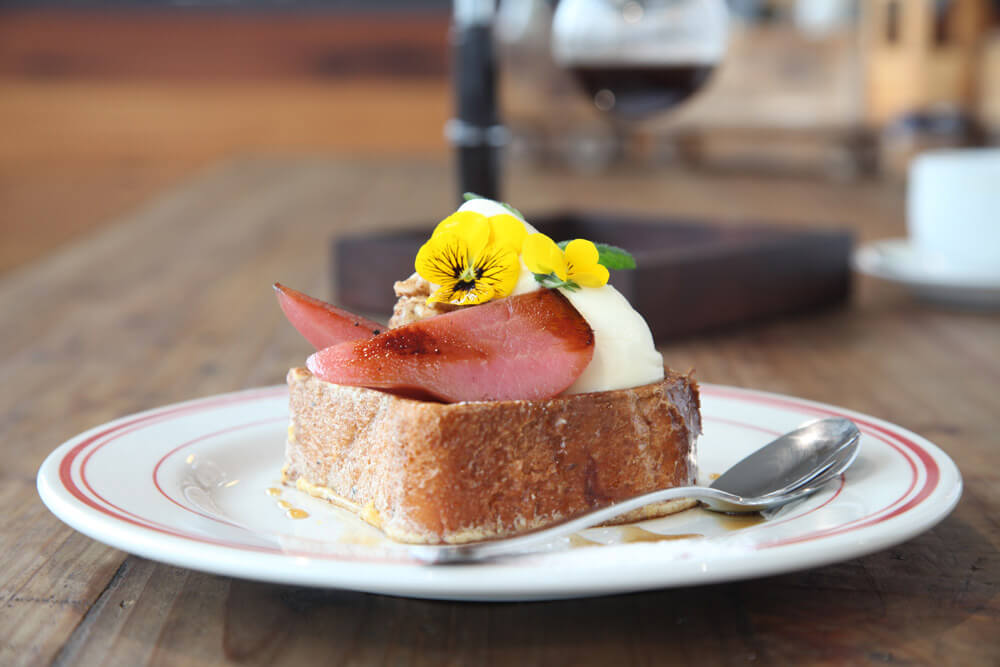 Black & Gold Coffee/Eatery
1/33 Triton Drive, Albany
It may be the most surprisingly situated cafe in Auckland, a recycled-wood-and-vintage-knick-knack haven of cool in a nondescript business park on the outskirts of Albany. Owned by a couple of former champion baristas, Black & Gold is dedicated to excellent coffee, creative eating and eco-friendly values. Now, if only they'd start opening on weekends.
Must-try: Twice-baked French toast with cinnamon banana smash.
Coffee Supreme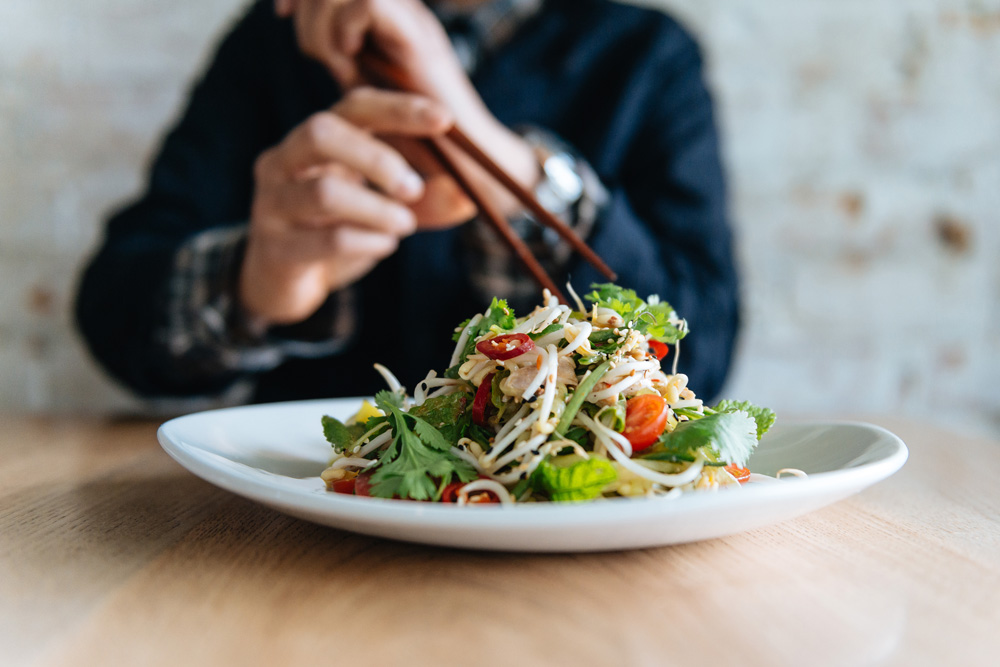 Bolaven
597 Mt Eden Rd, Mt Eden
Classic egg breakfasts meet the punchy, bright flavours of Laos at Bolaven, where the efficient staff look dapper in their handmade grey plaid shirts, and oversize jars of pickles and dry goods make a neat feature wall.
Must-try: Free-range chicken with Asian herbs and larb dressing.
Eighthirty Coffee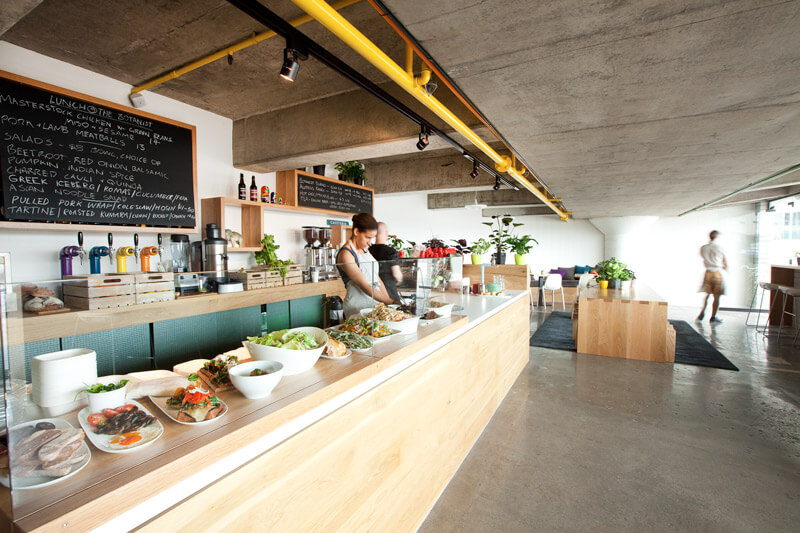 The Botanist
City Works Depot , 90 Wellesley St, central city
Chef Sara Simpson has worked at The Tasting Shed, TriBeCa and Clooney and her culinary background shows in the inventive, vege-focused menu at this all-day cafe/bar/florist. We love the salads (her roast Brussels sprouts will make a believer of the most passionate sprout-hater), the coffee — and the exceptionally friendly service.
Must-try: Meatballs in a spicy tomato sauce.
Three Beans Coffee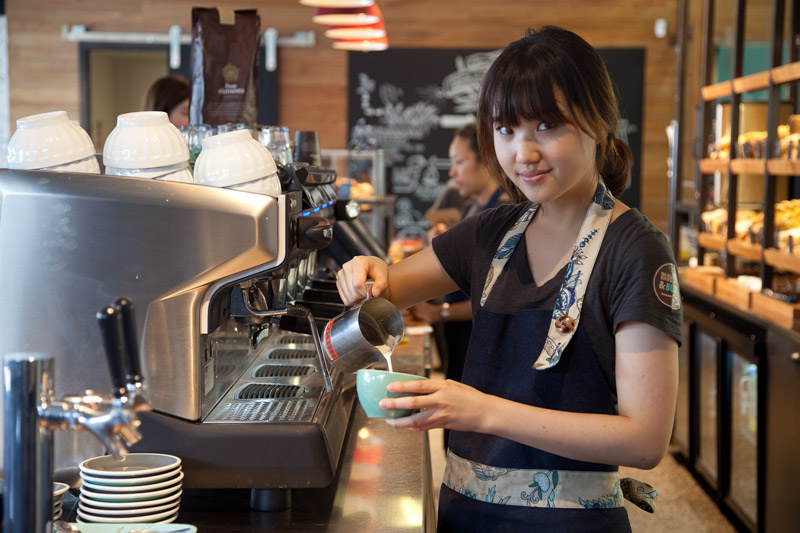 Bread & Butter
34 Westmoreland St, Grey Lynn
This cafe revolves around its bakery, so an array of traditional European baked goods greets you. Tucked in off Richmond Rd, the space is light and bright, and the staff are always friendly. As well as a decent menu featuring omelettes on beautiful bread, Bread & Butter's croissants are some of the best in the city. Good coffee, too.
Must-try:  A croissant from the counter.
Five Elements Espresso
Cafe on Kohi
2/237 Tamaki Drive, Kohimarama
It's ripe for a spruce-up but there's a good reason why, almost a decade after opening, Cafe on Kohi is still crammed at the weekend: it does the cafe job extremely well. Service is calm and helpful, the food comes out surprisingly quickly, and out on the pavement is the perfect spot for a Champagne brunch.
Must-try: Truffled potato galette with garden greens and smoked fish/asparagus/bacon.
Allpress Coffee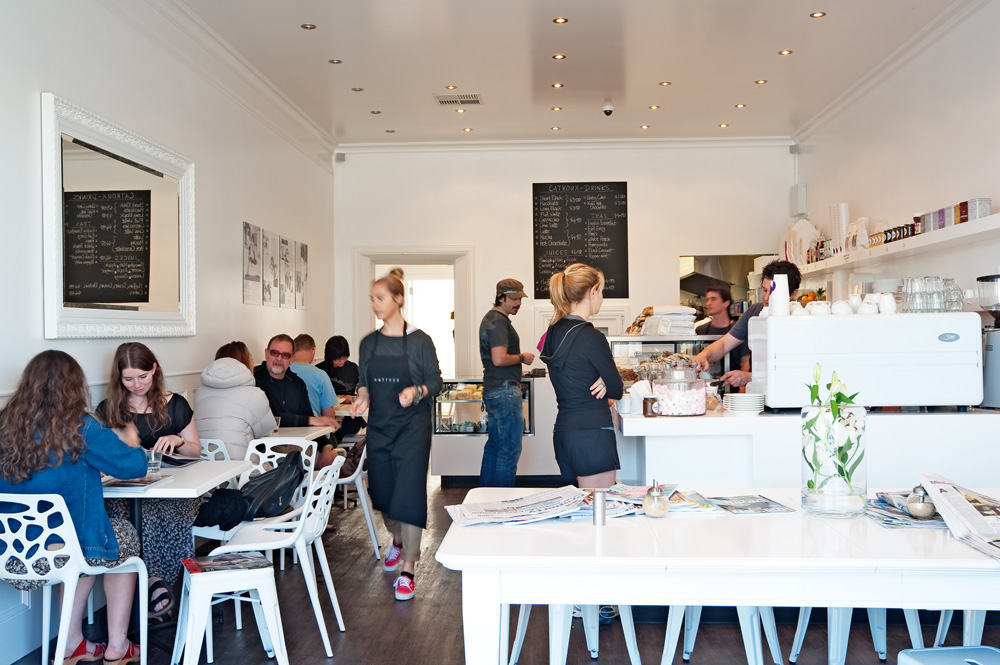 Catroux
29 West End Rd, Westmere
This little gem in the Westmere shops serves up arguably the best coffee in the strip, with a menu to match. The salads are loaded with seasonal vegetables, and the cakes are worth making room for. It is clean and modern and incredibly welcoming. It's recently changed its coffee to the excellent eighthirty, too.
Must-try: Homemade lamingtons with cream.
Eighthirty Coffee
Charlie & George
38-60 Stonefields Ave, Mt Wellington
As part of a big residential development that's very much ongoing, Charlie & George is a beacon, a community cafe that feels welcoming: a big bright space, and service that is notably friendly. Hopscotch out the front is a nice family touch.
Must-try:  Stack of corn wafers, spicy chicken, watercress and crème fraîche.
Kokako Coffee
Chuffed
43 High St, central city
At a time when excellent cafes are popping up in the most far-flung suburbs, there's still a surprising lack of ambitious cafes in the CBD. An honourable exception is new-ish High St eatery Chuffed. Chef James Kenny has worked in Melbourne, Paris and London and his lunch dishes wouldn't look out of place on the menu of a smart city bistro.  Other things to like include the enormous courtyard and the fact they're now open Saturdays.
Must-try: Wild boar ragu with lentils, tomato, smoked feta and baked egg.
Chuffed Coffee
Clear Water Peak
272 Ponsonby Rd, Ponsonby
The former Landreth & Co has a slightly Scandinavian-inspired menu that offers a few more surprises than your usual eggs bene. Oysters in your scrambled eggs with black pudding, for example, should you be feeling brave. Plenty of freshly baked scones, and consistent coffee too. If you can't get a seat in the sun out the front, there's a sheltered courtyard tucked away at the back.
Must-try: Dill fried potatoes with poached eggs, garlic yoghurt and burnt sage butter.
Caffe L'affare Coffee
Craft Kitchen
2 Ponsonby Rd, Ponsonby
We'd say every cafe on our list cares about what you eat, but few take it to the hand-crafted, ethically produced, healthy and artisanal level of Ponsonby newbie Craft Kitchen. They mill their flour, they've got paleo, the bacon is Harmony free range, the coffee is ethically sourced Millers, the milk is organic Green Valley… and while none of that would matter much if it didn't taste great, we can happily report that it does.
Must-try: Haloumi and mushrooms on toast with tomato.
Miller's Coffee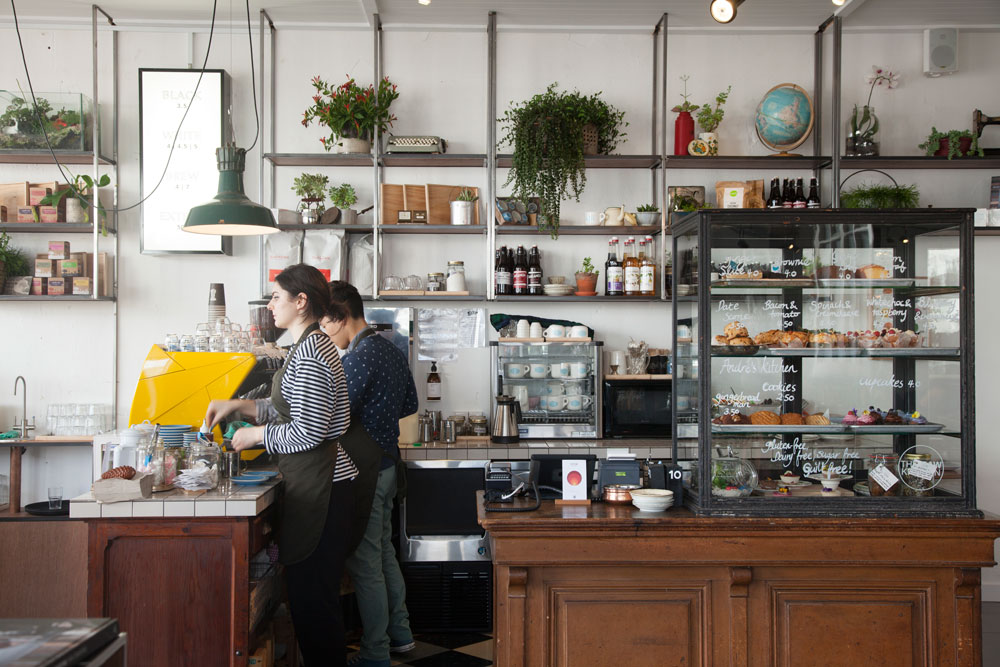 Dear Jervois
234 Jervois Rd, Herne Bay
David Lee, owner of Milford's Little King, opened Dear Jervois earlier this year, marking the biggest shake-up of Herne Bay's cafe scene in years. We're so impressed by the menu, with its vegan and gluten-free saintliness and plenty of opportunities to sinfully indulge, and the stylishly grungy room is pretty great, too.
Must-try: Banana and nut gluten-free waffles with manuka honey gelato.
Coffee Supreme
256 Ponsonby Rd, Ponsonby
Proof that reliable doesn't need to mean dull, this Ponsonby veteran has been serving up generous portions of Jewish-inspired classics for 20 years. Despite challenges from younger upstarts and the rather bare-bones décor, it's still one of Ponsonby's biggest social hubs. Busy downstairs, and lovely upstairs too.
Must-try: Mushrooms with pesto on toasted sourdough.
Allpress Coffee
Domain & Ayr
492 Parnell Rd, Parnell
This little beauty sits between Newmarket and Parnell, with a heavy focus on locally sourced produce. The menu boasts its many loyal produce suppliers, and they even whip their own butter. They're still serving their famously good pumpkin, ginger and date muffins, and the Kokako coffee is always spot on.
Must-try: The vegetarian big breakfast with haloumi and roasted tomatoes.
Kokako Coffee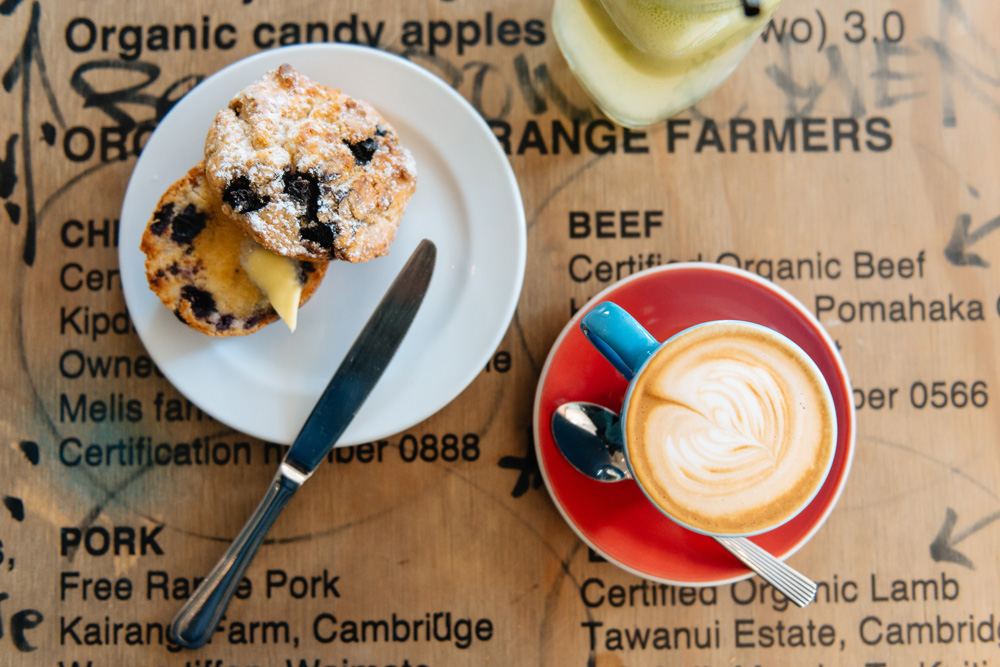 Federal & Wolfe
10 Federal St, central city
Just a short walk from the city tower blocks and chain cafes, Federal & Wolfe feels like a different world. It's an appealingly ragtag room — all mismatched furniture, pot plants and painted slogans — from which to watch the world go by. As at its sister cafe, Domain & Ayr, organic, free-range and ethically sourced ingredients are the order of the day.
Must-try: Smoked-fish kedgeree with poached egg.
Kokako Coffee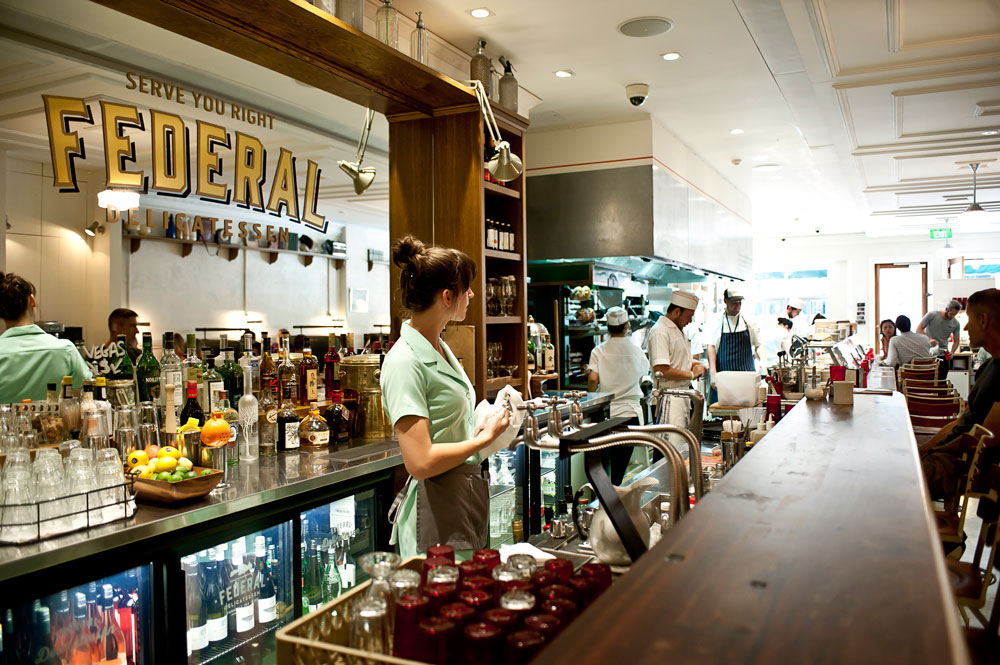 Federal Delicatessen
86 Federal St, central city
There's so much to admire about the Fed — that fantastic reuben sandwich, for one, and those unfailingly friendly servers, for another — but perhaps the very best thing about Al Brown's NY-style deli are the booths: private, comfortable and cosy, they're one of our favourite places in the CBD to while away an hour.
Must-try: Chicken salad sandwich with chicken skin "crackling" and dipping gravy.
Coffee Supreme (no espresso)
Fred's
181 Ponsonby Rd, Ponsonby
There's always a smile to greet you behind the bright orange door tucked away at the top of Franklin Rd just off the Ponsonby Rd strip. Fred's has a small but well-thought-out menu, with regulars all morning getting their daily Supreme fix. The black-doris-plum milkshakes are a dream, too.
Must-try: Breakfast bruschetta with avocado, basil, ricotta and a boiled egg.
Coffee Supreme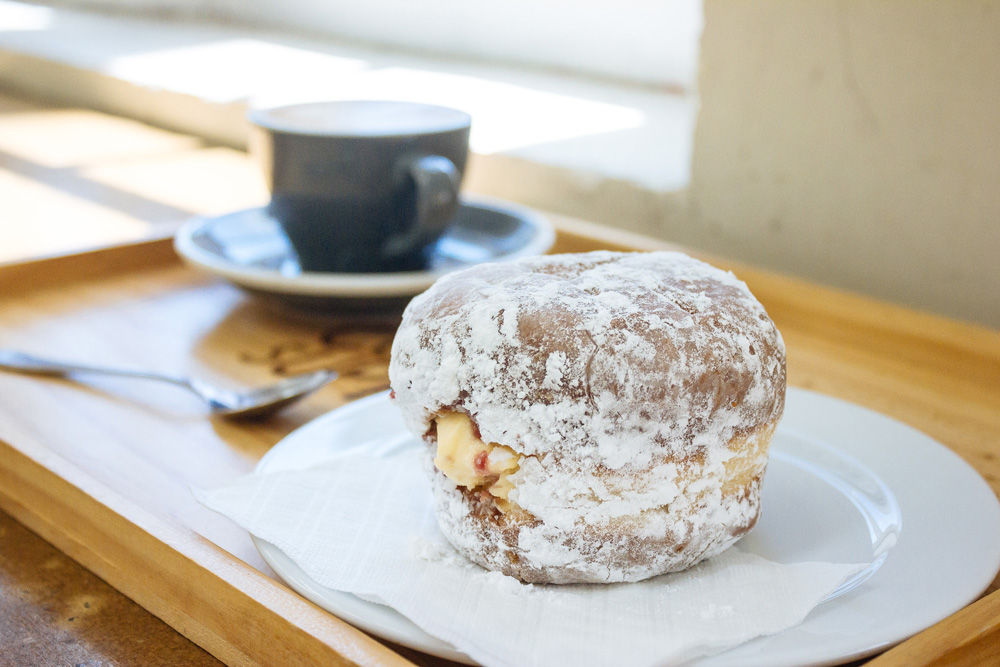 Good One
42 Douglas St, Ponsonby
We've always loved the achingly cool Good One, and last year's expansion and facelift (featuring sunny yellow accents inspired by their huge collection of National Geographics — around 4500 and counting) provided a most delightful makeover. The coffee is exceptional, and the baking is delivered fresh from Little & Friday throughout the day.
Must-try: Cream doughnut and an espresso.
Coffee Supreme
Heaven Scent
St Patrick's Square, Wyndham St, central city
Why do we have so few good upstairs eateries? It's a delight to sit in the window of this large, airy room, watching the world slow down in the graceful piazza below. Heaven Scent was opened by the Heavenly Pies people from Hobsonville Point market so they could bring their wares to town, and we bless them for it.
Must-try: Slow-roasted pork belly pie.
Eighthirty Coffee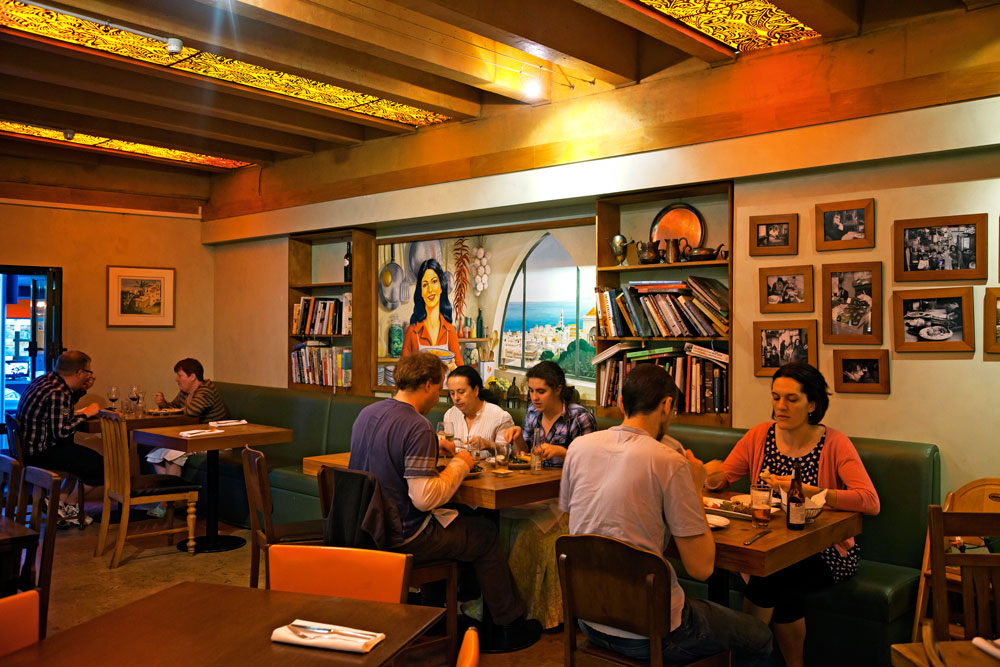 Ima Cuisine

57 Fort St, central city
Ima's founder-chef, Yael Shochat, is famous for her hot-cross buns and her family-style dinners. But her all-day restaurant also boasts some of the best brunches in town. Ima's shakshuka is infamous, and rightly so. Shochat is opening an authentic deli just down the road; she wants to make Israeli breakfasts a thing here. We can't wait. Editors note 17.11.14: Once Ima Deli is open (due late November), breakfast and lunch service at Ima Cuisine will cease.
Must-try: Shakshuka baked eggs.
Be.Specialty Coffee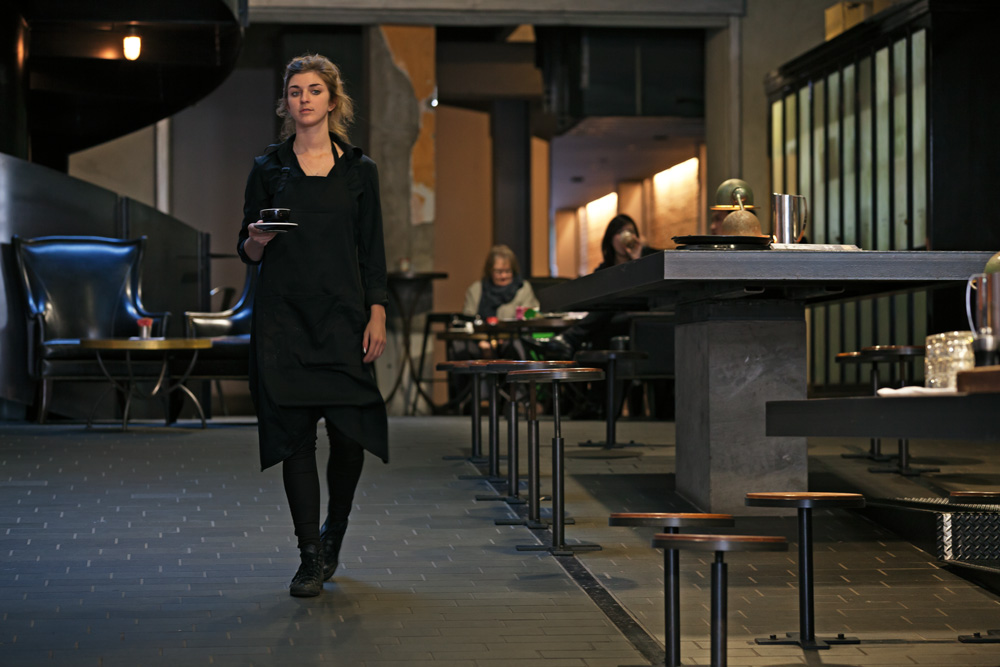 Imperial Lane
7 Fort Lane, central city
What might be black marks in others' hands — the gloom, the sloping floor — contrive only to make Imperial Lane more appealing. There's a surprisingly extensive brunch menu and light meals available throughout the day.
Must-try: Sardine rillettes.
Caffe L'affare Coffee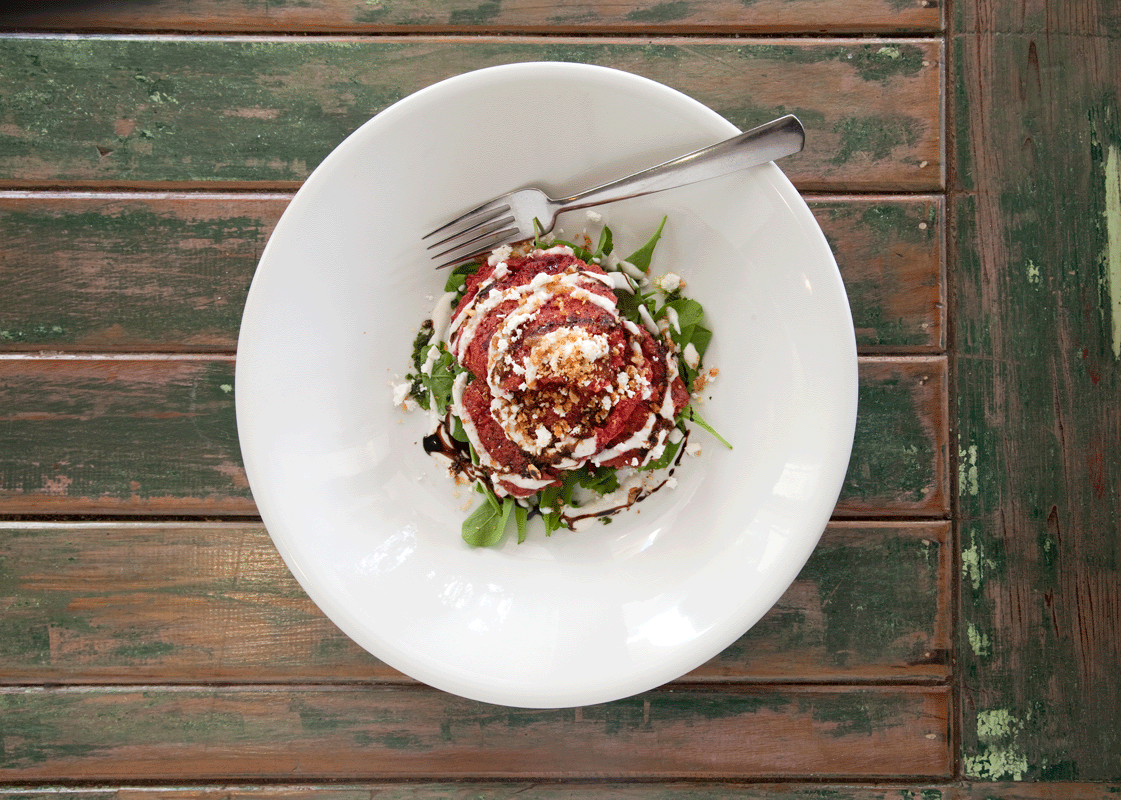 Jam Organic Cafe
33-45 Hurstmere Rd, Takapuna
The Takapuna Beach Cafe may get the headlines, but locals in the know continue to flock to Jam. Why? It must be the tasty, ethically sourced menu, charming service and that wonderful site on the edge of Hurstmere Green.
Must-try: Mahy Farms beef burger.
Velvet Coffee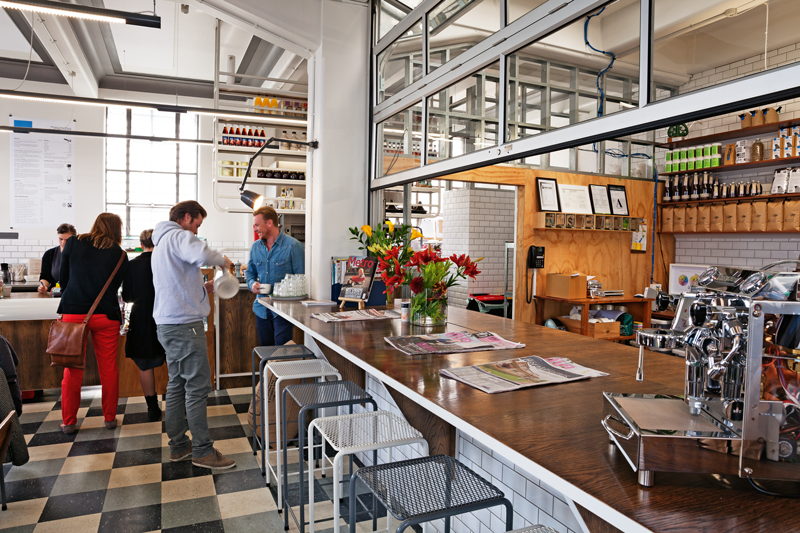 Kokako
537 Great North Rd, Grey Lynn
You might overlook that it's a vegetarian cafe when perusing the menu here — everything sounds so good, and it tastes that way too. The cafe is the hub of this ethical coffee brand and sits in a beautifully converted post office in the Grey Lynn shops.
Must-try: Buckwheat flour pan­cakes, with changing seasonal accompaniments.
Kokako Coffee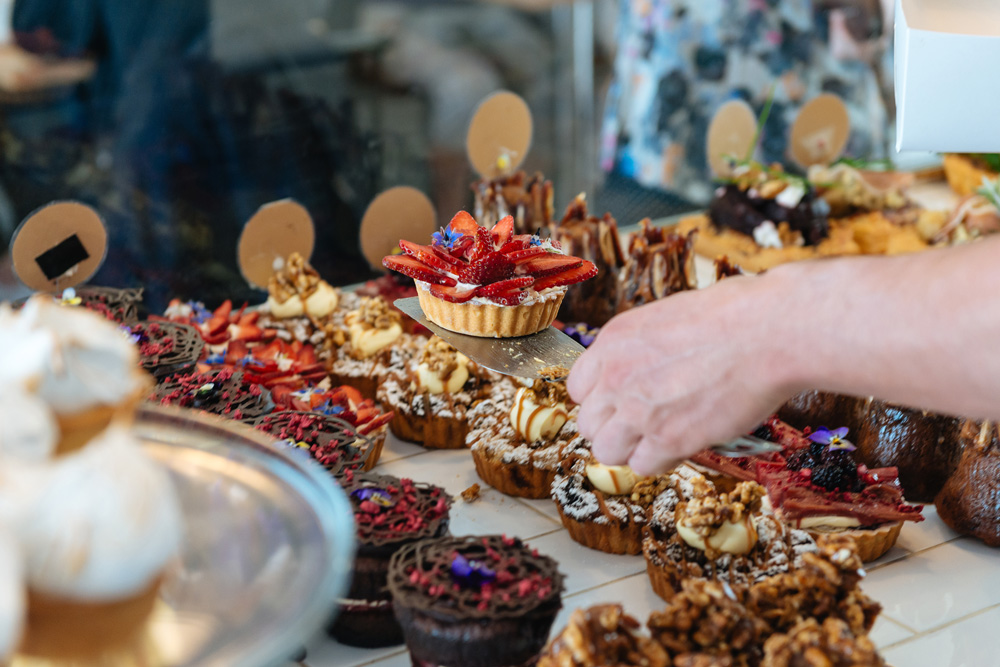 Little & Friday
43 Eversleigh Rd, Belmont (also Newmarket)
Their baking is unrivalled across the city, not just the raspberry and crème-diplomat filled doughnuts, but the pies and fresh Turkish bread sandwiches, too. Both the Belmont and Newmarket stores serve beautifully made Supreme coffee, and Kim Evans' empire has expanded with After Hours — take home meals when you don't feel like cooking. Those doughnuts though…
Must-try: Raspberry and crème-diplomat filled doughnuts.
Coffee Supreme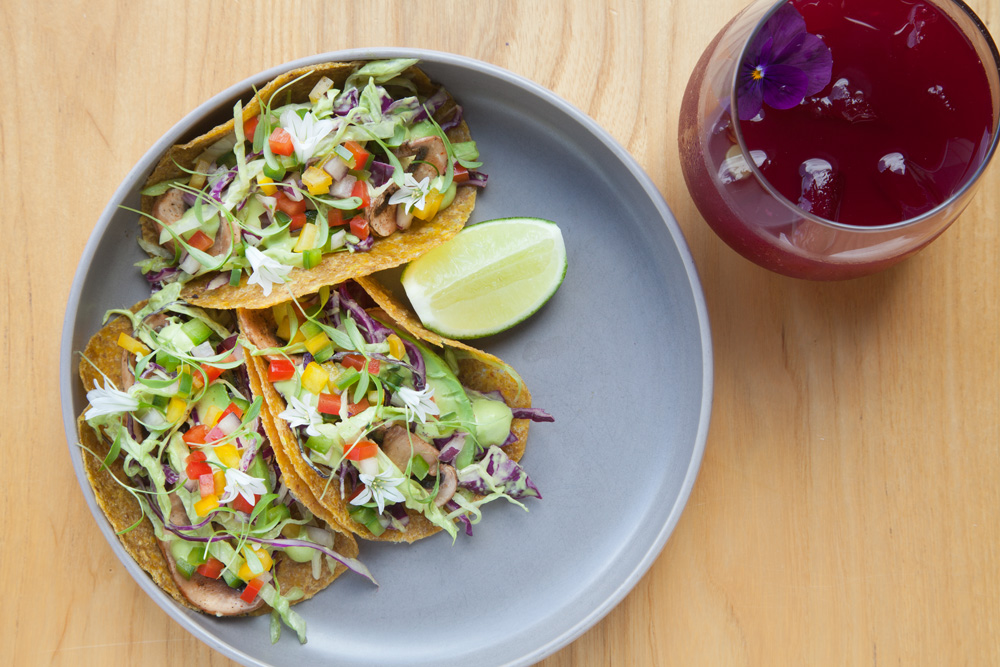 Little Bird Unbakery
1a Summer St, Ponsonby
Crawling to a cafe the morning after the night before, it's not likely you're craving a BLT made with coconut "bacon" (actually spiced, toasted coconut flakes) on a raw, seed bread "bagel". But trust us, it'll make you feel a heck of a lot better than a greasy eggs bene. The same goes for most everything on Little Bird's deliciously ingenious raw-focused menu.
Must-try: Dosadilla — fermented dosa pancake with Mexican spiced mushrooms, salsa and avocado.
Kokako Coffee (cold-drip only)
Little King
132 Kitchener Rd, Milford
Before making a splash with Herne Bay's Dear Jervois, David Lee honed his cafe skills in this effortlessly cool industrial-chic space. Little King boasts a wonderful menu (the waffles are legendary), a play area for the kids and some of the best service on the Shore.
Must-try: Fish-finger sandwich with smashed peas, seaweed tartare and pickled cucumber.
Coffee Supreme
Little Sister
91 Central Park Drive, Henderson
Doughnuts. And not those American things with holes in them either. Little Sister's speciality is a cream-filled, icing sugar coated, explosively delicious baked doughy delight, inspired by Italian  baking, and frankly it would be a sin to waste them on a child. Fran and Aaron Carson, who started Salvation Kitchen in Avondale, have opened this seriously cool cafe (think salvage chic) in a light industrial precinct out west, and if you don't already work locally, you'll probably want to. There's a real menu too, of course, with many Asian touches.
Must-try: Yeah, the doughnuts.
Kokako Coffee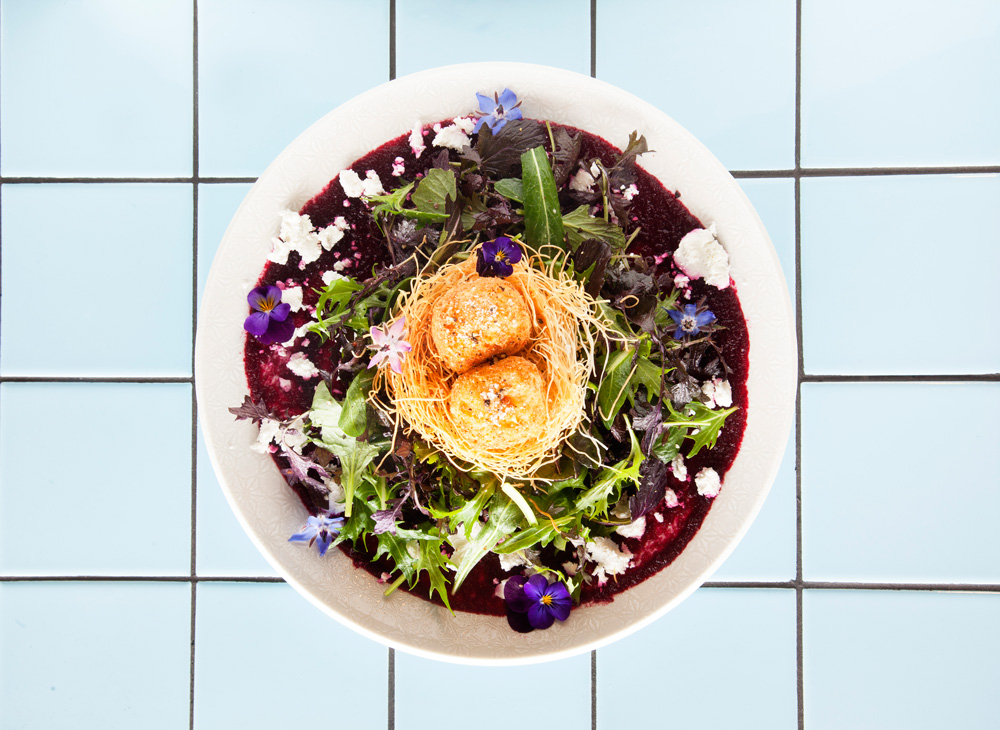 L'Oeuf
4a Owairaka Ave, Mt Albert
It's French for egg, but it's also an adorable neighbourhood cafe in Mt Albert that has us rejoicing at how interesting and original cafe menus can be. Each dish is named with a bit of a story — the Hunter, for example, is all forest with mushrooms and greens. With sun-drenched tables out the front and a beautifully blue-tiled counter covered in baked goods.
Must-try: The Nest — two sunflower-seed-crumbed soft boiled eggs in a nest of filo pastry with feta and homemade beetroot ketchup.
Atomic Coffee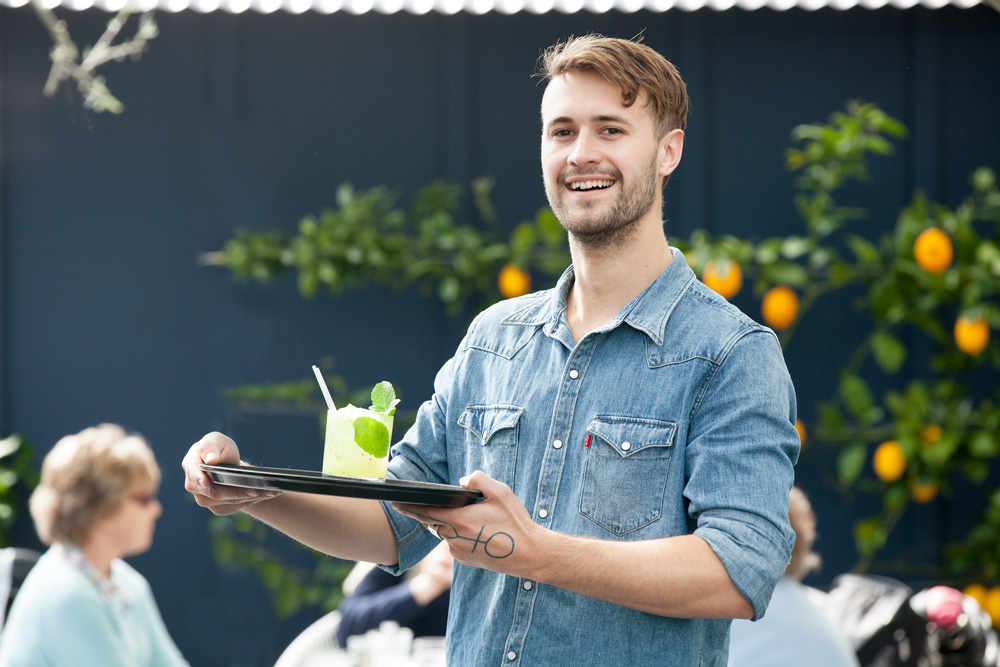 Meadow
20 St Johns Rd, Meadowbank
Meadow opened in the week of the eastern suburbs power cuts, but that didn't stop them serving customers, and it didn't stop the customers queueing  up at dawn for breakfast, either. The courtyard out the back is delightful, the service has all the warm friendly enthusiasm you hope for, and there's a big fireplace for the cooler months too.
Must-try: Burger and shoestring fries.
Allpress Coffee
460 Lake Rd, Takapuna
A charming and quirky spot on Takapuna's utilitarian main drag, Mimosa encompasses Japanese and European cooking, Fair Trade and organic ethics, and (a recent change, this) a fully vegetarian menu. And somehow it all works beautifully.
Must-try: Shiitake mushroom miso rice porridge with a poached egg and spinach.
Kokako Coffee
Mojo Carlton Gore
110 Carlton Gore Rd, Newmarket
The staff at Mojo Carlton Gore are renowned as some of the friendliest — and happiest — in town. Why the smiles? Perhaps it's that they get to work in such a cool building, a rough and ready former WOF garage that oozes character. The menu's a little shorter than it once was, but remains packed with excellent options, and the coffee's reliably good.
Must-try: Cheeky mince on toast: 12-hour braised beef cheek with a soft poached egg.
Mojo Coffee
Olaf's Artisan Bakery & Cafe
1 Stokes Rd, Mt Eden
There's no better way to admire Maungawhau than gazing out the large windows of Olaf's with a good strong coffee and a bite to eat. The pastries are impossible to go past, but before that there's all sorts of savoury options, including pizza. And you really must take home some bread; it's some of the best in the city.
Must-try:  Olaf's spaghetti carbonara with crisp bacon, sweet figs and parsley.
Coffee Supreme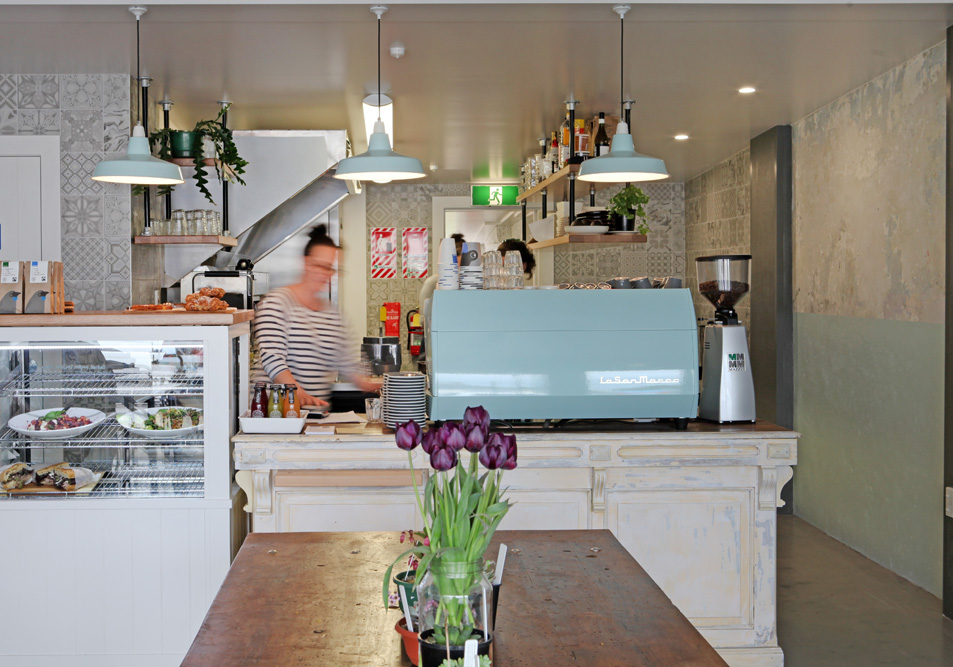 Open Table
62 Michaels Ave, Ellerslie
The names on the back of the menu are a nice shout-out to the folk who helped crowd-fund this welcome addition to the neighbourhood. Open Table balances being community-focused with urban cool — fresh, stripped-out interior, friendly vibe and a sophisticated menu. And they cater to their many little customers, too, with a guilt-free kids' menu: think vege sticks and hummus.
Must-try: Japanese salted salmon, pickled vegetables, rice and poached egg.
Kokako Coffee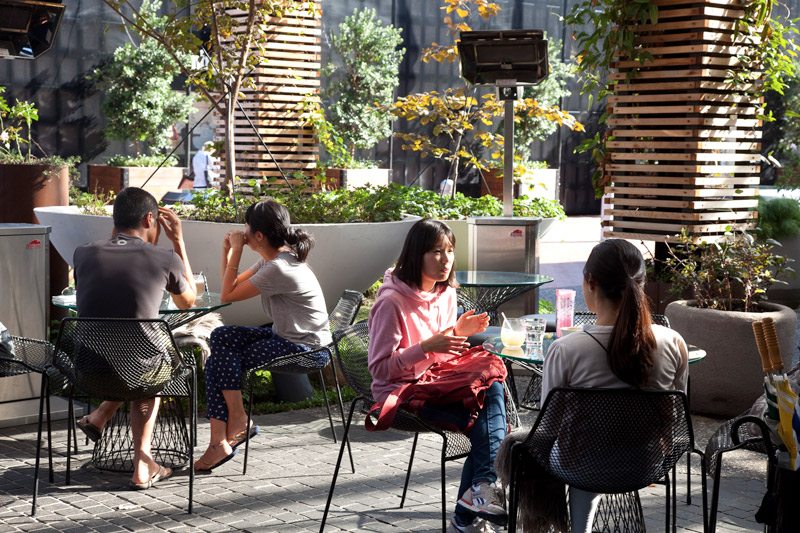 Ortolana
The Pavilions, 31 Tyler St, Britomart
We love the urbanity of the place. When breakfasting with colleagues or meeting friends for lunch at the weekend, Ortolana helps immensely in proving that Auckland is going places. Lots to keep going back for on that menu, and service is unflappably reliable.
Must-try: Faro, garden greens, pangri-tata, poached egg, green butter.
Allpress Coffee
Petit Bocal
117 Sandringham Rd, Sandringham
There are few cafes in Auckland open through to the evening, so Petit Bocal, with its French-inspired platters and plat du jour, fills a worthy gap. It has a tidy wine list, too, again heavy on French styles. The brunch menu is also good: we recently enjoyed the gluten-free breakfast of roast tomatoes and spinach on a potato pave with poached eggs and hollandaise.
Must-try:  Marinated sardines with a soft boiled egg and French baguette soldiers.
Coffee Supreme
Queenie's

24a Spring St, Freemans Bay
Even after all these years, and all the accolades, Queenie's still feels like a hidden gem. With its quirky (but not twee) mix of Kiwiana and British kitsch, there's real personality in the décor, and in chef Angus McLean, who has worked at Peter Gordon's Providores in London, genuine talent in the kitchen.
Must-try: Turkish eggs with baba ghanoush, chilli butter and yoghurt.
Coffee Supreme
Raven & Cook
565 Manukau Rd, Epsom
Thank goodness for the clever people who preserved the ornate tiling of this ex-butcher's. The current owners have played on the riff with a chain curtain and a roll of brown paper advertising specials. The sweet things at the counter are exemplary, as are the pies, which put some others around town to shame.
Must-try: The kedgeree, which changes with the seasons.
Allpress Coffee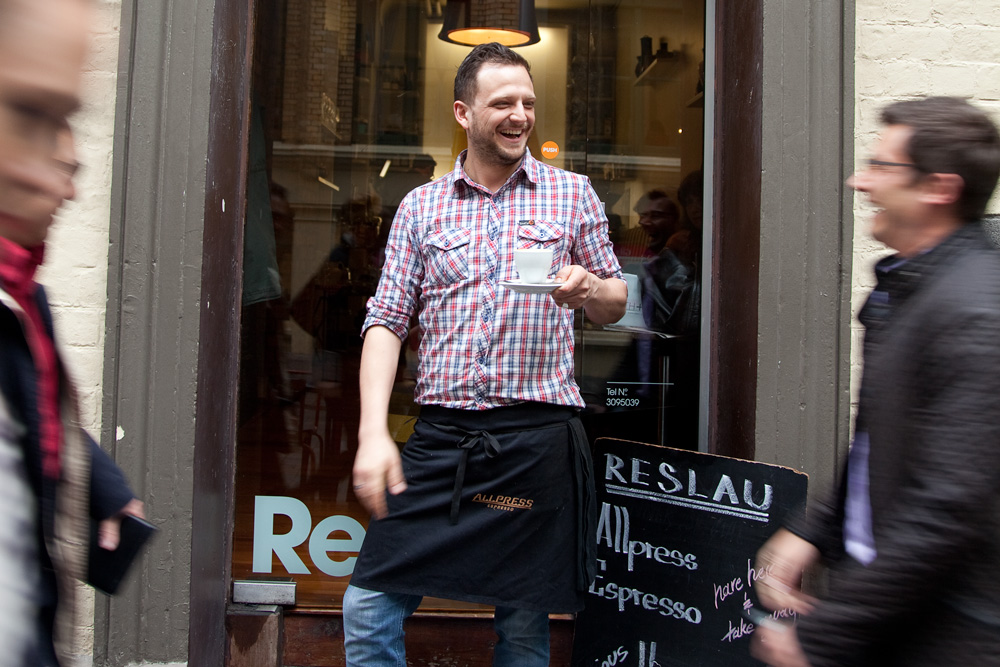 Reslau
Elliott Stables, 39 Elliott St, central city
We like their sandwiches here, and the slices of cake — fruit, chocolate — and, yes, we know that's terribly old fashioned. But that's the beauty of the place. Quality and charm, and very cool with it. Reslau is a bit like three cafes in one: you can sit in the chic interior of the cafe, or out amid the rustic cobbled busyness of Elliott Stables, or under the trees in the shared space of Elliott St. It's a marker of modern Auckland, this place, and we love that.
Must-try: Egg sandwiches.
Allpress Coffee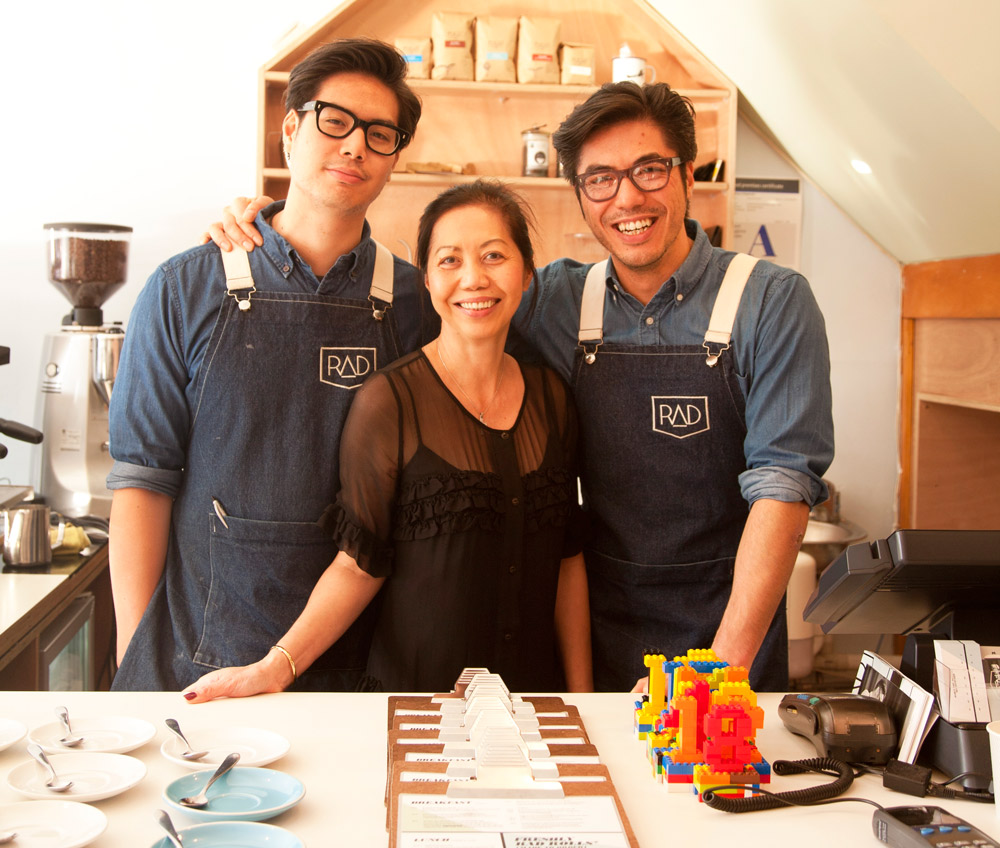 The Return of RAD
397 Mt Eden Rd, Mt Eden
Finally, a cafe has given Mt Eden village the energy boost it needed. These young guys are doing what they love very well, and boy do they take coffee seriously. It's Flight coffee, from Wellington, and goes excellently in a combo with one of their fresh-made juices and one of their baguettes. The menu is sandwich-heavy, a few with a Vietnamese twist.
Must-try: The bánh mì baguette.
Flight Coffee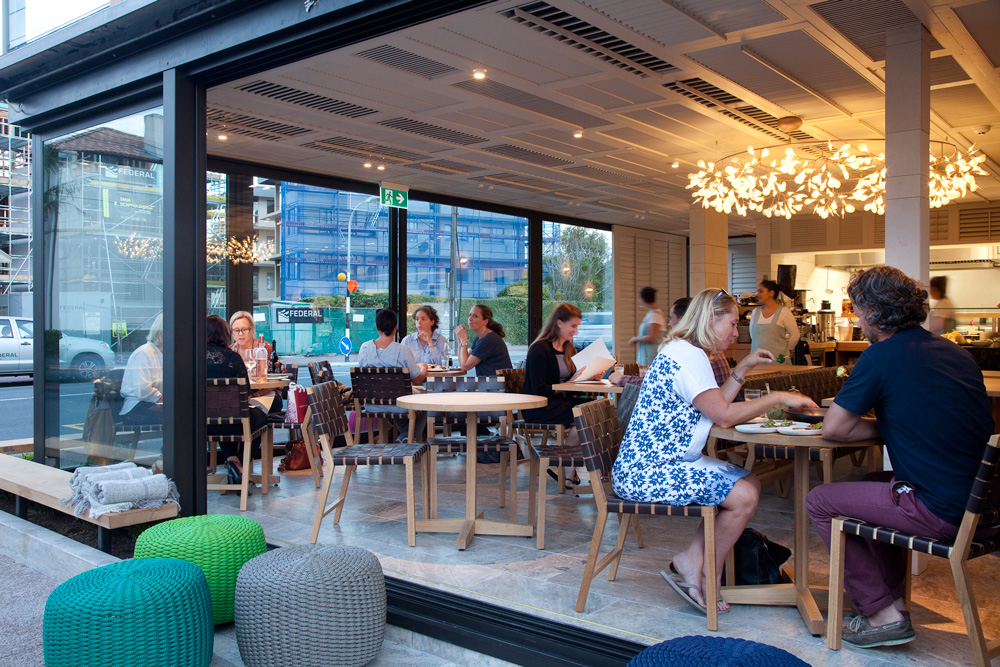 Rosie      

82 Gladstone Rd, Parnell
What makes Rosie, just up from the Rose Gardens in Parnell, our Cafe of the Year? Let's start with the menu, on which pretty much everything is carefully and originally conceived, and based on foods the company — yes, this is a Hip Group enterprise — grows and raises itself.
Grapefruit, in season, comes with burnt pear powder, organic honey and curd. You can order eggs benedict, but it's green eggs benedict. Omelette is made with smoked fish, herbs and a "caper salad". Aficionados of Ortolana and other Hip cafe/restaurants will know that omelette, like some of the other dishes  on the menu, is a staple across the group.
But Rosie is no mere suburban outpost. Oh no. There's a great, ever-replenishing array of counter-top baking and a whole bunch of menu flourishes they rightly call their own. Hats off to head chef Mike de Vries.
The juices change all the time, and some of the combos are to die for. Our advice: ask for beetroot and ginger. They also list five sorts of smoothie, including leaf and grain, superberry and flaxseed, and a "breakfast" smoothie of date, almond, cardomom and ricotta. Well, they call it breakfast, but it's more like nectar of the gods, in our view.
The furniture, by Douglas and Bec, features beautiful blond wood with woven  latticework, and is beautiful. As always with a Hip place, the light fixtures are a delight. Rosie is set on the Gladstone Rd ridge, looking out to the north and across to the gardens, and the room is smartly designed to take advantage of all that, with big window walls that slide open. Perfect for its setting.
So, here's an Auckland Saturday. Breakfast at Rosie — rhubarb with nut granola, perhaps, and coffee and juice and maybe a pastry — followed by a stroll through the Rose Gardens, maybe heading down to Judges Bay where, if you skirt round the Parnell Baths you can traverse the sleek beauty of the Warren and Mahoney-designed Pt Resolution footbridge and wander around Tamaki Drive, just as far as you like. When it's closing in on lunchtime, you retrace your steps to Rosie and order, because you've earned it, the buttermilk fried chicken with celeriac slaw. Maybe a little glass of something. Or maybe not: they've got white tea with carnation flower and it's hard to ignore. After lunch, repeat, with a swim in the baths or the sea, or even a kayak trip from Okahu Bay. Dinner? Well, Rosie is open for dinner too…
Must-try: Smashed eggs, feta and pickled pumpkin vinaigrette.
Allpress Coffee
The Remuera Local
371 Remuera Rd, Remuera
It's on the main Remuera strip but it feels a bit shy, so it's easy to miss. Maybe it's a good thing: inside, you slip comfortably into the booths and relax into the hushed European feel  — Peroni on tap is a bonus.
Must-try: Steak tartare, with pommes frites and a fried egg. Sacré coeur!
Allpress Coffee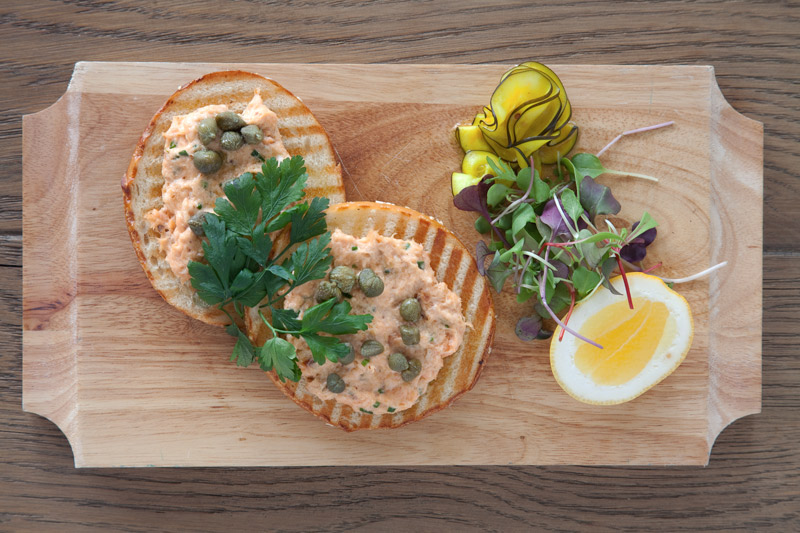 Scullery
166 Karangahape Rd, K' Rd Precinct
Their ethical values and zero-waste policy get so much (deserved) praise that it's easy to overlook just how good the cooking is at this skinny K' Rd eatery. Meltingly tender short ribs; succulent roast pork; smoky, garlicky forest mushroom ragu… Mmm. A great place for a late-afternoon craft beer, too.
Must-try: Rotisserie suckling roast pig roll with sambal and apple mayo.
Three Beans Coffee
Sprout
847 New North Rd, Mt Albert
They've taken a disused service station and turned it into a cute community hub; it's not super-flash but it's cute, and there's a lot to like about the short menu, including a green banana twist on the classic bacon, banana, pancake dish, and two moreish bánh mì options.
Must-try: Bacon-wrapped soft eggs with a panko crumb, served with tomato basil salsa and a hashcake.
Coffee Lab Coffee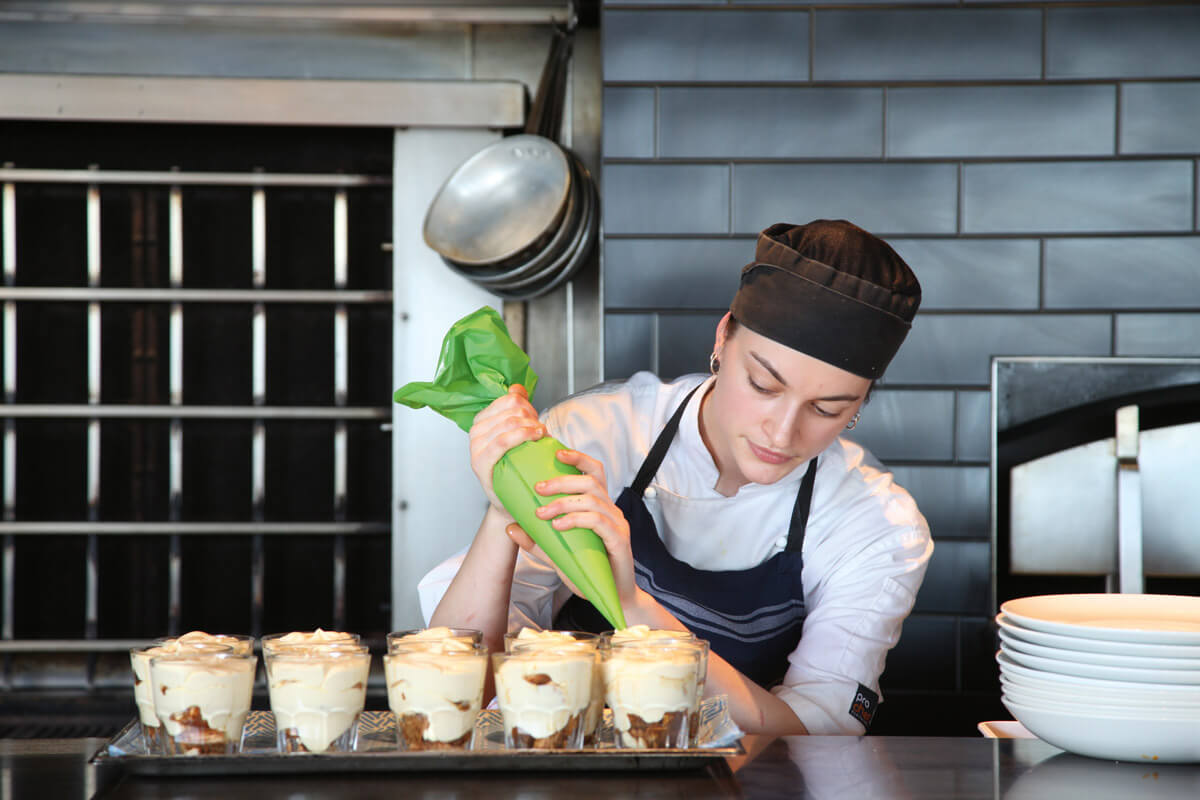 St Heliers Bay Cafe & Bistro
387 Tamaki Drive, St Heliers
It was our Supreme winner last year, and its standards haven't slipped. The Hip Group sure do know what they are doing. With that gorgeous view across the water to Rangitoto, and consistently excellent food with that signature service, this is one slick operation. Seasonal menu changes, house-made sodas and a beautiful space. Plus, it's open all hours. Just another thing to love.
Must-try: Lambs fry with smoked lardons and artichoke.
Allpress Coffee
The Store
The Pavilions, 5B Gore St, Britomart
Rumour has it there are big changes in store for the Pavilions area of Britomart, so best enjoy The Store while you can. This double-ended eatery — full menu and table service at one end, gelato and takeaways at the other — is run by the Hip Group (Rosie, Takapuna Beach Cafe and more), which all but guarantees impeccable service and gorgeous food.
Must-try: Smoked-pork sandwich with sauerkraut and emmental cheese.
Allpress Coffee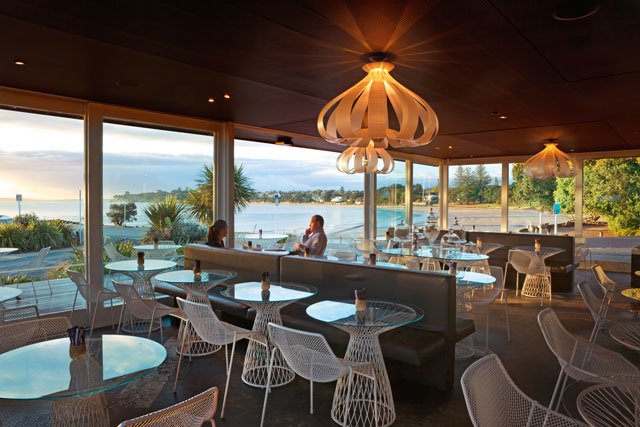 Takapuna Beach Cafe
22 The Promenade, Takapuna
You'll probably have to queue, certainly at the weekend, but when you get your table you'll feel like a royal, commanding a fabulous sea view and attentive service. And there's always the takeaway — fish and chips on the beach followed by their own gelato is a hard-to-beat recipe for a perfect date.
Must-try: Freekah fritter, smoked trevally, poached egg, citrus vinaigrette.
Allpress Coffee
Toru
Ponsonby Central, 136-138 Ponsonby Rd
Combining the buzz of Ponsonby Central and the unbeatable people-watching of Ponsonby Rd, a window seat at Toru is one of the best brunch spots in town. The menu, by the people behind Scullery, Teed St Larder and Scratch Bakers, is a real cut above standard cafe fare.
Must-try: Pan-fried livers with confit leek, pancetta and roast apple on brioche.
Three Beans Coffee
Wai Kitchen
49 Ocean View Rd, Oneroa, Waiheke
When on Waiheke, there is nothing nicer than a relaxed brunch overlooking the Hauraki Gulf in the stylishly appointed dining room of Wai Kitchen. On an island where consistency is often a bugbear, the service here is always smart, the food always pleasing.
Must-try: Roasted lamb belly, pearl barley, harissa, asparagus, whipped feta.
Three Beans Coffee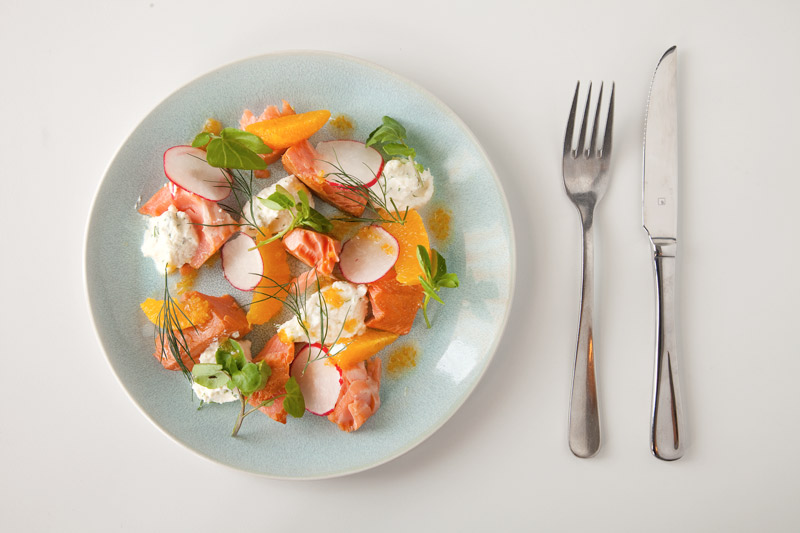 Zomer
4 The Strand, Takapuna
If you live in Takapuna, count yourself very lucky. You have your pick of some of the best cafes in the city, including this sunny, beach house-inspired place from Zus & Zo founders Clare and Joost van den Berg.  There's a really extensive range of breakfast and lunch dishes, plus options for kids, and their sandwiches are exceptionally good.
Must-try: Dikkertjes (Dutch pancakes) with apple, banana, raisins, berry compote and quark.
Miller's Coffee
Zus & Zo
228 Jervois Rd, Herne Bay
Bright and cheerful on even the cloudiest day, Zus & Zo has a minimalist look and warm, welcoming service. The name means "a bit of this and that" in Dutch, the native language of the original owners, and despite changing hands last year, its menu retains a mix of Dutch brunch dishes and familiar favourites done really well. We love that it now has a wine list, too.
Must-try: Ricotta pancakes with macerated blueberries, maple syrup and rose-infused mascarpone.
Atomic Coffee
For more Auckland food news and reviews, see metroeats.co.nz.
Best of  the Best


•••
Supreme Winner


Rosie

—
Best new cafe
Rosie
—
Best for kids
Jam Organic Cafe
—
Best service
The Federal Delicatessen
—
Best cafés bursting with their own breads and other treats
Bread and Butter in Grey Lynn; Olaf's Artisan Bakery & Cafe
—
Best cakes
Little & Friday
—
Most sublime Asian breakfasts
Bolaven
—
Best vegetarian splendour
Kokako; Little Bird Unbakery
—
Best cuisine from elsewhere
The Dutch food at Zomer
—
Best cafes for a walk in the park
Mojo Carlton Gore and Domain & Ayr by the Domain; Rosie by the Parnell Rose Gardens
—
Best cafes for a walk on the beach
Takapuna Beach Cafe; Wai Kitchen at Oneroa on Waiheke
—
Best cafe for lunch on the wharves
The Store, Britomart (take your lunch to the end of Queens Wharf)