Dec 4, 2019 Bars
The introduction of Saturdays, Royal G and Side Door are a 3-for-1 combo in the old Racket and Orleans site, consciously designed to be a part of The Lane's clubs-for-adults vibe and keep the party going with late-night hole-in-the-wall nourishment.
When I arrive at Saturdays, it's 11am, bustling with tradies, ladders and last minute touches for the grand opening in a few hours. But Britomart Hospitality Group's Development Manager Rod Ballenden is cool as a cucumber.
Come 4pm, the 12.5 metre square screen will be flashing graphics and photographs, the neon signs will be buzzing and they'll be serving drinks alongside Royal G's signature Indian street food bites.
Saturdays is a plant-filled, neon-accented, polished concrete hive of activity in the old Racket and Orleans site with a window for Royal G to sell their food through and a door out the back to slick, dark members club Side Door. It's designed to go from eatery to club at 11pm each night and allow the festivities spill into the courtyard-like 'Lane' that runs between Galway St and Customs St East.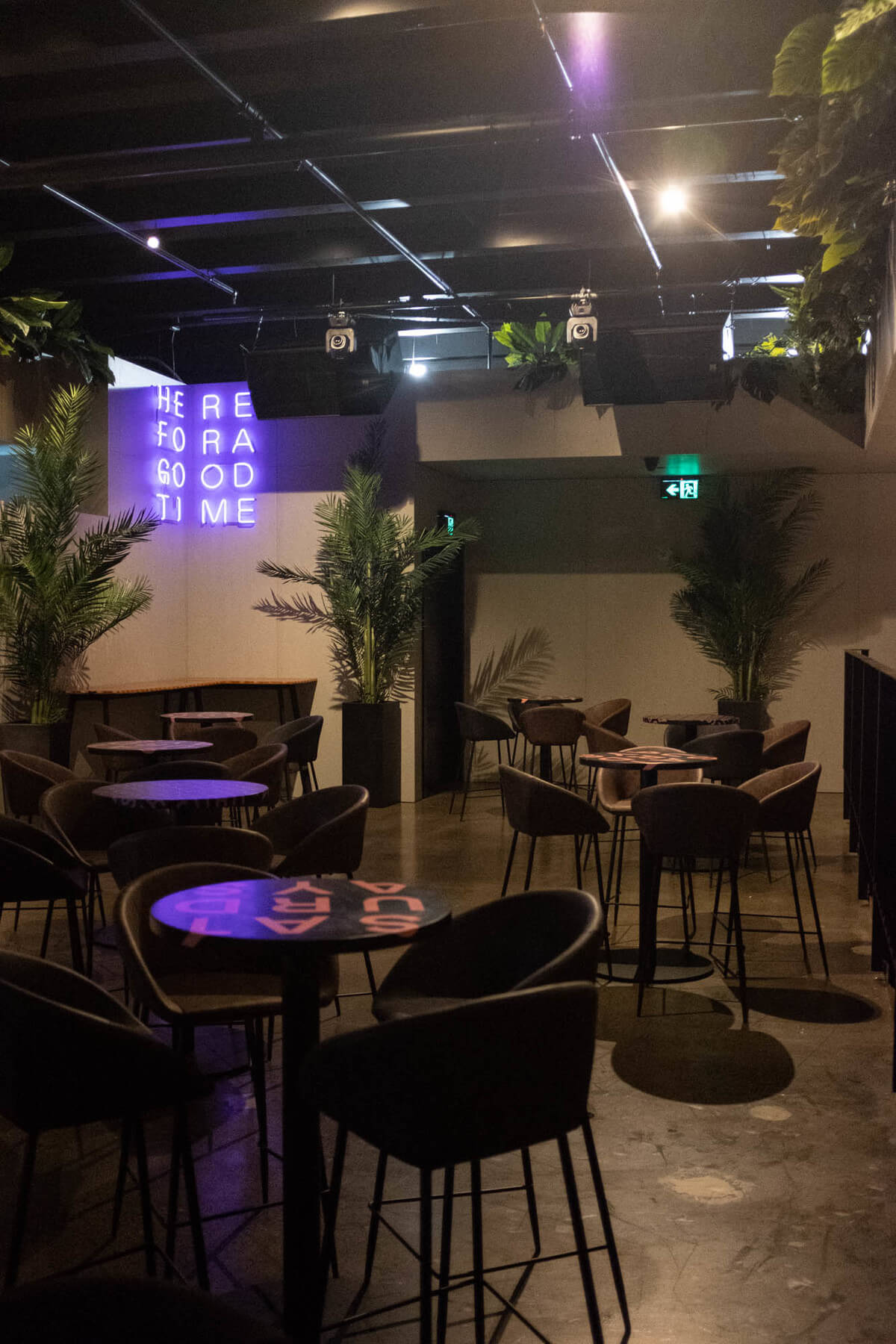 Ballenden is the mastermind behind the project, in collaboration with Royal G's Javier Carmona and David Saavedra who are running a hole in the wall out in 'The Lane'. They're serving "grab and go" Indian sharing food with an American twist; the Delhi Hot Dog, with a butter chicken sausage and Punjabi carrot pickle; roti rolls with either lamb curry and charred greens or eggplant, cauliflower and black dahl.
To compliment that, Saturdays has a cocktail list specifically designed to go with that fare dish by dish. General manager Carl Shadbolt explains that the spicy Cassia Sour's spice meets the powerful cuisine well, while the Angostura Ayurveda (which he'd match with the butter chicken sausage), has plenty of punch, with more bitters than any other drink he knows. After 11, the cocktail list switches to a classic-laden list featuring dark n' stormy, 70s revival cocktails and prohibition-style cocktails in cologne bottles.
Out the back at Side Door, it's a little more tailored – Shadbolt says the bartenders will know the regulars, their names, and their preferred tipples.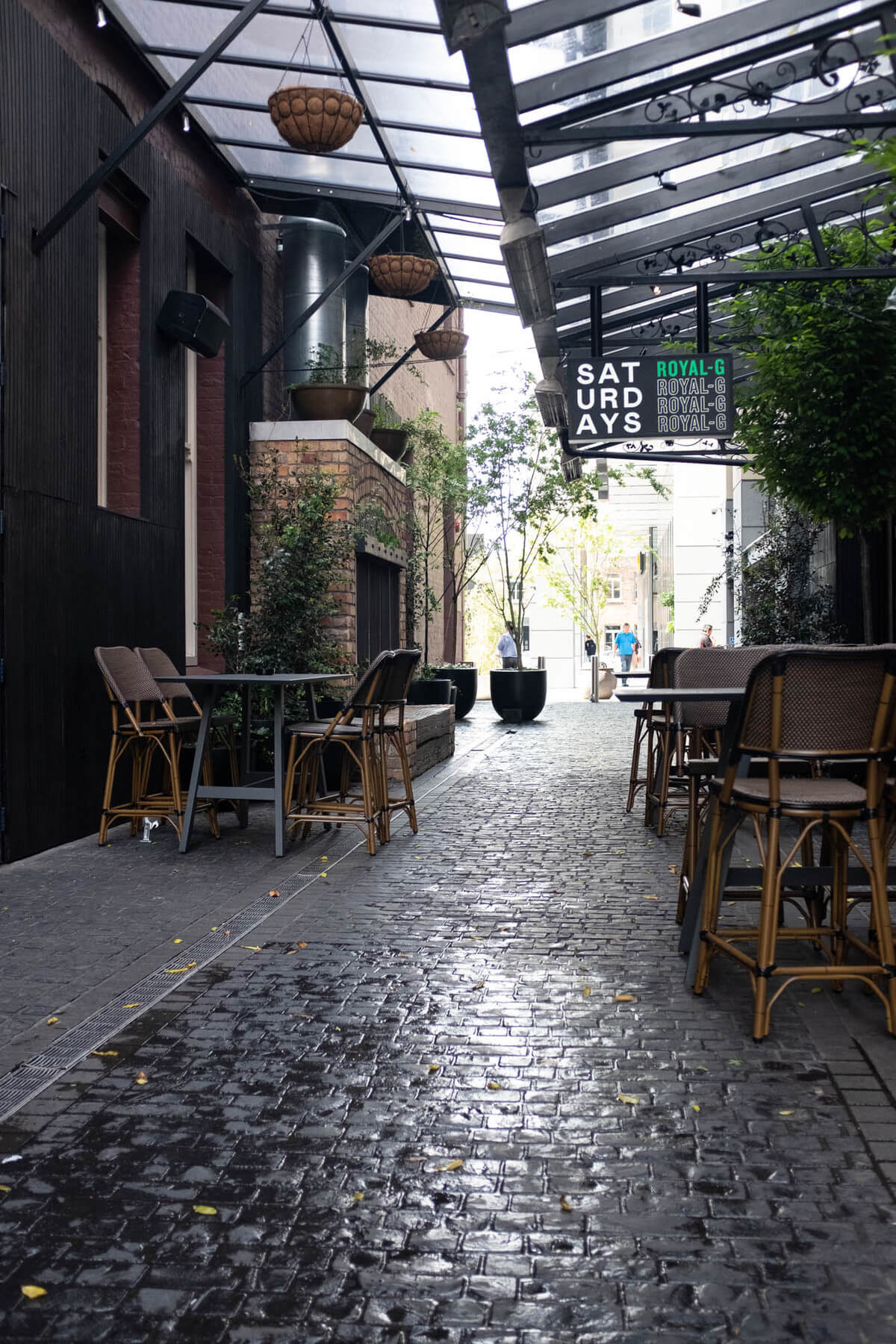 While the Royal G boys are excited to be serving food for the patrons of AV club and Caretaker as well as Saturdays, Ballenden is looking forward to contributing to the buzz of the alleyway – which, for the last 10 years or so has been known for its nightlife. They're all designed to slot in with The Lane's status as a nightspot for adults – club-like but not full of students. Even the more exclusive Side Door, which has an "if you know, you know" vibe is theatrical and dark.
Open till midnight, breezy and full of laughter and music is a description that fits both The Lane and its new additions. There's something very pleasing about several establishments joining a party they like and amplifying the vibe. And it doesn't hurt when they've brought some good food along with them.
48 Customs St East, Britomart
saturdays.co.nz
Follow Metro on Twitter, Facebook, Instagram and sign up to the weekly email