May 5, 2022 Food
Like many young bakers in 2022, Wendy Lau started selling her goods mostly through Instagram, gaining popularity through word-of-mouth and Instagram's algorithmic social feeds. Her account, Folds Patisserie, is flooded with black sesame cakes, teh tarik swiss rolls and pistachio tarts – a scrollable feast of treats.
Lau's first bricks-and-mortar shop is on Dominion Rd, in the old Florette space, a tiny slice of the strip where natural light streams through to shine on the stocked cabinet. Her partner, an architect, designed the space with just the colour to go off – Lau wanted it to be a calming green, inspired by her dad's favourite colour. The walls are just that – and the coffee machine spray painted to match – and offset by neutral beige and white furniture. It's a sweet, dressed-down spot, meant to play second fiddle to what's on sale in the cabinet.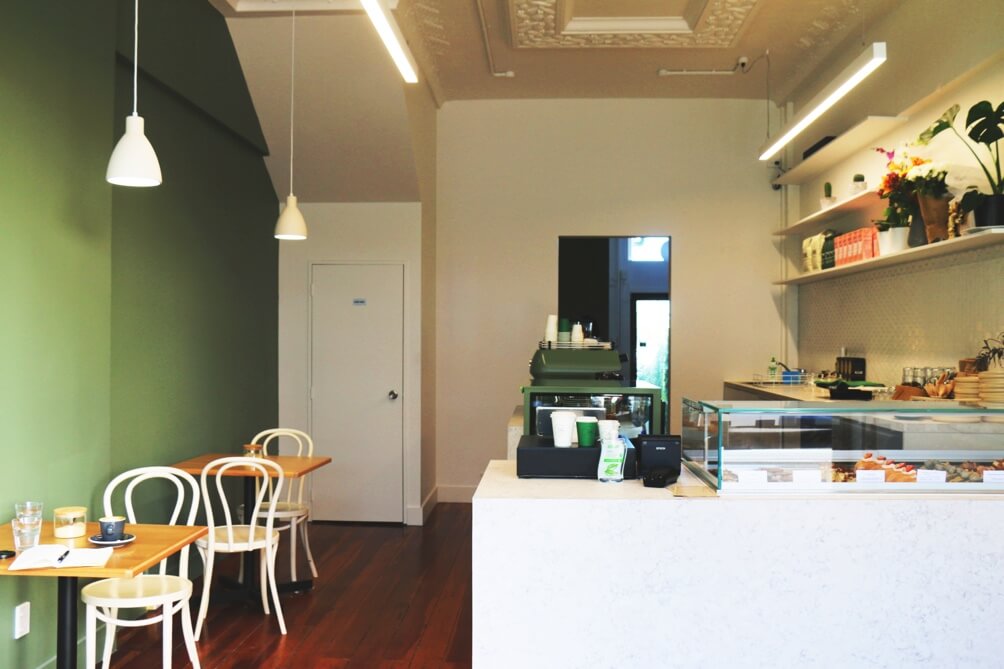 Lau originally studied architecture, but it soon became clear that it wasn't for her. After growing up making pastries with her sister, she kinda always knew that pastry was what she wanted to do. "I just had to convince my parents," she laughs. She went to cooking school, attending Le Cordon Bleu in Wellington and specialising in Cuisine and Patisserie, but it was always clear that desserts is where her interests lay. After moving up to Auckland, her first hospitality job was at Amano , before she bounced around at several different places – Ozone in Grey Lynn, Patch in Sunnynook and The Sugar Club at SkyCity among them. (The coffee served at Folds is by Ozone Coffee Roasters .)
Originally from Brunei, Lau was drawn to making Asian-inspired pastries in particular – the Western-style buttercreams just felt too rich and heavy, whereas Asian baking often employs fresh cream instead. In the cabinet there's things like a Milo swiss roll (like New Zealand, most kids in that part of Asia grow up drinking Milo), pandan lamington and a kaya croissant. Flavours like kaya, she explains, are nostalgic for the people who grew up with it, so the croissant is proving to be one of the bestsellers. (Kaya is a sweet coconut jam, made bright green by blizing pandan juice and adding it to the mix.) Her personal favourite at the moment is the taro swiss roll, because, "I just really like taro." Another popular swiss roll flavour, the ondeh ondeh, isn't in the cabinet the day I pop in as Lau grates fresh coconut for it, and demand has outstripped supply. Everything is very pretty – pops of colour and lush, voluminous cream makes it so – but it's the fun sense of play with flavour that makes it so appealing. 
When I visit, Lau's parents are visiting from Brunei, over for the week to see their daughter's first cafe. I catch them talking and eating breakfast in the little nook out back along with Lau's sister, a variety of desserts laid out on the table. It's clear that they, and Lau's upbringing, has heavily influenced the treats that Lau likes to make so much.
Folds is open now at 297 Dominion Rd.