Jun 11, 2019 What's On
Metro brings you a round up of the best of what Auckland has to offer for the coming week in our city's diverse and exciting food scene.

Cloudy Bay Pinot Noir Tasting Trail
What better way to accept that it's winter than to sip red wine and eat rich game meat indoors? It's in that spirit that Oyster & Chop, DeBretts Kitchen, Monsoon Poon have teamed up with Cloudy Bay. Each restaurant has come up with a game meat pairing with Cloudy Bay's 2016 Pinot Noir; a rich spicy drop, and they're all available till the end of June.
Peach's Hot Chicken Pops Up at Goodside
From Tuesday to Saturday in the month of June, you can get your fried-chicken fix at fancy food hall Goodside, with rotating specials and all your usual faves – including their transcendently spicy level of hot, Holy Cluck. Open from 11am-8pm.
Euro's Truffle menu for June
Celebrating the beginning of the truffle season, Euro are offering a truffle-based lunch menu, each dish imbued with a bit of the delicacy. Jerusalem artichoke soup, Croque monsieur and fresh rigatoni are a few of the dishes on offer (all with truffle elements of course) for $29.95.
Andiamo Locals Lunch
With the promise that you can "lunch like a local", Andiamo have launched a $35 Locals Lunch two-course set menu that includes a choice of either Soho 'Pink Sheep' rosé or pinot noir. The Italian inspired menu offers a choice of bruschetta or broth for entrees and either seared market catch or spaghetti with winter brassicas for the main. Tuesday – Thursday 12pm – 3pm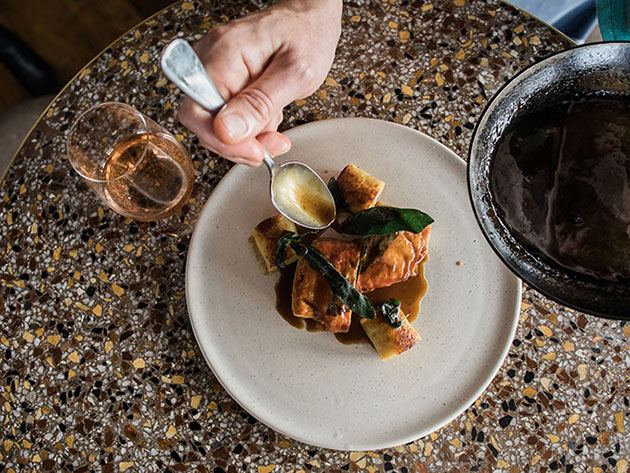 Auckland Wine Week
Get the lowdown on all that's going down with Wine Week here, plus a helpful guide to the best vineyards Waiheke Island has to offer here. There's also a couple of winemakers x restaurant collabs, including Mudbrick Vineyard at Top 50 Restaurant Augustus Bistro on 19 June.
13-23 June
Apéro Food & Wine
Usually a wine bar, Apéro is taking a step in a new direction with a whisky matched dinner. The K Rd bar is teaming up with Peter Wills from Kilchoman Distillery in Islay, Scotland. This very first "Pete meats Peat" tasting will bring the smoky taste of the whisky together with a four course menu, a welcome dram of whisky and two glasses of New Zealand wine of course (it is a wine bar, after all).
19th June
Foodprint launch
Noted Digital Editor Vomle Springford writes, "The app connects people to eateries around Auckland who have excess food that would otherwise be thrown out, which is sold at a 50 percent discount. In New Zealand, almost 50,000 tonnes of food is thrown away by cafes, restaurants and supermarkets every year." To read the full story, click here.
---
What We Ate This Week
Jean Teng Ate Nothing This Week
Since my food camera roll is more or less baren and dusty this week, this must be true. My hands were getting tired of doing the quick 'ole lift and snap, rotating my device sideways so the format would fit on this bloody page. I yearned for the days where I would make fun of people for doing this and get to immediately shovel rice into my mouth. I started to become sick of my broken record. "I'm sorry. I'm sorry, I'll be done in a SECOND, I promise. Hey, could you move your phone, please? It's in my shot. No, I don't need you to move your arm. Wait, actually, yeah."
Please enjoy all that Alex Blackwood ate this week below, and I'll see ya next week! I promise I'll eat!

Hotel DeBretts' Cloudy Bay Pinot Noir Tasting Trail dish
I don't say this lightly, but the Central Plateau seared venison loin, served with orange and date purée, beetroot and tapioca crisps (with Cloudy Bay Pinot Noir 2016) sent me back to my grandmother's kitchen table in Havelock North. The dish was just like one of her expertly cooked, slightly extravagant meals distilled into a smaller dish with fine dining presentation. The tapioca chips sagged a little in the moisture from the venison, but the earthy, sweet beetroot met the strong meat flavour perfectly.
Eden Noodles Cafe's noodles in soup with dandan sauce
I can't stop with the dandan noodles at the moment. Spicy, rich and aromatic with a hint of that Szechuan numbness. Nourishing and yum.
105 Dominion Rd, Mt Eden
Suzaku Ramen
Such a huge, warm hug of a dish is truly worth braving the food court hubbub for. I got the classic ramen and sprinkled it with copious amounts of chilli at the seasoning station. The broth had that perfect warm umami flavour but the seaweed was almost too salty, and I wish there was just a little bit more of the pork. But I left full and happy and as with all good ramen feasts, I needed a nap afterwards.
291 Queen St
Hokkaido Baked Cheese Tart
If you haven't had one of these, think a Portuguese tart but not so sweet. It isn't sweet but it isn't out and out cheddar cheese either. It's rather a smooth, creamy, eggy cheesecake iteration. My complaint is that they give it to you in a little paper bag as if you were going to carry it somewhere instead of shoving it into your mouth on the spot.
5/350 Queen St