Nov 12, 2019 What's On
Overseas, going out for some late-night snacking aka supper aka the meal after dinner is a Very Big Deal – and delightful! It's a little harder to get good food in Auckland's later hours, but for One Night Only, all your supper-related woes will be answered. Come along to Metro's dining event with Top 50 Restaurant Culprit, where we'll serve you inventive bites paired with a cocktail at 9.30, 10 or 10.30pm seatings. Plus, other food news this week.
Matchy Matchy: Urbanaut x Metro beer match
Metro's made a beer (with the help of our good friends at Urbanaut)! To celebrate, a bunch of Auckland's best restaurants have matched it with a special dish – vote for your favourite here.
Umu Pizza, Kingsland: 'The number 6'. House-made lamb merguez sausage with harissa, feta, mozzarella and minty herb yoghurt.

La Fuente : Snickel Lane – Spiced Monk fish Taco with caper, fennel, coriander and chipotle aioli.

Ramen Takara (Ponsonby and Browns Bay): Tori Shio Ramen with grilled chicken charsiu, house pickled vegetables and homemade noodles in a delicate clear broth with a subtle hint of shrimp and burnt leek oil.

Satya Chai Lounge (Karangahape Rd and Sandringham): Kurryaage Fried Chicken

Food Truck Garage (City Works store only): Hauhake lamb burger with kawakawa pesto, tamarillo jam and gruyere on a kumara brioche bun.
Bottle Stop's 1st Birthday
Craft beer specialist store Bottle Stop are celebrating their first birthday with a bang – balloons, giveaways, music and plenty of beer, including a return of Bottle Stop's opening Behemoth Brewing collaboration beer.
Friday 15 November | Bottle Stop Beer Shop
READ MORE: Reach craft beer nirvana at new Grey Lynn store Bottle Stop
Meet the Makers 2019
Join The Hunting Lodge for a night of al-fresco dining under the stars, featuring a four-course meal where food producers will dine alongside you and share their stories. These include Kaipara lamb & oysters, Massimo's Italian cheeses and more. $130pp, includes food and drinks.
Friday 15 November | The Hunting Lodge
Winemaker dinner at Gerome
5 courses paired with 5 wines hosted by Palliser Estate's Chief Winemaker at a restaurant that comes pretty highly recommended by Metro Editor Henry Oliver. Boom. That's all you need to know.
Wednesday 20 November | Gerome
One Night Only: Culprit Midnight Snack
Anyone who's ever been to Culprit knows some of their tastiest stuff comes from the trolley service, a clever medium for experiments with playful flavour combinations and seasonal ingredients. At this special event with Metro and Peugeot, they'll be bringing some of that magic here, but a bit differently, with midnight feasting and a cocktail. 9.30pm, 10pm and 10.30pm seatings. Seatings are small and tickets are limited. $55pp.
Friday 22 November | Culprit
Euro's new summer menu
As it starts to get uncomfortably hot and we all start to regret wishing it was warm enough to swim, Euro's Executive Chef Gareth Stewart introduces their new summer menu with refreshing dishes like yellowtail kingfish crudo to glorious Glory Bay salmon, big and bold Iberico pork chop to decadent caramel semifreddo.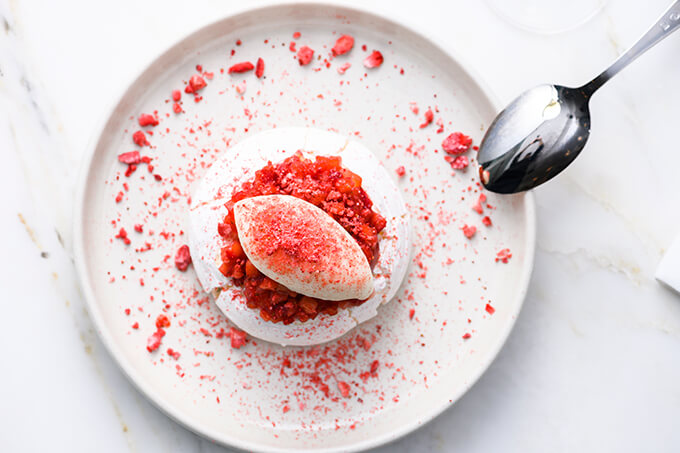 ---

New Openings

Everybody Eats & ONE Onehunga
Everybody Eats have opened permanently in Onehunga, sharing the space with daytime eatery ONE. The former will be open Sunday-Thursday, while ONE is open 7 days a week from 7am. The pay-as-you-feel restaurant will continue to have a three-course set menu, including a vegetarian option. Check in on the website for updated menus.
306 Onehunga Mall

READ MORE: Everybody Eats brings its pay-as-you-feel restaurant model to Avondale
Brothers Beer Onehunga
Brothers have just opened the doors to their new outpost in Onehunga, housed in the Post Office Heritage Building. They'll be open 7 days a week from 12pm-10pm, with their Juke Joint BBQ menu running.
120 Onehunga Mall

---
What We Ate This Week
La Porchetta
We arrived at 8.15pm on a Saturday night and it was so busy, we needed to wait for a table. What is this, Cotto ?
Although the unfortunate food snob in me was vehemently against going to La Porchetta, my friend convinced me and – this is where the unmistakable influence of online reviews wades in – Zomato did, too. It has a 4.1. It was full of families and young people stuffing their face with carbs before a night out, casual and cheerful with an unmistakable Valentines (the buffet) vibe. It feels like the local go-to for family birthday dinners, 100%.
I got the Spaghetti Pescatore, where my pasta was overcooked, lacking flavour (if olive oil is the main flavour, please use good olive oil), and they forgot to give me parmesan and chilli flakes shakers! And didn't offer us cracked pepper with the oversized grinder! The real winner of the night was my discovery of San Pellegrino's Aranciata Rossa, a blood orange citrus soda which is off the chain refreshing, not very fizzy, and yum. Everyone in the room seemed happy, and it was bustling. Come here for a group feed, not for date night. (Also, don't get the tiramsu. It was one of the saddest I've ever had in my life.) – JT
167-171 Parnell Rd, Parnell
Burgerfuel Alternative Muscle burger
So plant based burgers have faced a bit of apprehension in this meat loving nation, but this plant-based burger could nearly, almost fool you into thinking you're eating meat – just the way it was designed to do by Alternative Meat Co. It's a lil bit softer than a normal burger pattie but it tastes about right; meaty and umami rich with plenty of pickles. BYO hot sauce IMHO. – AB
Gusto at the Grand
After breaking a story that caused a bit of a stir when Gusto closed for a couple days following a food poisoning incident, I felt it was important to go back and affirm that it was still good. They are after all, one of our favourites, having earned a place in the Metro top 50 for the last 5 years. The snapper alla ghiotta was flavourful in a way which complemented rather than overpowered the taste of the fish and the pea, mint and ricotta bruschetta was fresh and delightful as ever (I've tried to recreate this at home but have failed each time). And, dare I mention, I felt fine afterward. – AB
SkyCity, 90 Federal St

Jung Dam
Another good (and new) suburban Korean restaurant in Wairau Valley. Would not recommend the big pots of soup on a hot day – you will sweat. – JT
20A Link Dr, Wairau Valley
Burger Burger
Oh, how does Burger Burger always pull me back in? The fact is, no other place on the North Shore is doing what Burger Burger is doing – a sit-down family-style eatery with decent burgers, good sides and a drinks list. So I really like them for that. Unfortunately I've been disappointed with my burgers the last few times I've been –the patties have been dry, and the ingredients so piled on, flavour is lost. (The sauces sadly seem non-distinct as a result.) I so desperately want to relive that moment when I first bit into the classic chicken at Burger Burger – I distinctly remember a galaxy-brain wow moment. I would kill for Burger Burger to do their take on the simple hot fried chicken sammie. – JT
40 Hurstmere Rd, Takapuna
Suntory Boss Coffee
Japan's most popular canned coffee is best served iced cold and downed quickly, preferably by a beach. It won't replace non-canned coffee, but it might be a less-sad replacement for a soda or energy drink. – JT
Available at your nearest supermarket
More Bombay Sapphire gin paint
Yes, I talked about it a couple weeks ago but this time I actually got to do the "make your own gin cocktail" at The Glass Goose – dripping with geranium flavoured gin paint, I went with a botanical tonic, pink peppercorns and sage – it was earthy and floral and I felt very fancy. You too can make your own signature cocktail at The Glass Goose or Bedford Soda & Liquor but until the 20th of December. – AB