Sep 14, 2018 Restaurants
Everybody Eats feeds 100 Avondalers at the first of three pop-ups, ahead of its plan to go permanent in the west Auckland suburb.
Nick Loosley talks and walks – very fast – on his mission to beat food poverty and food waste. A master's degree in Green Economics at Schumacher University in England and on-the-job research at Jamie Oliver's Ministry of Food and The Real Junk Food Project prompted his launch of
pay-as-you-feel restaurant Everybody Eats
last year.
The Monday night dinners in St Kevins Arcade feed over 270 people from the tiny kitchens of Gemmayze Street restaurant. People sleeping rough mix with city hipsters over three courses cooked by volunteer chefs with food rescued from New World Eastridge, Daily Bread and Kiwi Harvest.
Loosley's no-plan plan is to translate this model into a permanent five-day restaurant in Avondale using $120,000 raised through Pledge Me, and from there, make Everybody Eats replicable throughout the country. His first step is to run three pop-ups at Woodworks restaurant; we followed along for the first.
Monday, 8pm
While 20 volunteers mill around him packing down dinner at St Kevins Arcade, Loosley's checking what raw ingredients are left over with chef Javier Carmona, who's devising the menu for the first dinner on Wednesday night. Spanish-born, now Avondale local, Carmona brought his contemporary Hispanic food to the neighbourhood with Etxeberria, after trail-blazing stints at Inti, Mexico, and Beirut restaurants. This is gonna be a great feed.
Read more: Reduce food waste with these recipes from world-famous chef Massimo Bottura | Contemporary new cafe, Browne St, opens in Avondale
For more great videos, check out our Youtube Channel.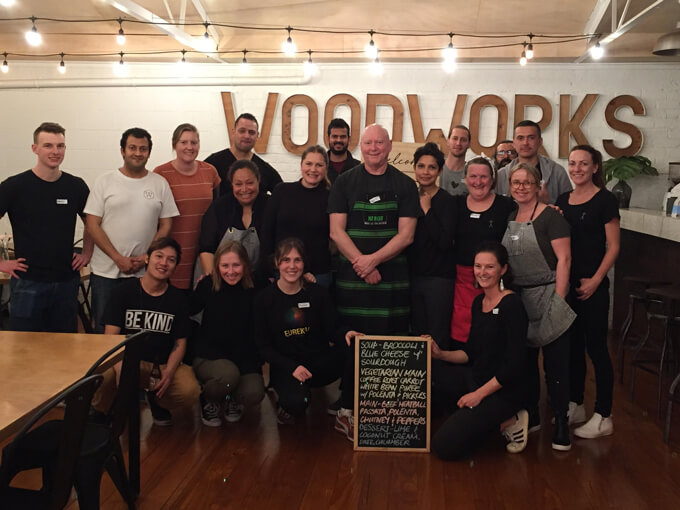 Tuesday, 3.15pm
Loosely and Carmona are digging through the Everybody Eats freezers, planning the menu on the hop. Cases of broccoli and some date-expired blue cheese are the makings of the soup. A sack of dried cannellini beans (soaked, cooked, flavoured with garlic and herbs and blended into a puree) and the vegetarian main is sorted in five minutes. A carton of fresh limes is gold; spotting a tray of UHT coconut cream and Carmona's riffing on a tropical dessert. The guys load up boxes of frozen mince, almond date rolls, bottles of tomato passata, cartons of herbs, sacks of polenta and flour, and a tray of eggs.
We're out of there and on the road west in less than 30 minutes.
Tuesday 4pm
Regular volunteer prep chef, Virginia, has brought her friend to help get a head start. While Loosley sources last-minute ingredients from the local market (diners' donations buy the few essentials not rescued), Carmona's in three places at once: supervising kitchen hands prepping meatball ingredients, speed chopping green tomatoes, onions, garlic and ginger and roasting eggplants for the chutney, and tipping Woodworks' coffee grounds onto carrots to infuse overnight.
Carmona's raided a friend's kitchen for yams to crisp up for crunch with the red onions, and is lightly pickling daikon radishes to slice finely over the roasted carrots. Nothing is wasted. Vegetable choppings, cucumber skins (the flesh is frozen for a surprise sweet-crunch in the dessert), potatoes with their peel – all go in with the broccoli for soup.
Mountains of pecorino cheese – not fit to sell, now deeply flavourful as Italians would love – is grated. By 6pm, Carmona's made three batches of polenta; tomorrow it will become chips. The fun job of the night is rolling nearly 400 meatballs – the guys carefully doing the maths, Carmona thinking aloud how his plates will look. A deep clean up, and we're out of there by 8pm.
Wednesday, 11am
Loosley is driving to New World Eastridge to pick up surplus produce. Produce manager Mahesh Goswami loves rescuing fruit and veg that's no longer fit to sell for Everybody Eats. As a worker rolls past with a trolley of strawberries – a few are bruised – he directs him straight to Loosley.
"It's respect to the food, and respect to the people. And we can encourage other people to do this all around New Zealand, it forms community relationships."
Store manager Matt Hayward, who jumped on board with Everybody Eats from the beginning, is excited at plans to run a full-time operation ("we can flick the switch" to up supplies). The store has nearly halved the number of bins it sends to pig farms.
"Often food rescue shines the spotlight on other business practices, it makes us realise what else we've been throwing away," he says.
The trolley is loaded: bins of kiwifruit and bananas, a case of beautiful yellow peppers. Loosley's already thinking ahead to next week's dinners with the cases of barely damaged cauliflower and frozen chicken. He's thrilled at the size of the first mid-week haul.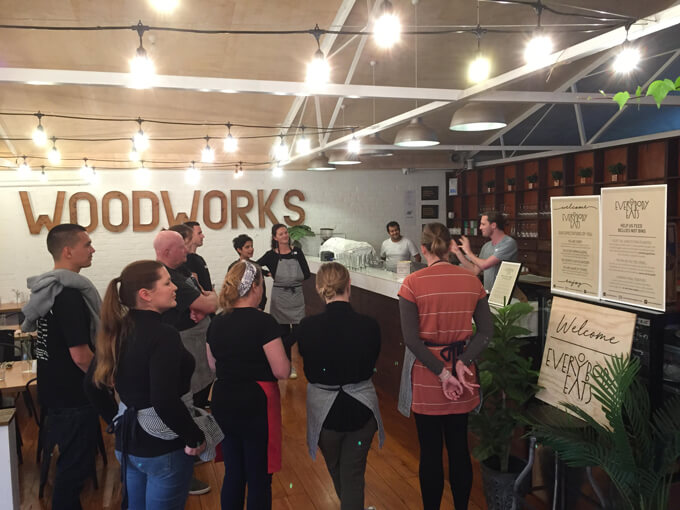 Wednesday, 3.30pm
Carmona and his four chefs have already got meatballs in the oven, soup on the stove, dessert creme whipped. Fruit and veg are being chopped, one lucky KP is frying some 300 polenta strips into chips.
In the restaurant, Loosley confers with restaurant owner Gaurav Goyal on rearranging tables into bigger, communal settings. While early volunteers set the tables and chill water bottles, Loosley checks in with Dayne Smith, whose I Love Avondale Facebook page has been key to publicising the community. The community development worker, now funded by the Department of Internal Affairs to run Together we are Avondale, wants Everybody Eats to fill the gap for much-needed community food projects.
Goyal says his customers have been excited about Everybody Eats since posters appeared last week.
"It's a big thing, everyone knows about it, everyone wants to see it here," he says. "Avondale has been really good to us, so we want to play our part in the Avondale story."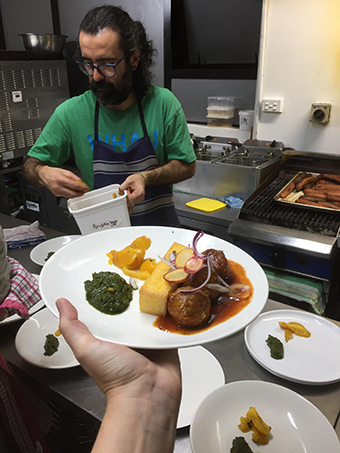 He's remarkably calm as his kitchen is rearranged to fit six chefs and 12 servers (the average suburban cafe doesn't smash out 100-plus meals in 90 minutes), liquor bottles are removed from shelves (Everybody Eats is strictly alcohol-free) and EE signage added. Goyal happily spends the night polishing glasses and running the Eftpos machine, stopping to eat with his dad and brother at the end of the night.
Wednesday, 6pm
Smith is working his phones to check people are still coming. He apparently knows everyone, greeting folks at the door, circulating the tables while his soup goes cold.
Families with excited kids flood in, there's a carnival atmosphere as neighbours recognise each other. Volunteers from food banks and church kitchens, a local Plunket nurse, city workers on their way home, word's got out. Bang on 6.30pm the first soups go out, service is started.
Carmona's flavours are so popular many people ask for takeaways. Instagram accounts are popping, people promise to come back next week.
Wednesday, 9pm
Clean, packed down, out of there.
The next pop-ups are on 19 and 26 September, 6.30-8pm. Woodworks, 1790 Great North Road, Avondale.