Jul 30, 2019 What's On
Metro brings you a round up of the best of what Auckland has to offer for the coming week in our city's diverse and exciting food scene.

American Express Restaurant Month?
American Express Restaurant Month kicks off soon, running the entirety of August. Over 100 restaurants are taking part with various set menus at $25, $40 and $55 price points, and there are a whole line-up of other food events to get to. This week, the Sweet Dreams dessert-only degustation is taking place at DeBretts Kitchen, starting with a dessert cocktail followed by a six-course menu (2 August).
August 1-31 | Various locations

A Taste of Craggy Range
Nic Watt and Chris Will of Masu are joining forces with Craggy Range for a four-course dinner of Hawke's Bay produce and Ora King Salmon, matched with wines from Craggy Range. Tickets are $170pp, email info@masu.co.nz for bookings.
Thursday 1 August | MASU by Nic Watt
A Taste of Ponsonby Central
With a heap of new openings popping up at Ponsonby Central, it's hard to know which eatery to grab a bite at. A Taste of Ponsonby Central is a taster tour, a guide taking you through different restaurants and bars, stopping for small bites and chats with the chefs and owners.
Tuesday 6 August/Wednesday 14 August | Ponsonby Central
Miann Tasting Menu
Yep, seven courses of chocolate desserts made from Miann's own bean to bar chocolate – decadence at dark, from 7pm every Thursday. $60pp. Email brain@miann.co.nz to make a booking.
Every Thursday in August | 14 McDonald St
Eat Drink Love Ponsonby
Although Elemental AKL is over, there's still time ticking for Eat Drink Love Ponsonby, with their special set menus still on offer, as well as some special ticketed events. Progressive Dinner One, Mezcal on the The Riveria, starts with drinks at Lime Bar and moves on to starters at Ponsonby Road Bistro (with a mezcal drink match), main at Saan, and ending in Orphan's Kitchen for dessert.
Wednesday 7 August | Various locations
New openings
Lowbrow is opening in St Kevin's Arcade on Thursday 1 August; keep an eye out for more information from us soon.
---
What We Ate This Week
Jean Teng and Alex Blackwood
Fort Greene four-cheese sandwich
OK, my opinion of this sandwich is controversial. Yes, it was delicious and loaded with cheese (there was some blue in there and either gruyere or emmental) but it was also too greasy and very basically put together to be $14.50. The pickles and pickled cabbage were nice additions and went well on the side of this, but can we make it a thing that if you're going to serve someone pickles to put in a sandwich, you cut them in a shape that makes sense in a sandwich or at least give them knives that aren't actual blunt objects? There was no seasoning in sight or available and I really would have liked some hot sauce (do I need to start carrying it around like Beyonce?) and pepper. It was really just cheese on bread with pickles and pickled cabbage near it. That is good, but if you're going to make it your business to have great cheese toasties, you need to be better than that. The pickled cabbage had an unexpected hint of cinnamon about it though. That was quite nice. – AB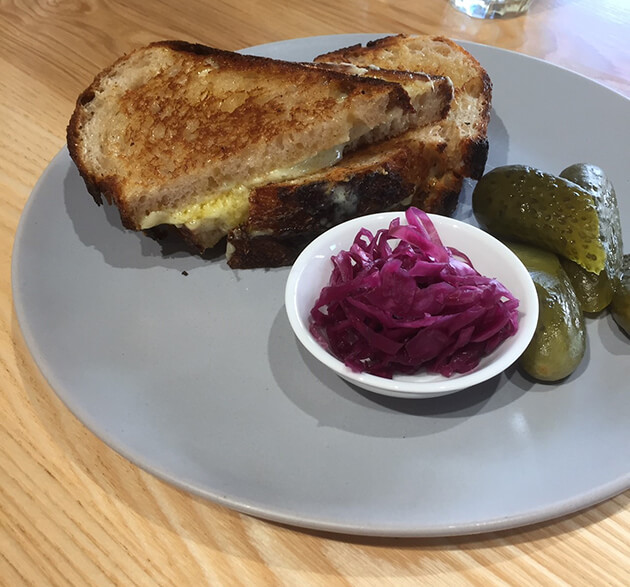 Doornuts crème brulee doughnut
Saddest short story ever: I dropped the crispy piece of burnt sugar I was saving for my last, best, bite on the K road footpath before I could eat it. A single tear rolled down my cheek and joined it on the concrete.
I lost the best bit
Of my poor dear doughnut treat
On ground: do not eat – AB
Peach Pit
Hello, world, I had a very nice dinner at Peach Pit, and think you should go there soon, too. We ordered the potatoes with duck fat mayo, lamb rump and Jerusalem artichoke gratin, to which the waiter suggested we nix the Jerusalem artichoke gratin and that the first two should do us. We went for all three anyway, and let it be known we finished every single thing and feel slightly embarrassed for doing so. But what can I say? I love carbs. Everything was delicious. – JT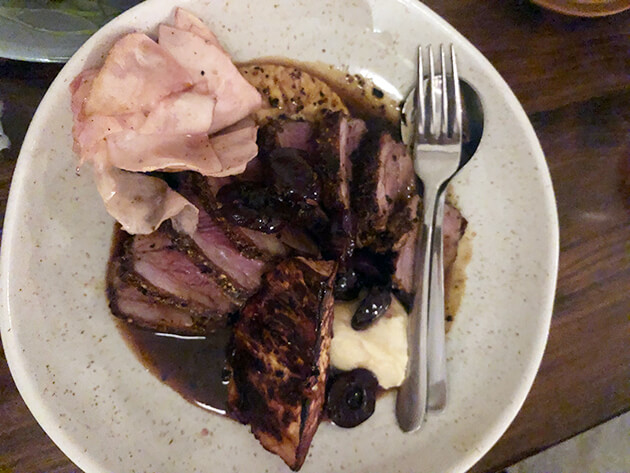 Saan
In another edition of 'a staff member suggests I dial back my order', after we ordered at Saan, our host came back and duly informed us he got rid of the extra Jasmine rice as he thinks we over ordered. Ooookaaaay, we thought. Does he realise we're Asian?
Well, joke's on me, because this time he was right. Our order of cured beef on perilla leaves, grilled pork strips, Massaman lamb curry, marinated deep-fried tofu and one sticky rice was more than enough for two. I wish the cured beef was less muddled, overwhelmed by the perilla and lacking a distinguishable flavour amongst the beef, though the texture from the peanuts was great. The Massaman was too sweet, and, oddly, had one small single chunk of kumara amongst the lamb. The very tasty tofu was my favourite. – JT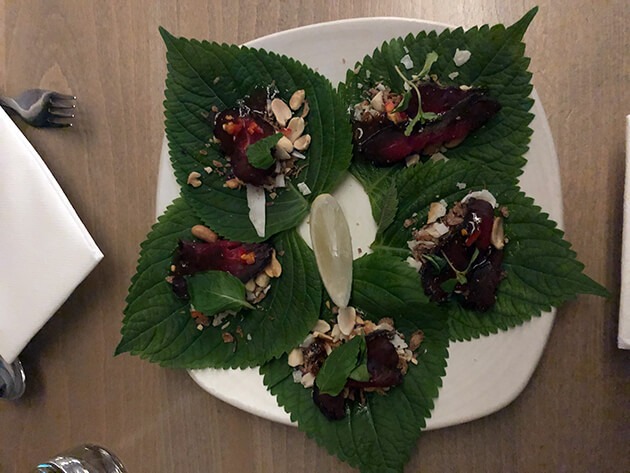 Subway salted caramel cookies
I got sent these to celebrate Subway Cookie hacks: a campaign that encourages you to make other baking creations from the cookies. But to be honest, the cookies never made it to a kitchen. I ate them all because cookies are yum and I have no self control. Good luck to other bakers though. – AB
Seafarer's Club SEVEN Veuve Cliquot pop up popcorn shrimp
I don't like popcorn. It's just a dry, horrible feeling receptacle for salt and butter and honestly if you're going to do that, just eat some salt and butter. Nonetheless, this "popcorn" shrimp was delicious; spicy (quite, decently spicy), sweet citrusy, tender and the right spot between crunchy and soft. And there was plenty of it too. You wouldn't expect it to go well with rose champagne but it did. The sizzle of the fizz with that little bit of sweet, saltiness in the champagne just popped. – AB
Plus: Chocolate fondue with champagne marshmallows
Is it just me or does everyone have an old fondue set they are sure they'll use one day? Don't bother. Throw it out. Get this one instead because your marshmallows aren't champagne infused so you may as well not try. This is better. – AB