Aug 14, 2019 Travel
Aucklander Jean Teng goes down to Wellington to sample a couple of their restaurants and down a lot of beer for Visa Wellington on a Plate and Beervana.
Wellingtonians are constantly banging on about how good their food is. "Community-minded", they say. Wellington's food scene does feel community-minded, mostly because the hotspots are located conveniently within a 20-minute walk of each other. I walked everywhere, in the general area between Lambton Quay and Courtenay Place, scrawling down the name of restaurants which either confused or enticed me – like Crumpet, Asian Kitchen, Mr TK – and spotted the places my family might have gone to if I grew up here. Street names and sharp corners were unfamiliar enough to me to feel new, enough to feel like a holiday, and enough for me to get excited.
I was in town for Visa Wellington on a Plate (VWoaP) and Beervana, two of the capital's biggest events of the year. This year VWoaP extended to encompass the whole month, split between Dine (August 1-16) and Burger (17-31 August), with Cocktail spanning the entire time. There is a huge, huge spread of events – including some big-name chef collaborations – and fixed menus, so much so it feels like every place in town is involved. (Well, that's not strictly true – Wellington has this weird Asian-food problem which means there's only one good place in town to get dan dan noodles, and that restaurant is not even involved in the festival. Taste of Home, by the way.)
Auckland's version of this event (American Express Restaurant Month) does not create nearly the same buzz. If you can believe it, the demand is so great in Wellington that these events, particularly the international chef collabs, are balloted, meaning you have to enter the draw to win the privilege to purchase a ticket. No Aucklander I've spoken to could even fathom the possibility of that happening here; we simply just have too many food experiences on offer year-round. Or maybe we're just not as willing to spend the big bucks?
I'm told some food Instagrammers save up the whole year to splurge specifically for this. I dined with a prominent Wellington food Instagrammer for one of my meals, and she looked exhausted, the expectation to dine out every single night to take advantage of fresh content taking its toll. What a shitty thing to complain about, right? But I feel for her. Along with a full-time job, the labour it would take to keep up and curate the 'gram would take some serious intrinsic motivation. Watching her snap the photos felt a little soulless.
READ MORE: Best of Wellington: What to do in the capital
My first stop in town was on Cuba Street's Olive for a coffee, a liquid appetiser to the Rochelle Canteen x Loretta collaboration that would follow. I'd been to Olive before, in the height of summer the last time, and the cold has made it a different cafe: cosy, warm, embracing.
Across the road, Loretta is expansive, blonde and pretty, with a naturalistic vibe I'd quickly come to associate with restaurants in the capital. We could spy visiting chef Margot Henderson of London's Rochelle Canteen pottering around the kitchen already. On arrival, I ordered a bicicletta, an Italian aperitivo made up of Campari and white wine, and later found myself dipping radishes in a divine anchovy mayo dip almost like bagna cauda. That was my favourite part of the lunch, though my spoon fell into a lemon posset that ate like a dream, velvety and zingy and, with the ginger crunch, a suitably light end to a meal which included tendrils of octopus and cuts of lamb.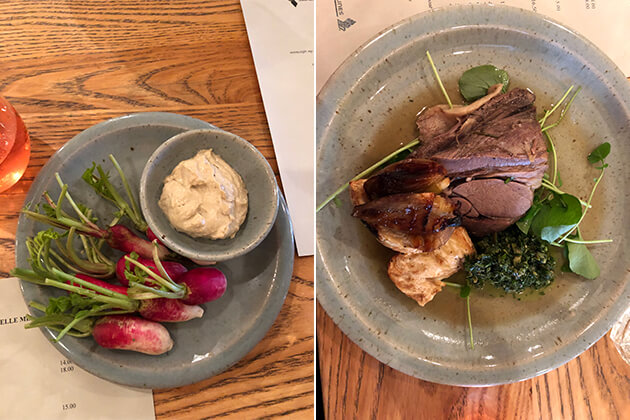 Lunch at Apache the next day. It's broadly Vietnamese-French fusion, with some dishes more one than the other. The clear stand-out was a steak tartare. With Vietnamese mint, nashi pear and smoked yolk, it was silky and fresh and a great take; it was also an immensely pretty dish.
Pour and Twist was my favourite place in Wellington. It's a fully-manual coffee bar which plays with speciality filter coffee in ways I hadn't tasted before: the grey marble with activated charcoal powder was genuinely delicious, a combination going beyond gimmick. And you could accuse them at times of gimmick; there's one drink where they pour over an orange peel placed in a Chemex. It's owned by a young couple, Elaine Loh and Zuyi Woon, who are Malaysian (kopi and teh tarik also feature on the menu). They recommend dining at Japanese spot Tatsushi and, of course, Hiakai.
READ MORE: Best of Wellington: Where to eat in the capital
Beervana was loud. Groups of friends who slunk off work early to get fucked up were huddled tightly in small pockets, manoeuvring their way through the masses to find their next pint. It was, in all honesty, quite a good time – even for someone who has to inevitably tap out quicker than everyone else.
The first brewers you see are Garage Project, their stall lit up and glittery like a rock star's stage. I soon found I had some sort of beer slushie in my hand – mango and peach – which went down like a regular slushie, fully-bodied in its mango-ness. I latched on to a beer expert and followed them through the crowds, stopping at small and big names along the way. With so, so many stalls in attendance, choices feel partly arbitrary if you're not a beer aficionado (and even if you are, keeping up with that many brands is surely impossible), so Beervana has a handy app for you to tick off the beers you've downed and to also vote for the best. A live popularity ranking can be found there and also mounted up on screens peppered through the place.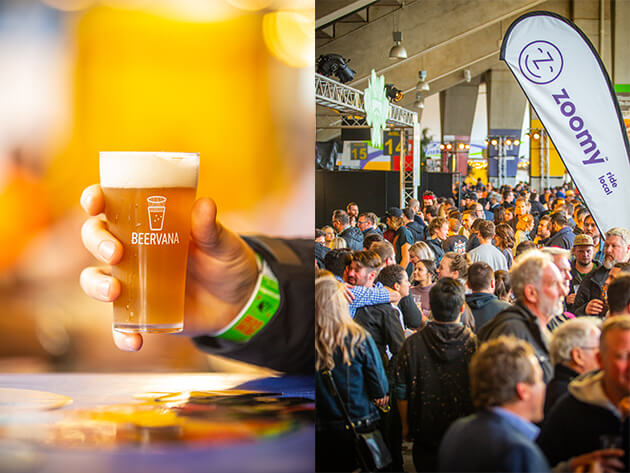 Novelty beers do well, mostly because they do something to cut through the noise. I had the Madame McClure from Beer Baroness, a sour with McClures Pickle Brine. "Well, this tastes like pickles," I said. Critic of the year. Welsh brewery Tiny Rebel's Rhubarb and Custard Sour stood out for its tang which immediately softens with the sweetness of the custard. Behemoth Brewing's 9.5% Fresh Pots with Flight Coffee (a porter) was a dream for someone who drinks a minimum three cups of the stuff (coffee, not 9.5% beer) a day. I was craving something fruity and went for Maiden Brewing's Multiverse Passionfruit, bright and tropical. Trotting along, our attention was caught by The Independence Collective, who explained to us they were there on behalf of the brewers, who are a group of people with intellectual disabilities. Their brew was appropriately named "Change Maker", an APA. I ended my night with a little taster of Fork Brewing's Tainted Love, when I knew I desperately needed to stop, lest one breath out ended up with me spewing everywhere.
While I've ever been super into beer, I found myself swept into the upswing of the nerdiness of it all. At some point in my evening, things got hazier and easier, and tasting beer after beer made interesting points of difference stand out more rather than blur together. I kept tasting a little sip, then immediately making a face while I decided whether I liked it or not. Suddenly, I was a connoisseur. There is really something about being part of a specialised event which makes you feel you know your shit, even if you don't. Knowledge by osmosis? The food was so-so (fried chicken nuggets from Soul Shack which lacked any heat), but you're not really there for that. I flopped onto my bed in the hotel and promptly ordered something from Uber Eats.
READ MORE: Best of Wellington: Where to drink in the capital

The next morning, I took away some kuih from Little Penang to fly all the way back to Auckland. My mum's old colleague (from Malaysia) owns the place, so she whisks the little plastic container away to stuff more into it for us: kuih lapis, kuih talam pandan, kuih kastard jagung.
Wellington is only an hours' flight away, and this short trip made me think about all the places I'd still yet to discover – but I hope that are there – which span the full spectrum of cuisine diversity. I've picked up little recommendations on the way (Blue Nile Ethiopian Restaurant, Taste of Home, WBC, Shepherd, Tatsushi, Hiakai) that I couldn't pack into two days. I'll be back.
The writer was a guest of Beervana.