Nov 8, 2018 Bars
With hot new restaurants, bars and shops, plus outdoor festivals and the famous terracotta warriors at Te Papa, you'd be mad not to visit the capital this summer. Here's your essential guide on where to drink in Wellington, from Metro's special Best of Wellington feature.
Craft beer barsarbitrary
Fortune Favours
A character-rich local brewery with a generous mix of guest beers on tap to supplement its own. The building used to house a furniture-restoration business and dipstrippers, and they've kept that brutalist industrial feel. The beer-matched charcuterie and cheese menu is top drawer.
fortunefavours.beer
7 Leeds St
Golding's Free Dive
Picking the best craft beer bar in Wellington is like picking the loudest note in a thrash-metal concert, but Golding's would make any top-five list. The fast-changing on-tap selection is global and adventurous, the pizza is Italian-style and excellent, and the crazy-clutter decor is endlessly entertaining. It's quite small, so expect a thick crowd in the early evening. If you're there before 6pm, make a point of visiting the Wellington Chocolate Factory next door.
goldingsfreedive.co.nz
14 Leeds St
The Taproom
You'll find beers from only one brewery at the Taproom — but that would be Garage Project, hands down the most innovative and exciting craft-beer specialists in the country. Eighteen taps, always covering a wildly diverse range of styles. Decent nibbles, but you don't come here for the food. They probably invented a new beer while we were writing this sentence. A Wellingtonian would tell you it's a bit of a walk from the centre of town, by which they'd mean it takes about 15 minutes.
garageproject.co.nz
91 Aro St
Locals recommend Whistling Sisters for everything fermented — even the fries — and Heyday Beer Co for great beer and the likelihood of patting a good dog.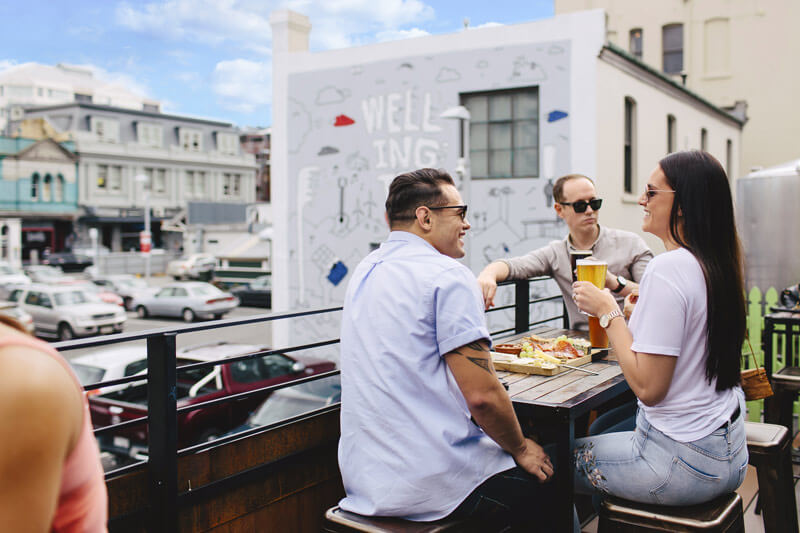 Wine & cocktail bars
With local and international wines by the glass, the selection at this rustic, cosy wine bar really has depth. Actually, the selection is huge — and the bar staff know their stuff. (Also, they know how to wield their expertise lightly.) And the food, with a choice of set and degustation menus, is outstanding.
View menu and reserve table
6 Swan Lane
A classic first-time-in-Wellington error is to be asked out to the Library Bar and to head to Wellington Library, looking for the bar. Located up a dark and ancient set of stairs above Courtenay Place, the actual bar is a cosy network of booths, each with its own set of shelves, all of them full of books. The cocktail selection is their labour of love.
53 Courtenay Place
Locals recommend Forresters Lane, Havana Bar, Lulu and Night Flower for cocktails, and Le Samourai for wine.
For more information, visit wellingtonnz.com
This article was first published in the November-December 2018 issue of Metro. Follow Metro on Twitter, Facebook, Instagram and sign up to the weekly email.