Nov 6, 2018 Restaurants
With hot new restaurants, bars and shops, plus outdoor festivals and the famous terracotta warriors at Te Papa, you'd be mad not to visit the capital this summer. Here's your essential guide on where to eat in Wellington, from Metro's special Best of Wellington feature.
For smart dining
Rita
Housed in a narrow century-old miner's cottage amid a cute clutch of Te Aro Valley shops, this delightful little restaurant is the sort of place you're welcomed like the regular you're soon wishing you were. The set menu, which changes several times a week, is short and surprising and deceptively simple — and, at $65 a head, really good value. On the night we visited, seafood — clams, snapper, cray — was the standout, and off-the-boat fresh, while chef Kelda Hains' open kitchen at the far end of the room makes it feel like being at your friends' for dinner. The list of a dozen wines are all available by the glass.
rita.co.nz
89 Aro St

Locals recommend Monte Cervino for contemporary Italian-inspired food by ex-Matterhorn owner/chef Sean Marshall, Ortega Fish Shack for the best steak-frites in town, Shepherd for gate-to-plate shared dishes and WBC for next-level seafood.
Watch how the Best of Wellington cover was created:
For casual dining
1154 Pastaria
A bright spot on Cuba Street, this fast pasta joint offers just eight dishes, a handful of sides — we can vouch for the garlicky deliciousness of the rosemary brioche roll — and a couple of desserts. Pasta is handmade daily and we particularly like the Bucatini Amatriciana, its long hollow tubes tossed with a rich tomato sauce, studded with nuggets of cured pork and showered in Grana Padano. An airy tiled space on the site of the former HB clothing factory, whose sweet stained-glass frontage remains, the pastaria has also started serving $10 piadinas at lunchtime, and there's a different baked pasta special every Sunday. Natural and organic wines are the focus of the drinks list.
1154.co.nz
132 Cuba St

Frenchie
The new cousin of small and sumptuous Ortega next door — both are owned by long-time Wellington restaurateurs Mark and Helen Limacher — this casual neighbourhood bistro applies French techniques to New Zealand produce. It could be stuffy but isn't — young staff in Breton stripes create a fun vibe, and Kronenbourg, local craft beer and wine are on tap at the bar, where guests are welcome to linger. The menu changes monthly and there's a good-value three-course option for $59 if you're up for the challenge. Take one of the wooden booths to admire the interior's numerous art-deco lampshades and mirrors, and if smoked-fish pâté is on the list of assiette d'apéritif, you must order it.
frenchiemtvic.com
18 Majoribanks St
Little Penang
The best thing to order at this no-frills Malaysian street-food vendor? Char kway teow (fried flat-rice noodles), a specialty in Penang, where owners Tee Phee and Keith Cheah are from. The daily special, like the pungent assam laksa served on Thursdays, is a good bet, too. Apart from adapting recipes to cater for increasing numbers of vegetarian and vegan diners, there are no compromises for the Kiwi palate here — and no frozen vegetables either — which is just the way we like it.
Little Penang
40 Dixon St (also at 44 The Terrace)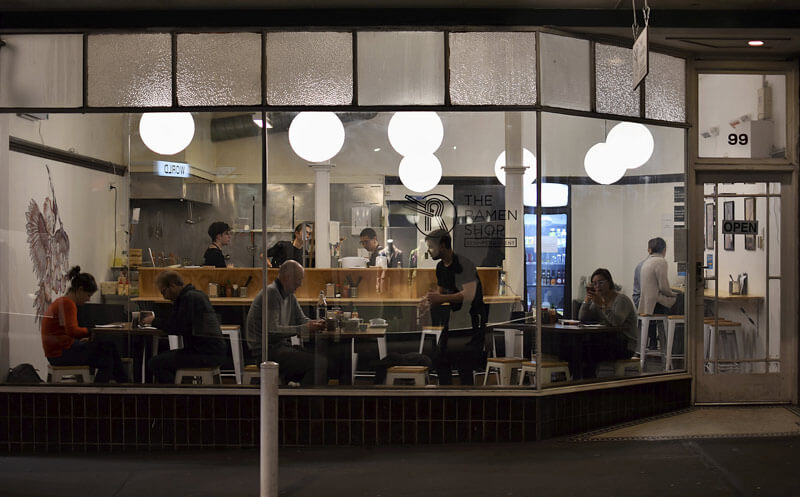 For a casual lunch
Press Hall
The printing presses of Wellington Newspapers have been replaced by a fancy food hall at this historic site, now the southern version of Ponsonby Central. Well, sort of. A decent option for families and groups, about a dozen notable local traders serve bao, pizza, souvlaki, pasta, sushi and teppanyaki, cake and coffee. On a sunny day, head outside to the wooden benches that line the exposed-brick entry lane. Closed Sundays.
presshall.co.nz
80 Willis St
Tommy Millions
Hiding in plain sight in a kiosk on Courtenay Place, Tommy offers New York-style pizzas that have a damn good chewy crust and a super-skinny base. Choose from seven toppings and order by the slice ($5 to $6 each) — they're enormous and you need only one or two. The mushroom, mozzarella, spinach and gorgonzola is our go-to. Under the same roof, fried chicken supremo Lucky has just five menu items — three burgers, fries with gravy, and popcorn chicken. Locals rave about the "bomber", a fried chicken burger with slaw, pickles and sauce. Both are open until 4am — are you game?
tommymillions.co.nz
Cnr Courtenay Place and Taranaki St
The Ramen Shop
Sit up at the wooden counter or grab a stool at one of the low tables in the window, then choose from six ramen dishes, all under $20 (a list of optional add-ons includes bamboo shoots and pickled shiitake). Having started as a pop-up, there are now two "semi-permanent" restaurants, no doubt due to the quality of the handmade noodles, made in traditional chukamen style. There are snacks, rice bowls and a sake list, too.
theramenshop.co.nz
99 Victoria St (also in Newtown)
Locals recommend Mr Go's for hawker-style Asian plates to share.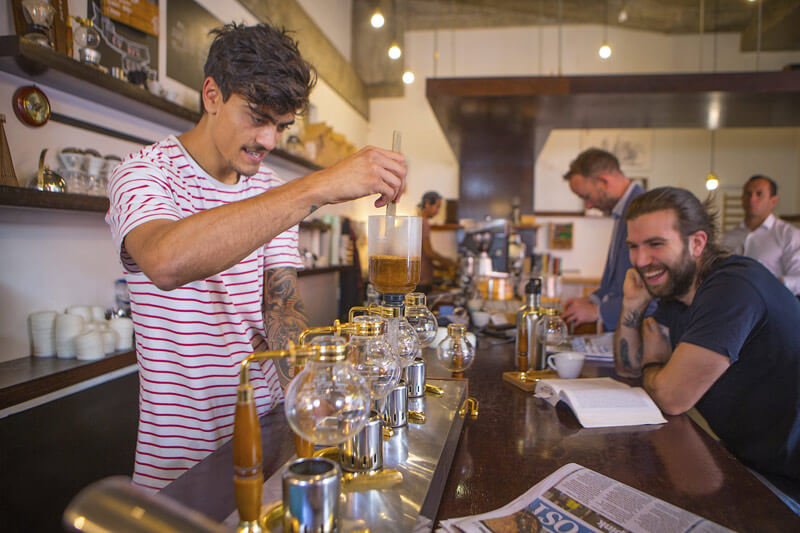 For a great coffee
Customs
How we love Coffee Supreme's flagship cafe with its menu of serious single-origin brews, homely mid-century-style Jasmax interior, and pile of old National Geographics like dad had stacked in the garage when you were a kid (or was that just us?). It's all about the coffee, really, though they do serve Wellington Sourdough with half a dozen tempting toppings such as smoked snapper and fennel or Fix & Fogg coffee and maple peanut butter. And on Fridays and weekends, there are Little Dough Co doughnuts, which have their own following (ginger cream or matcha, coconut and white chocolate were the options when we last visited). There's a revolving menu of 100g single-origins to take home, too.
coffeesupreme.com
39 Ghuznee St
Lamason Brew Bar
Don't let the easily overlooked entrance, shared with a drab parking building, fool you — Lamason is a specialist non-pressurised coffee house. Nab a chair in the laneway outside or stay close to the impressive four-siphon bar, where the baristas are happy to talk origins, brews and flavour profiles. The fact there's a "toastie of the day" and just a couple of sweet treats on the counter sends a clear message about where the priorities here lie.
Lamason Brew Bar
28 Lombard St
Pour & Twist
Hand-brewed coffee zealots Zuyi Woon and Elaine Loh set up shop in Garrett St in March, serving specialty filter coffees via various brew methods (including through a fresh orange). The narrow space works to create a community feel, with wooden bench seating and a smattering of chairs upfront and a couch with board games up the back. Using single-origin beans from New Zealand as well as overseas roasteries, Pour & Twist bills itself as the country's first fully manual coffee brew bar; if a flat white is a must, you'll have to go elsewhere.
pourandtwist.com
13 Garrett St
Locals recommend Peoples Coffee's new flagship cafe on Lukes Lane for 100 per cent organic, fair-trade brews.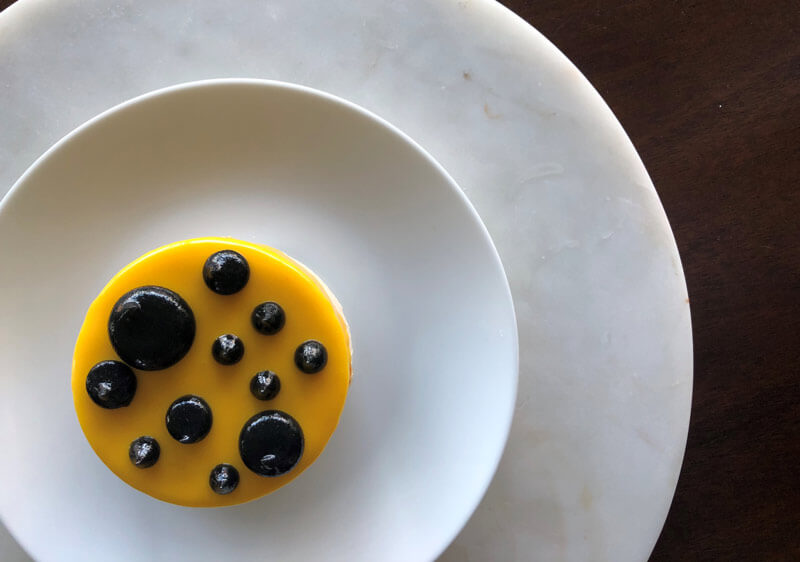 For sweet treats & bakeries
Milk Crate
Look for the bright-yellow stools on the footpath outside this boutique coffee shop, then head inside for a kick-ass espresso and one of their signature matcha oreos, which boast a devoted fan base among locals. The little cabinet on the counter has baguettes, biscuits and slices, and there's soup in winter, but the real stars here are the oreos and the welcoming baristas. Stay for a browse in neighbouring design store Precinct 35.
milkcrate.co.nz
35 Ghuznee St
Tomboy
This cute-as-a-button cake shop could be lifted straight from the pages of Frankie. There's a 10-seater communal table at the heart of the wee white space but it's baker Kate Marinkovich's dreamy doughnuts, lamingtons, sweet loaves and brioche — and cakes adorned with freeze-dried fruit and edible flowers — that really take centrestage. She also makes "rude cakes" iced with the sweary words of your choice. We badly wish this homely community hub was our local.
tomboy.nz
21 Majoribanks St
Starta Bread Kitchen
Another hidden gem, you'll (eventually) find Starta in a grungy spot at the rear of Left Bank Lane, off Cuba St. The home of Wellington Sourdough, the bakery began in the kitchen of fine-dining darling Whitebait, then expanded into its own operation supplying cafes around the capital. Get a coffee and a handcrafted sourdough loaf to go or stop to appreciate the stylish minimalist space, all tasteful cedar with just a couple of communal tables, over one of their celebrated roast chicken and coleslaw sandwiches. Follow up with a banana brioche, which sounds sort of wrong but is so, so good, especially its gooey banana heart.
wellingtonsourdough.co.nz
Left Bank Lane, 175 Victoria St
Locals recommend hitting the suburbs for outstanding patisseries French Cancan in Newtown and Sugar Flour in Kilbirnie, and Baker Gramercy in Berhampore for handcrafted breads and pastries.
For more information, visit wellingtonnz.com
This article was first published in the November-December 2018 issue of Metro. Follow Metro on Twitter, Facebook, Instagram and sign up to the weekly email.