Jul 25, 2019 Film & TV
Booksmart reminds our writer Jean Teng of the potentially transformative power of "feel-good" media and why we shouldn't dismiss the optimistic portrayals of worlds we want to see.
Booksmart is a coming-of-age film propelled by a desire for one night of hedonistic freedom before college, existing in a bouncy, soft-edged world shaped by a buoyant aspirational optimism for how we should all treat each other as human beings. Happily, it is also laugh-out-loud funny, a result of a well-casted ensemble and palpable platonic chemistry between best friend leads Amy (Kaitlyn Dever, Beautiful Boy) and Molly (Beanie Feldstein, Lady Bird). At many points it's also incredibly unrealistic – but that's not necessarily a problem.
To wit: Amy is gay and came out in the tenth grade. Her parents are sweetly supportive, if bumbling and awkward in the way supportive parents always are in teen comedies. Homophobia does not exist.
First-time director Olivia Wilde and the four writers credited on this film made the conscious choice to cut out most of the sharp-tongued teenage cynicism underlying many teen flicks, and to skip the coming out struggle we saw in Love, Simon. There are some messy edges, but Booksmart is ultimately a love letter to the ultra-woke, precocious, fearless teens of today. At least the ones in upper middle-class L.A.
Eschewing the "realism" of homophobia is also the go in Schitt's Creek,a very funny TV series you can watch on Netflix set in a small-town community in Canada. One of the main characters, David, is pansexual and later enters into a same-sex relationship with another man, Patrick. But despite the show's rural setting, the two never encounter homophobia. Dan Levy, the show's co-creator and the actor who plays David said of the decision: "If you put something like that out of the equation, you're saying that doesn't exist and shouldn't exist." David and Patrick's storyline is handled not with kid gloves but empathy, and makes you feel good about the world we live in – a feat not a lot of modern television is pulling off (I dare you not to happy-cry in the scene where Patrick serenades David with a cover of Tina Turner's 'Simply the Best'). It also reminds me of the giddy feel-goodness of The Good Place, where Kristen Bell's character Eleanor Shellstrop is canonically bisexual, the fact seamlessly integrated without fanfare. It doesn't feel irresponsible to "allow" LGBTQI+ characters to navigate their world without homophobia; not when it allows LGBTQI+ characters to explore something different from the usual tragic story arc offered to queer characters. Fiction has the power to be transformative, so let it transform. There is a place in media to prioritise worlds we want to see, to recognise the innate goodness in people but still allow characters to be insightful, complex and knotty.
?READ MORE: Sophie Hyde interview: Why are there so few films about female friendship?
?READ MORE: Metro's Picks of the 2019 New Zealand International Film Festival
In both Schitt's Creek and Booksmart, the characters' relationships play out as just that: relationships. When we remove homophobia from the equation, LGBTQI+ stories get to be about more than "the fight". The complexities of what actually happens in queer relationships is finally explored, the way straight relationships have been mulled over and picked apart for centuries. That's not to say we should treat those stories exactly the same as straight ones, and neither of these shows do. Booksmart explores Molly's first is-she-gay-or-not dilemma, her first sexual experience and its embarrassing aftermath with unfiltered compassion. The film doesn't ignore her queerness, but it's never talked about in an othering way. Ultimately, it is cathartic, as an audience and for young LGBTQI+ viewers, to feel safe watching these discoveries unfold, a welcome relief that there is no ugly slur waiting around the corner.
One reviewer called Booksmart "toothless". In some ways, this is true, and enjoying the movie's antics does require you to suspend some disbelief. The call to action of the film is when overachiever Molly finds out her fellow peers have somehow managed to party and worm their way into good futures, scoring rides to Yale or Harvard or a three-figure job at Google. She and Amy had scorned going out in favour of working hard, convinced they'd leave their peers in the dust, only to realise it was they who had been missing out. A tragic character trying too hard to be liked is filthy rich, hosting a graduation party on a yacht with black vested servers, fireworks and iPads in goodie bags. There is no consideration of class, a possibly relevant point when all the non-studious kids are getting into ivy-league colleges. I'd wager there is no public school in America where those things could exist, and it's a troubling thing to wave aside.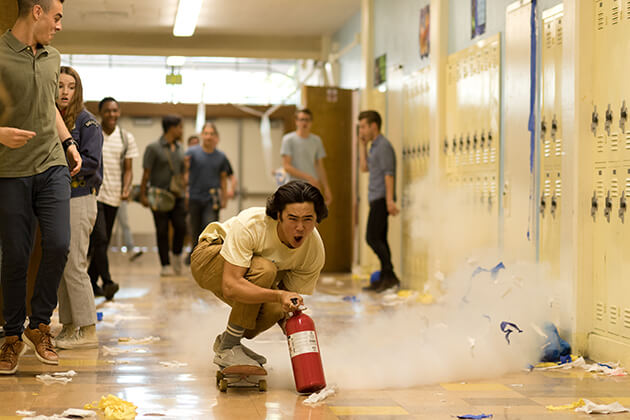 READ MORE: The Aucklanders making a living selling nudes online
READ MORE: 5 reasons why the new Instagram update is good
Booksmart also rejects most possibilities for bullying or caustic cut-throat dynamics which serve as the tension in many teen films. People from separate cliques get along, date and support one another. When you think a character is going to turn and lash out, they never do. It's as if in this world, the pervasiveness of social media has fostered a sense of understanding that teenagers are all in the same, shitty boat to climate change disaster, and there's no point in being a dickhead to each other. When Amy and Molly eventually turn up to the party, they're welcomed with open arms amidst exclamations of genuine glee from the partygoers, despite the film initially establishing them as outcasts. Some may call this uneven, but it feels like a true representation of what people are actually like. Our opinions and actions are constantly shifting with context – it's one thing teen films with a reliance of clique-related hive mind don't quite nail.
In Slate's Culture Gabfest podcast, writer Christina Cauterucci points out that the men of this film are all weirdly nice and well-meaning, and perhaps not the most realistic portrayal of teenage boys in anyone's experience. But to me that's refreshing and necessary. We already know teenagers can be awful and petty, we see it in every single movie. There are other films in teenage film canon for that, like the very good Eighth Grade, which contains one of the most nail-biting scenes I've had to sit through in a coming-of-age movie (if you've seen it, you know which car ride I'm talking about).
Booksmart understands that teenagers – that people – have the capacity to be kind, empathetic, open-minded and accepting, that we're always growing and changing. It's a portrayal I appreciate very much.
Booksmart is in cinemas today, 25 July.