Jul 17, 2019 Film & TV
Sophie Hyde's film Animals, starring Holliday Grainger and Alia Shwkat, is screening at the New Zealand International Film Festival this July. Jean Teng talks to Hyde about female friendship, growth, and women behind the screen.
Over Skype, Animals director Sophie Hyde and I are listing off all the films with prominent female friendships we remember. There's Thelma and Louise. Beaches. All About Eve. Frances Ha…
We laugh. The truth is, there just hasn't been that many.
Animals is based on the novel of the same name by Emma Jane Unsworth about two best friends — Laura (played here by Holliday Grainger) and Tyler (Alia Shawkat) — plodding along in a hedonistic lifestyle of drinking, drugs and partying, an existence which comes under fire when Laura meets Jim (Fra Fee), a dedicated pianist who becomes a teetotaller. It's then Laura grows to realise she wants more for herself, and her stalled writing career. "I read Emma's book and felt really connected to the characters — it was like reading about people who felt very familiar. There was that familiarity that I felt I wasn't seeing very much on screen. And the challenge of putting them on screen seemed alluring — these women who are rejecting convention… what happens when they do things like fall in love?"
It takes a while to settle into the groove of Laura and Tyler's friendship. Ten years unite them. There's a physicality to their chemistry betrayed in the easiness of their limbs twisting together, inside jokes nudging laughter out of their shaking shoulders. Little moments so perfectly echo real-life experiences of female friendship, the spaces we carve and live in on Saturday mornings.
Female friendships, Hyde says, are messy. "They're so deeply connected and physically connected that they're hard to navigate. Because we don't see much of them on screen, there's that feeling that it's competing with love, romantic love."
READ MORE: Hard hearts and the eternal present of the internet: A trip to the World Press Photo Exhibition
READ MORE: Dear Metro: "I'm terrified of my best friend dying"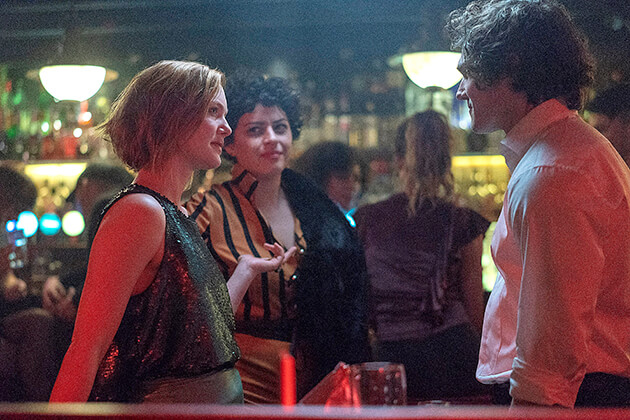 The craft of the writing certainly plays with that binary — the two worlds Laura is superficially torn between, represented by Laura's ex-wild-child sister Jean, now pregnant with her first child, and Tyler. "I don't think it's binary, and I think we're told a lot that it's binary," Hyde says. "The film says you don't have to choose one or another of these things. But romantic comedy generally has a choice, and we established that choice in our film, and then rejected it."
In the end, Animals is not solely about the end of a friendship — it's also a celebration of one. "I think we're sold a bit of a myth in this world — that relationships need to go on forever, whether they're romantic or friendships, that they're failures if they end," she says. "And I don't think they're failures. Seasonal, years-long or days-long relationships are beautiful, wonderful things. I'd like to see more of those explored."
Balancing the tension of character growth without demonising the relationship was a challenge. "On screen, it felt like Tyler had to become what Laura wanted to get away from and needed to get away from. But I always felt it wasn't about Tyler; it was about something that Laura needed to do. But how do you show that when that person kind of becomes an antagonist to what Laura is doing?"
Grainger and Shawkat's easy harmony does a lot of that heavy lifting, brought together during a three-week rehearsal process before filming in Dublin. Both new to the city (Grainger is English, Shawkat American), they took each other around Dublin, deep-diving into their characters and creating a shared history. "My belief is that as actors, part of their craft is to create that chemistry and intimacy really fast," Hyde says.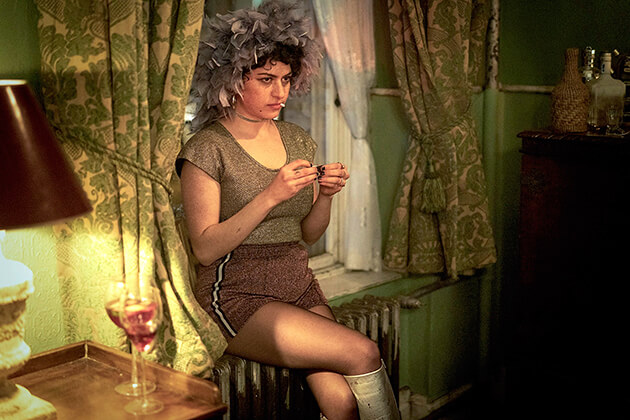 The script and direction, too, carefully avoids over-moralising the excesses of Laura and Tyler's blurry nights, showing the many ways it can be both fun and detrimental. The film is a lot stronger for it.
Unsworth's book is set in Manchester. But when the filming was moved to Dublin, Hyde embraced the change, transforming the story and its visual style. "There are poets on every freaking corner," she says. "There's poetry on the walls, and there's drinking everywhere. We were there in the middle of Repeal the 8th [Ireland's abortion-reform referendum in 2018], so it was a really amazing time to be there."
Hyde says she had trouble with distributors, who told her they'd already taken on a female film, and it did badly for them — five years ago. And, crazily, we're still struggling with the idea of complex, sometimes unlikeable female characters. In some ways, Animals reminded me of British TV series Fleabag, about a young woman navigating life in London. Hyde says both stories are trying to speak directly to an audience. "I don't mind that these stories are called women's stories, really. But why not call war films male war stories, then?"
Hyde is a strong advocate of the idea that to tell certain stories naturally, genuinely, there has to be representation behind the screen, from the filmmakers. There's a specificity lost, otherwise. The film festival programme includes a "Women Make Movies" category in its index, which has almost grown too long to really justify. Hyde says she'd love to see "Men Make Features" section, too. Why not? Let's call it as it is.
Animals screens in Auckland between 19-29 July. Sophie Hyde will attend a Q+A after the screenings on 25 and 26 July.