May 18, 2018 Art
Structures with no purpose can be an eccentric delight.
It begins in 2012 with a quixotic aim — a pavilion representing New Zealand in Venice, sadly abandoned through lack of interest (and money). For years, it languishes in a virtual world as architectural renderings online — a project that might have been. It's rediscovered via Instagram in 2016 and by serendipity attracts patrons and promoters.
In 2017, it is built by student volunteers from Unitec as a gateway for Sculpture on the Gulf at Matiatia, Waiheke — washed up for three weeks like driftwood or a bleached whale skeleton. Dismantled, then relocated to private property at Park Point, Waiheke, it wins a national New Zealand Institute of Architects Small Project Award. Such is the elliptical journey of an architectural folly.
<!– –>
Walking through its jangle of distorted gable frames is slightly disturbing, a twisting surreal boardwalk to nowhere; melancholic, yet also strangely uplifting, especially when the gable at the end perfectly frames Rangitoto.
A possible problem with the Waiheke Gateway Pavilion, designed by Stevens Lawson Architects, is that as it's ended up, it's neither a pavilion nor a gateway. In this sense it's a true folly, a structure with no purpose — one that might need a new name to reflect its foolishness and celebrate its madness and eccentricity.
The frivolity was there from the start, when it was to be New Zealand's pavilion at the 2012 Venice Architecture Biennale curated by acclaimed British architect Sir David Chipperfield.
Architect Nicholas Stevens designed for the site — the Arsenale, Venice's historic shipbuilding yards. The idea, he says, was to show off New Zealand's innovative use of timber. Hence the collaboration with engineer Hamish Neville of Holmes Consulting and a structure made of 255 pieces of glue-laminated pine.
"We wanted to take something timber to Venice, which is a city made of stone," says Stevens. Pacific meets Mediterranean. Gondola meets waka. The geometry — ribs like the hull frames of a ship — references the shipbuilding of the Arsenale. But the folly fuses other ideas. Each end takes a gable form, distinctively wharenui-like, with low sides. In between, all hell breaks loose as a sequence of gable frames, separated by gaps of air, are stretched and squashed, forming a twisted ridgeline. This is not shelter, but it's a kind of inside.
Stevens says for Venice it was conceived as habitable, a place of rest and respite for visitors. "We thought we were going to have New Zealand wines served there. We thought of the whole thing as an experience." With seating? "Probably bean bags."
He thinks in its current location — land owned by the structure's patrons, Shona Caughey and Jennifer Singh — it may be occupied in other ways. The sisters plan to have public open days and are building a house nearby which will be rentable, including the use of the pavilion. "At the moment, it's almost like a secular chapel," says Stevens. "People may get married in it. Or just have a dinner party in it. They can do what they want." Is it sculpture or architecture? "I would probably call it a sculpture that you can inhabit."
Depending on your view of these Trumpian times, architectural follies are either the epitome of neo-liberalism, whereby the very wealthy can indulge their every whim and build ridiculous stuff just because they can, or, in their defiant absence of purpose, represent everything that's needed for the resistance, a pause to reflect on what's important and perhaps what architecture is really about — truth, beauty, delight, etc.
Their lineage, drawn from all sorts of exotic forms — grottos, pyramids, altars, ruins, towers, temples, sepulchres, labyrinths, pagodas — finds its synthesis in English garden follies. Or as the Spectator puts it: "If you had made a fortune from slaves or sugar, you would build yourself a country house with follies in the garden." Besides wealth, preconditions included idleness, wit and "a taste for delicious melancholy". Monuments to ego and eccentricity.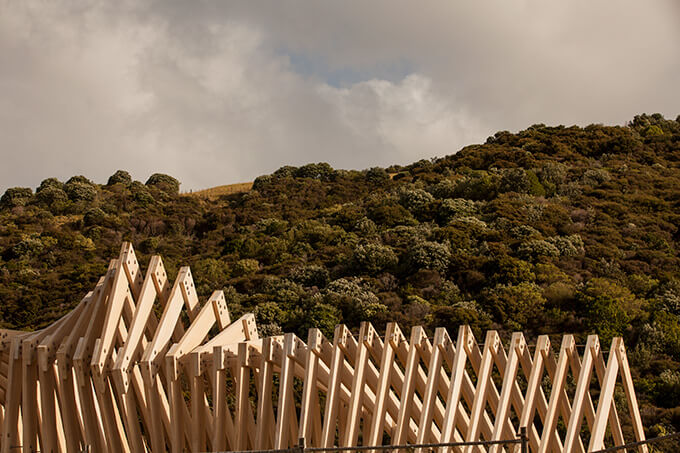 Follies of a more egalitarian kind to be seen in and close to Auckland include the gantry by Taylor Cullity Lethlean and Wraight + Associates beside North Wharf. You're not an Aucklander until you've climbed its steel stairs, walked on high its public footpath to nowhere and surveyed the surreal cylindrical tower landscape that is Silo Park. Mad. Brilliant. Then just an hour's drive north of Auckland is the Brick Bay Sculpture Trail where, as well as dining in the Glass House building by Noel Lane Architects beside pukeko, ducks, eels and an idyllic lily pond, you can also explore sculpture and architectural follies. The two there at present — Te Takitaki and Daughter of the Swamp — both result from the annual Brick Bay Sculpture Trust folly competition, which was started in 2015 to encourage emerging New Zealand architects and architectural students to explore the intersection between architecture and sculpture.
Daughter of the Swamp is soon to be dismantled to make way for the 2018 winner. Of the five finalists chosen, I particularly like Jonah, conceived as an ancient sea creature's remains washed ashore. Like the other follies, it can be inhabited, in this case inside the belly of the big fish-snail-crawler-sea-slug kind of thing. Just a little bit silly, but also a delight.