Oct 13, 2015 Art
Photo: Jeremy Toth.
ArtWeek Auckland is upon us, and tonight the city will be buzzing with live art, street food, galleries open later than usual and creative events.
In lieu of Hermione's Time Turner, a bit of planning is a good idea if you want to cram in as much as you can between 5-9pm.
First things first, if you don't have the luxury of being able to walk, cycle or public transport into the central city, take advantage of Heart of the City's $1 parking offer here. If you have a bike, there are scheduled free cycling tours of the evening's events starting at 5.30pm, booking is essential.
ArtWeek's central city coordinator, Erin Forsyth, recommends starting your Late Night Art journey at The Paul St Gallery, and then progressively making your way downtown via Digital Art Live in the Aotea Centre.
Head to Late Night Dining for dinner in the newly renovated Khartoum Place for food from The Roaming Dive, Besos Latinos, Box of Bird and Toro Churro. Hopefully you'll be in time for a live performance from The Fledglings, the experimental wing of The Blackbird Ensemble.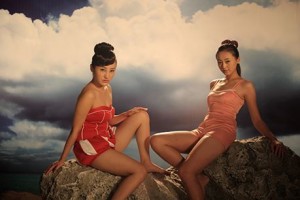 All you need to do now is head up the steps to the Auckland Art Gallery to take in their programme of special events, which includes a one-off, late-night viewing of Yang Fudong: Filmscapes, as well as preview performances from the forthcoming Tempo Dance Festival. This leg of the journey is ticketed ($20, via Eventfinda), but if you time your visit well you'll also get to see Lawrence Arabia perform live.
There are pop-up art exhibitions in Chancery Square and special exhibitions littered along the path towards the waterfront (see this list of galleries open late) which acts as another hub of activity. Check out the NZ Geographic Photographer of the Year exhibition at the Karanga Plaza and marvel at a miniature Art in the Dark in the form of a series of light installations (Glow) from Wynyard Quarter to Devonport.
Explore Silo Park's Meeting of the Mountains exhibition, then when your feet are sore, wind up at the Britomart Transport Centre for Street Loves Nana and have a go at embroidering in honour of your own grandmother.
Check out Heart of the City/gatherandhunt.co.nz's handy map below to plan your evening (click to enlarge):