Jun 24, 2013 Politics
Part one of Metro's Auckland Unitary Plan Special. Read part two, Chris Barton' "Brouhaha in Belmont", here.

Illustration by Tane Williams. Photos by Simon Young.
A Dream For St Heliers
So you live in St Heliers, it's 2025, and here's the choice: Get in the car and crawl along Tamaki Drive, watching a stream of cyclists fly past in their dedicated cycle lanes, before you arrive in town and pay a congestion charge and a parking fee, and go to work, go shopping, whatever. Grumble about it.
Or, roll down to the jetty whenever it suits, get on the next little ferry, do your emails or read or chat on the ride, and arrive at the bustling row of ferry berths spread along Quay St. Your ferry has stopped half a dozen times on the way. If you missed it, no worries: they come every 10 minutes.
Not possible? Been to Brisbane? It's a city with a population not much bigger than Auckland's and it has fast, functional ferries that scoot up and down the river all the time.
It's possible. The same thing — a string of fast, comfortable, small and cheap ferries — is possible for the East Coast Bays, from Browns Bay down to Devonport and across to the CBD.
And for the whole upper Waitemata: a loop linking Stanley Bay to Beach Haven, Greenhithe, Riverhead, Hobsonville, Te Atatu, Pt Chevalier, Westmere, Westhaven…
We could do more. Push a canal from Green Bay through to the Whau River right by the Avondale Racecourse, linking the Waitemata with the Manukau. A question: Why does Portage Rd in New Lynn have that name? Answer: Because it was the route used by local Maori to drag canoes from one harbour to the other, and then, over a hundred years ago, it became the route of a proposed canal. There's another Portage Rd in Otahuhu, running from the Tamaki River under the motorway and across Great South Rd to the Manukau. Same question, same answer.
Dig out those canals, and you could connect the airport by ferries to any point on the Auckland city coastline.
Not possible? Flown into Venice? Water taxis and vaporettos — water buses — take you from the airport to the Molo, the quayside by the Piazza and St Mark's. It's spectacular, romantic and highly efficient.
We don't have St Mark's, and not many crumbling palaces either, but who cares? We have 50-something volcanoes, and cliffs of soaring grace, and pohutukawa tumbling off headlands, and beaches at the end of every other street, and the glittering, glorious Waitemata.
And we have Quay St, which could become our Molo. Stepped into the water, and with piers to service a thousand small vessels for public use; and markets by day and by night; and entertainment and cultural expression of all kinds, in theatres and galleries and concert halls as well as out on the street itself. Quay St, which could become a glorious seething heart for this city, stealing from Sydney's Circular Quay, from Barcelona's La Rambla, from London's South Bank and from the canals of Venice.
Quay St, which is ripe, bursting, fecund with the possibility of transforming this city.
Of course, there's a catch. You'll have to get used to having more neighbours. It can't happen if the city doesn't get more compact. But will that be bad?
Let's go back to St Heliers, 2025. Those ferries have been running for a couple of years, and the village centre features a laneways-connected cluster of shops and street stalls — a bustling clothes market, with bars and cafes — that provides employment for locals and attracts customers from all over the city. In one part there's even a permanent food market: butcher, baker, greengrocer, chocolate shop… it's Matakana, come to town.
People ride the ferry, do some fabulous shopping, walk over the road to the beach, maybe hang around to catch a movie in the new cinema. The suburb now has three restaurants in the Metro Top 50 and seven eateries in the Cheap Eats Top 100, and the ferries run till late.
St Heliers has changed, all right, though it's not immediately obvious when you look. Many of the streets behind the shops now contain low-rise terraced housing, and there are some apartment blocks a bit further inland and at the bottom of Cliff Rd. On the surrounding slopes, many homeowners have built granny flats on their properties and, thanks to all these housing developments, long-time residents needing to move out of their large family homes are staying in the suburb they love.
And, thanks to all that and to a range of affordable-housing measures agreed on in the Great Auckland Housing Initiative of 2015 — involving central and local government, banks, property developers and community groups — the suburb is filling up with families. Plans for a new high school have been given a great boost by news that local philanthropist Graeme Hart will donate the land, subdivided from his own property nearby.
In the St Heliers community, they are all very proud: just like Mt Eden 50 years earlier, they have discovered how rewarding it is to live in a leafy suburb where stately mansions co-exist with multi-unit dwellings. Where there are children in the streets and enough people around to fill the shops, sustain the library and other community services and, of course, to ride those wonderful ferries. And where it still feels like a village by the sea.
Not going to happen? Well, actually, it might. It could. Almost everything in our dream for St Heliers is anticipated in the Auckland Plan (AP) — the 30-year vision for the city adopted by the council last year — and the draft Unitary Plan (UP) — the rulebook for how we achieve that vision now being debated around the city.
But many people in St Heliers don't want their suburb to grow like that, and their sentiments have been loudly shared by people in the other eastern suburbs, and in Milford and Belmont, in Mt Eden and in some other parts of the city.
Some of their objections are very good. Others are bad and some are just plain ridiculous. Of course, separating them out is never easy. In this feature, I've focused on the eastern suburbs, while Chris Barton has had a good look at the arguments raging around Belmont and nearby Milford. Most of what we've both looked at applies widely across the city.
Many people fear the plan is so radical it will destroy the "New Zealand way of life", as Orakei ward councillor Cameron Brewer puts it. Ironically, the one thing that almost everyone who objects to any part of the plan agrees on is that it really doesn't go far enough. That is, while it relies on a vision of a more "compact city", it doesn't do enough to show how we'll get there.
The classic example of this: transport. The plan says nothing about ferries. That stuff about ferries you've just read? We dreamed it up.
In fact, the plan contains no transport planning at all. It advises readers to consult the separate Auckland Transport Plan where, if they are patient, they may discover that the council has made no provisions for any new transport services to St Heliers or any of the eastern suburbs over the next 10 years. Nor has it made provisions for small, fast and frequent ferry services of the kind described here, for any part of the city.
Look at that another way. St Heliers could become a showcase suburb for the new Auckland: harbour-focused (because that's what we love about this place), a mixed population, a vibrant, economic productive and beachy, informal local life. But without a good ferry service, the plan risks turning Tamaki Drive and the ridgetop roads to town into a nightmare.
And what will that lead to? It scarcely seems possible, but the obvious answer is… the revival of the discredited eastern motorway, running up from the east and south and following the rail line across the Orakei Basin and Hobson Bay to town.
It's like the council has run out on the field in its bright new super-city colours, started to play an attractive style of football against some pretty glumpy opposition and then (oh no!) turned round and scored a massive own goal.
The Plan and Its Enemies
The draft Unitary Plan replaces all the district plans of the old councils and sets out how every part of the city is allowed to develop. It assumes Auckland will gain a million more people over the next 30 years, and will accommodate them by becoming a "compact city". Not that it will be extremely compact: only 60 per cent of the growth will be settled within the existing urban areas. The balance will be housed in new suburbs, towns and villages in the outer reaches of greater Auckland.
The UP focuses growth along "transport corridors", especially where there is rail, in order to make the expansion of public transport more feasible. Every section and every street within the city boundary is allocated to a zone, three of which are residential (see box). Most people will still live on sections with a single house. But many will be able to build a granny flat, and some will be able to convert their properties (or sell to developers who will do it) to terraced housing or apartments up to prescribed heights.
The AP and the UP share a fundamental premise: Auckland is heading for crisis. We don't have enough affordable housing (for people on low and low-to-mid incomes) and we aren't building it. Our transport system — roads and rail — will not cope with the population growth, especially if the city is allowed to keep sprawling into the country. We risk serious damage to the very thing that underpins Auckland's desirability: its natural beauty. This is the view of the mayor, Len Brown, the majority of councillors and, at a national level, the Labour and Green parties.
There is an alternative view: the city isn't broken, so it doesn't need fixing. As the National Party's Epsom-based list MP Paul Goldsmith told me, "We already have one of the most liveable cities in the world. All the surveys say it, and you'll notice Len Brown is proud to report them."
I met Goldsmith at York St Mechanics, his choice of cafe in Newmarket. York St has a semi-laneway feel and the cafe is one of the coolest in the whole city. Goldsmith is a preppy type, a former councillor who told his party's candidate selection meeting in Epsom before the last election that he wanted the job because he wanted to be in Cabinet.
He'll get there, too, assuming his party stays in office: he's smart, loyal, a clear thinker, and he doesn't go around abusing waiters. He'll make toast of Act's incumbent Epsom MP, John Banks, if he gets his party's backing to go head-to-head with him in the electorate next year. What Goldsmith says in public, you can safely assume reflects the party line. He told me incremental development has successfully given Auckland new suburbs, new motorways and new town centres such as Albany and Botany, and there's no reason to believe it will not continue to serve us well. Sprawl is good.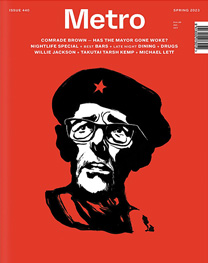 Metro N°440 is out now!
With progressive councillors starting to score some wins under what was anticipated to be a reactionary major, Hayden Donnell asks: Has Wayne Brown gone woke?
Plus: we go out and investigate Auckland's nightlife (or in some cases, the lack thereof), with best bars (with thanks to Campari); going-out diaries from Chlöe Swarbrick, BBYFACEKILLA.mp3, Poppa.Jax & more; a look into Auckland's drugs by Don Roew (who's holding and how much they paid for it); we go on the campaign trail with Willie Jackson, talk to gallerist Michael Lett, drink martinis and alternative wines, start seeing a therapist, visit Imogen Taylor's studio, look into Takutai Tarsh Kemp's wardrobe. And more!
Buy the latest issue