Sep 17, 2015 Politics
This article first appeared in the September 2015 issue of Metro magazine. Photography by Alistair Guthrie. 
Auckland's port will not survive its current location. But it could thrive in the Firth of Thames. 
Read more: Will the new mayor be able to keep a promise to close the port?
Kaiaua is an almost-pretty town. Way out on the Miranda Coast of the Firth of Thames, it has a big grassy foreshore, pines and pohutukawa, modest houses lined along the inland side of the road leading in. There's a fish and chip shop ("Famous Fish and Chips") and a pub, with a family bar and rooms to stay in. Inland, farms and a marae. Across the firth, in the sunshine of a winter evening, the light throws the contours of the Coromandel Peninsula into such sharp relief you can almost make out the individual houses on the hills behind Thames.
Everything here feels friendly, including the godwits and stilts and the thousands of other shorebirds, home again from Africa and Siberia, hunkered down on the drifts of white shells which do duty as sand along this coast. The birds, like dairy cows, all face the same way. Into the wind. It's easy to believe it must be windy all the time.
Campervans migrate here, drawn by the birds, and line up along the shore, down the coast from the town. Occasional motorbikes roar through, farm tractors putter up and down, and the air periodically fills with stilts, a great flurry of specks wheeling hither and yon in unison before coming to land all at once and setting up an enormously excited chatter.
It's peaceful, despite all the noise. There aren't many trees for the wind to howl through. The susurrating sea calms the world.
Kaiaua is home to a few dozen people, more if you count the farms. In the overall scheme of things, it has about as low a measure of value as you could find — except, that's precisely what makes it valuable. We need isolated empty places, and we're lucky to have them. And we should treat them the way we treat the resting sites of those migratory birds — by leaving them alone.
Not so many years ago, Kaiaua was proposed as a site for a new Auckland port.
Two things are striking about that. One is that anyone could be so stupid. The other, as one advocate for shifting the port puts it, is that if you were going to pretend an interest in building a new port but really you wanted to sabotage the idea, Kaiaua would be a good place to pick.
A little history
Early this year, the NZ Herald revealed that Ports of Auckland Ltd (POAL) was about to start extending Bledisloe Wharf, which is the big wharf with a row of container cranes facing across to Queens Wharf, almost 100 metres further into the harbour. Moreover, it had not notified the council about doing this, because it didn't see the need. POAL said a longer Bledisloe was necessary to berth the larger cruise ships that want to visit.
The mayor, Len Brown, harrumphed and hurrahed and said there was nothing he could do.
The shit hit the proverbial. There were protest rallies, on land and on the water. Peter Montgomery and Chris Dickson spoke out. Graham Henry lent his name. The council ducked, and the mayor, Len Brown, harrumphed and hurrahed and said there was nothing he could do.
The protests continued, and Brown, scurrying to save face, accepted a compromise offer from POAL that was orchestrated by the council's chief executive, Stephen Town. The port would extend the wharf on one side, for 92 metres, but not the other.
Town also organised for one of the bright thinkers in his office, Jacques Victor, to come up with a proposal to manage what was fast evolving into a war over the port. Victor, with an organisational template developed by Nelson environmentalist Guy Salmon, proposed that the antagonists be corralled into a "consensus group". Get them all in the tent, talking, and commit them to agreeing on an outcome.
In May, the council said yes. The Port Future Study would have $1 million in funding from the mayor's office and be run by a Consensus Working Group reporting regularly to a Stakeholders Group. Councillors would be kept out of it.
Meanwhile, a group called Urban Auckland, not impressed with the Bledisloe extension compromise, took the matter to the High Court, and in June it won an extraordinary victory. POAL promptly said the biggest cruise ship ever scheduled to visit Auckland, Oasis of the Seas, would now not come. But it stopped work and announced it would not appeal.
The Port Future Study suddenly found itself with a blank slate. The future of the port was genuinely still to be decided. Stakeholders met in early July and appointed the Consensus Group. Members include the leaders of the Shipping Federation, Chamber of Commerce and Employers and Manufacturers Association, along with representatives of Ngati Whatua, Urban Auckland, Generation Zero and a couple of other groups. And POAL.
By June next year they have to produce a long-term plan, and they're all meant to agree. Also, while the Consensus Group was asked to think 30 years ahead, at their first meeting in mid-August they decided to go for 50 years. At least.
How? Why? What's really going on?
The guy at the port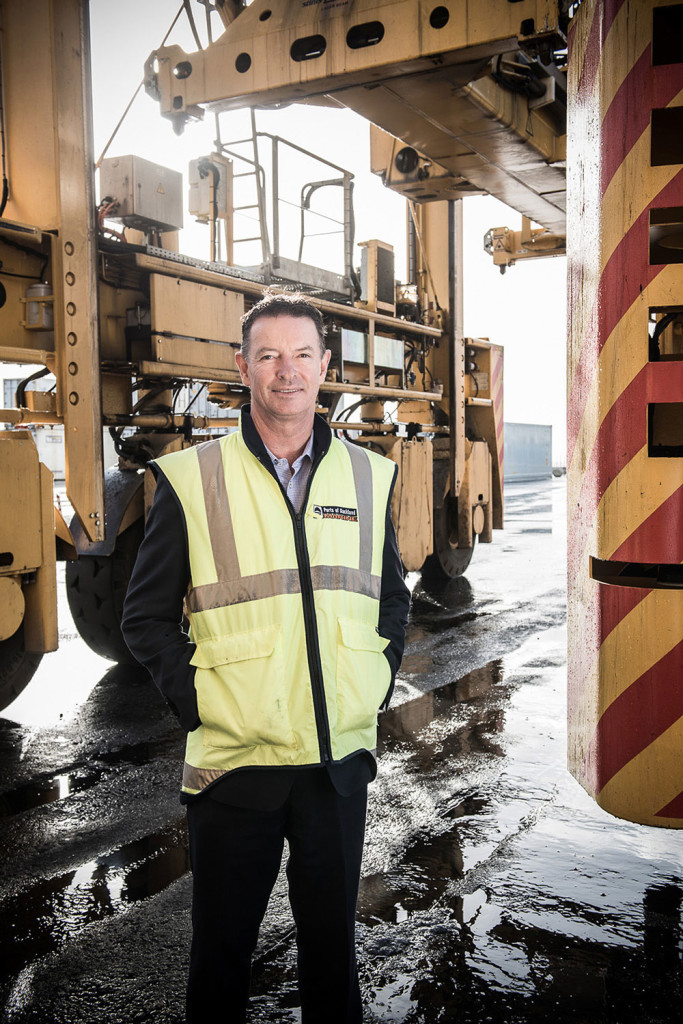 Tony Gibson looks straight at you with clear blue eyes and a big-mouthed grin. The POAL chief executive is lean, tough, good looking; currently he's doing 5am starts, working out three days a week. He and his sidekick, POAL head of communications Matt Ball, are both proud of the competitively laddish physical culture of their workplace.
The first time I visited, the first thing Gibson said was that it's a dry port. No booze, because of the random drug testing. What's good for the workers is good for the bosses too. Next visit, on his coffee table he had a copy of Naomi Klein's book This Changes Everything: Capitalism vs the Climate.
Gibson is the guy who keeps telling us there's no option but to extend the wharf, keep the cars, all that stuff. But what he likes to do, clearly, is much bigger stuff than that. He gets positively twinkle-eyed, talking about dreaming up the future.
What's going on is that Tony Gibson is making the biggest power play of his life.
A little navel gazing
Looking at the future is hard to do. What will 3D printing do to shipping and the trade in goods? What if driverless vehicles and Uber (or its competitors) change how we move around and whether we even buy our own cars? What if container ports become completely automated? What if giant inflatable airborne freight carriers, powered by the sun and the wind, make ships redundant?
Don't think now, or next, remember. Think 50 years. 3D printers and driverless cars have barely started to make their mark, but they surely will. The largest port in Europe, at Rotterdam, is already completely automated. New generation blimps are on the drawing board.
What if a continued decline in the Chinese economy destroys our trading relationships? It's already led to a sharp fall in imports, but is that temporary or the start of a long-term adjustment?
What will climate change do to Auckland? Immigration patterns will change, perhaps profoundly. The things we can make and sell to the world will also change, along with the identity and needs of our future trading partners. Biosecurity risks will grow. And, of course, the viability of everything on the coastline is at stake: ports, public parks, office buildings, apartments, every kind of trading activity and every kind of coastal recreation too.
You get the picture. Who would want to plan the future of a port? A 50-year-horizon means thinking beyond the limits of what we realistically understand the future will be like. A 100-year-plan compounds that exponentially.
Rick Boven, the man who chairs the Consensus Group, likes to say forward planning is not about predicting the future. We'll get it wrong. "The trick," he says, "is to understand what the impacts might be on what's important to you." How do we position ourselves, to ensure our port can make the most of the possibilities — and deal with problems — as they arise?
It's about future proofing. We might need a bigger port or a smaller one. The goods transported through the port will change. Port activity may become more or less of a security risk. What we need is a port that can hose down the threats and rise up to the opportunities.
And that, at heart, is why the port can't stay in the central city, in the narrow channel of the Waitemata. Stuck there, its ability to respond to change is so limited it's almost non-existent.
8 reasons the port will fail on its current site
1. It can't get bigger.
Let's assume the port will not be able to extend further towards Devonport. Narrowing the channel harms sealife and makes boating more dangerous. It blights the beauty of the harbour. It's strongly opposed by a great many people and will always be highly controversial. A long-term plan that effectively proposes to compromise the environmental values of the city and initiate a major public battle every time a change is proposed is nonsensical. Who seriously thinks that's a good basis for strategic planning?
2. Efficiency isn't enough.
The impressive thing about POAL is that it has become spectacularly more efficient.
Freight analysis is done using "TEUs": the "twenty-foot equivalent unit" that corresponds to a single smaller-size container. Using the measure of the number of TEUs shifted a year per hectare of land, Auckland is now the most efficient port in Australasia. And, says Gibson, its efficiency is "144 per cent of the average of terminals in the US, and 36 per cent ahead of the ones in Europe".
This is remarkable, and there's more to come. Currently, loaded containers are stacked three high (the containers in the higher stacks are empty). POAL is buying taller straddle carriers, so it can stack four high. They're handling close to 1 million TEUs a year now, and expect to more than double that.
POAL will also shift more of the operation to its inland port at Wiri, just west of Manukau. The idea is to move cargo handling off the wharf more quickly: to do more "devanning" or unpacking of containers at the site, and also to store and pack empty containers there, rather than on the waterfront. "We'll be moving cargo on rail into the facility, to pack the boxes that will actually go over to Auckland," says Gibson. "So we're removing the empty repositioning."
Moving empty containers around is a big part of POAL business. About half the 2.4 million containers in the country at any one time are empty, and Auckland is used as their main storage depot: they get freighted in, stacked up on the wharf at the bottom of the Strand, then freighted out again to be packed. "We're trying to alleviate the need to move empty containers."
But efficiency gains are not endless. There's a law of diminishing returns: the better you get with your existing resources, the harder it becomes to find new ways to improve. Even with all these measures, the port estimates it will run out of room on its waterfront site within 25 years.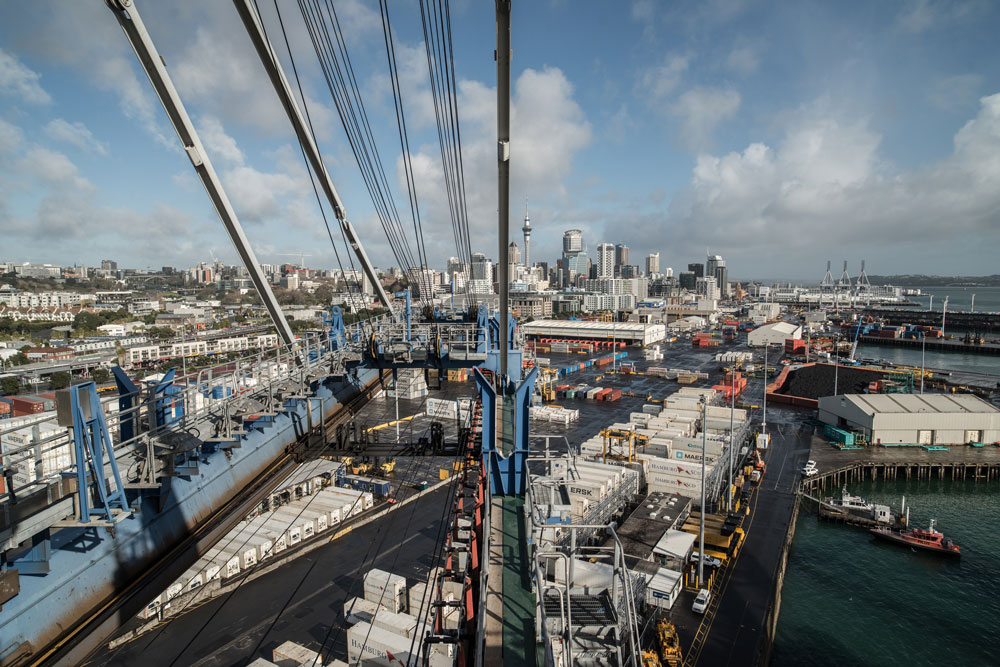 3. It can't take bigger ships.
The Waitemata shipping channel is dredged to a low-water depth of 12.5 metres, which is deep enough to cope with most of the new generation of ships coming to Auckland. But it's not enough.
The class that shipping companies want to bring to Auckland is called Post Panamax Plus (so named because it is bigger than the ships that can fit through the Panama Canal). According to the OECD, the new standard for PPP ships is 15 metres.
It's a critical issue. The big shipping companies like to work with "hub" ports: regional centres they can send their big ships to, with smaller ships distributing the freight from there. Auckland's single most important strategic goal is to remain a hub. If it doesn't do that, it's estimated the cost of handling every container will rise by $1000.
Tauranga is dredging from 12.9 to 16 metres. POAL says it's ready to dredge deeper than 12.5 metres but doesn't need to yet.
That's short-term thinking. In China, ports are now routinely dredging to 20m and growing larger too. New ports in places like Nigeria, Sri Lanka and Costa Rica are following suit. At Son Duong in Vietnam, they are dredging to 27m for a 2000-hectare port. This is the freight business today.
4. There aren't enough exports.
Auckland misses out on trade and is going to miss out on more. Although we have New Zealand's biggest import port, we don't handle so many exports. NZ Steel doesn't use the Auckland port, despite being located within the Auckland boundary at Glenbrook. Fonterra doesn't use it either, and nor do the forestry exporters.
5. The port is isolated.
Despite the importance of the inland port at Wiri, POAL is not efficiently connected to it — or to the rest of the country.
The road link, along the Strand and up through the Grafton Gully to Spaghetti Junction and the motorways, is already clogged. The rail link is the eastern commuter line running through Glen Innes and Mt Wellington, connecting to the main trunk line at Southdown, just north of Otahuhu.
Most of the million TEUs coming off the Auckland wharves each year are loaded onto trucks, 1000 a day, almost all of them heading south. Some 65 per cent of the freight goes to Wiri, or directly to companies in the giant manufacturing and warehousing zone in south and southeast Auckland, or further south again, to the rest of the country.
There is no advantage to anyone in it being trundled up through the Grafton Gully and onto those busy motorways.
The numbers will almost certainly grow. In 2008, POAL anticipated a four-fold increase in TEUs over 20-25 years. That's since been scaled back, but Gibson says they still expect the number to double. Two thousand trucks a day.
Freight companies agree, and say it will be problematic. The National Road Carriers association told a Unitary Plan hearing this year it was "unlikely the current Grafton Gully infrastructure will have the capacity to meet future growth in an efficient and safe way". Its source for this view was the Upper North Island Port Study, carried out for the council by Pricewaterhouse Coopers in 2012.
More trains? They're doing that already. "We've gone, in a year, from four rail shunts to our inland port to 21 now," says Gibson. They could triple that again, on the existing line, and trains would still be handling a very small part of the total load. They could do much more — freight trains could run in and out of the port all day and all night — except that the line runs through suburbs. Noisily. The residents of Remuera's northern slopes, Orakei, Glen Innes, Panmure and further south will quite probably, and understandably, be very upset at any proposal to shift the burden of port freight transport significantly onto rail.
And yet, for the sake of the roads, and for the future of transport in a world with a changing climate, and eventually for cost reasons too, rail has to carry far more freight. Even the trucking companies agree: they know they can't and shouldn't have to carry it all. Even Richard Prebble, formerly the government minister who all but closed down the railways, agrees.
Best practice internationally assumes the wharves you're holding the cars on are not right in the middle of the downtown waterfront.
For the port to stay where it is, a major upgrade of the Strand and Grafton Gully will be required. And they'll have to find a way to increase rail freight without blighting the suburbs the line runs through. Some estimates put the work at $1.5 billion, and it will be a patch-up compromise at best. Neither the road nor the rail link will ever be able to service a growing port on its present site well.
6. The cars have to go.
If there's one thing that symbolises the chasm between public expectations of good use of waterfront land and POAL's understanding of what it should be doing, it's all those cars lined up on the hard.
Who knows, Uber, or sexy public transport, or something else, may soon persuade New Zealanders to stop buying cars, but it hasn't started yet. Despite an economic downturn, the last financial year saw a 17 per cent increase in the number of vehicles imported through the Auckland port. "And," says Gibson, "the previous year was 21 per cent and the year before that was 16 per cent." This year, he adds, the dealers are expecting another 18 per cent.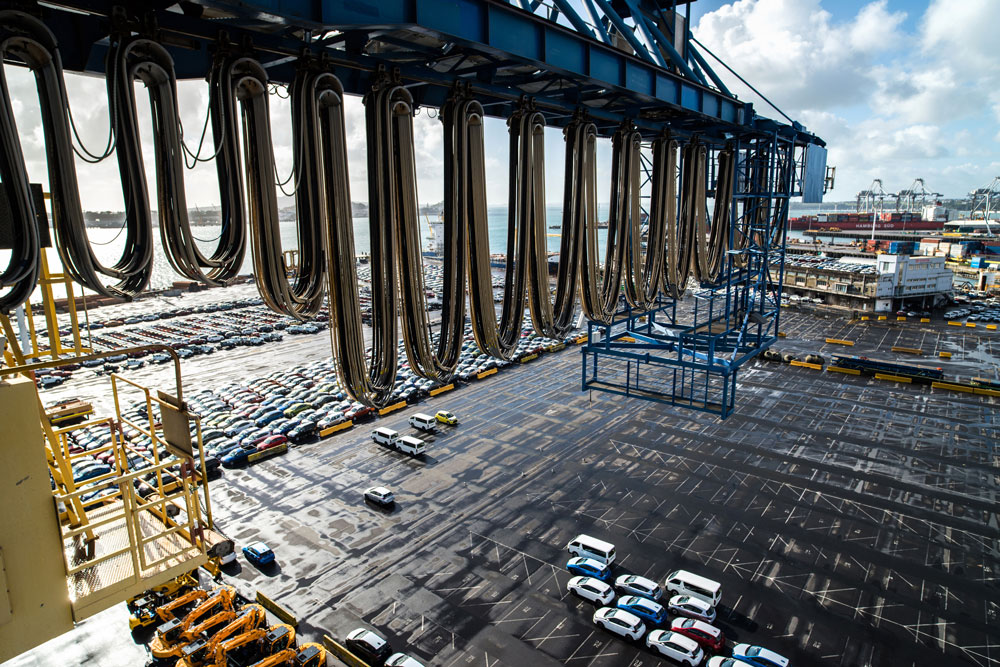 Cars, trucks, tractors, buses. There were 250,000 of them last year. Pushing 5000 a week. The paperwork is all done before they arrive; biosecurity is done on the ships too. There's no legal reason for them to sit on the wharf.
But sit there they do, for an average of 3.3 days, before being freighted to the sales yards. It's the easiest, and therefore cheapest, way to do it. It is, Gibson says, "best practice internationally".
The only trouble with that is, best practice internationally assumes the wharves you're holding the cars on are not right in the middle of the downtown waterfront.
They could be driven straight off the ships into purpose-built multi-storey parking buildings on the wharf, but that would be a little less efficient. They could be driven straight onto carriers and out of the port, but that would require a massive increase in the number of carriers, so it would be more expensive.
The way they do it now works for the car companies, and for consumers in the sense that it helps keep down the price of cars. And it works particularly well for the port, because it charges the car companies rental for the land.
That last fact is a big pointer to the reasons for the port's position on any number of issues like this. POAL makes money not just from loading and unloading ships, but from ancillary activities. It's a landlord.
Another example: the new Holcim cement silo, already known (both derisorily and affectionately, it seems) as "The Breast". It stores cement from ships, before it's trucked to worksites.
There's nothing intrinsically wrong with POAL doing this. It's required to function as an efficient business, and renting land to its customers is clearly a lucrative endeavour.
But there is something intrinsically wrong with prime waterfront land being used for such purposes. It's an eyesore on a potentially beautiful site; it's helping to prevent better-quality planning of the city; and often, as in the case of the Holcim operation, there are environmental issues. Just ask the residents of Parnell about cement dust.
The port clearly wants to retain activities like these. They make money. But if it's to do so, it needs to shift.
7. The value of the land.
What's the land under all those cars and containers worth? Consensus Group chair Boven says he'd be guessing but maybe a billion dollars? Others say more. POAL pays a dividend of $70 million a year to the council for the use of this land. It equates to 5 per cent of the average rates bill, which is a lot. No one wants another 5 per cent rates rise.
But POAL doesn't pay rates. If it did, and if the land was valued for what it is — a magnificent prime waterfront site — the council could make a lot more from it.
The dividend is the short-term financial argument for keeping the port where it is. Those who use it demonstrate a staggering financial illiteracy. They impoverish us, by taking the easy money now instead of the much bigger returns that could flow if the land was put to better use.
8. The cruise ships need better berths.
Cruise ships have become a big part of the port's operation and they're important to the city, too. Though it's not especially because of the tourism. A lot of the passengers do their eating and shopping on board, and if they do disembark, the chances are it's to get on a bus and head down to Rotorua for the day.
The economic value of the cruise ships is in the provisioning. At ports where access is easy and the supply chain is strong, they stock up. Auckland is well placed to do that, although Queens Wharf isn't. The "people's wharf" has not been a success as a cruise ship terminal, because it gets filled with service vehicles.
So, if cruise ships remain in the Waitemata, they will probably need some of the land currently used for goods. POAL is onto it already: it's dismantling the smallest of the finger wharves, Marsden, and because it's not allowed to extend into the harbour, it plans to dredge at the landward end of Bledisloe.
This will create a basin for cruise ships, moored on the east side of Cook and the west side of Bledisloe. There are container cranes on that wharf edge, but already they're used only for training and will be moved. POAL has worked with Greenpeace to ensure it honours the historic site of the Rainbow Warrior bombing.
But the dredging will be more expensive than extending the wharf would have been, and Gibson likes to say the Bledisloe extension remains an option. That sounds rather like scaremongering, but it is true that cruise ships, like container ships, are getting bigger.
The best way to ensure the bigger ships continue to call? Make the north edge of Bledisloe available to them. They did exactly that, on a one-off basis, for the Queen Mary 2. To regularise the arrangement, of course, would require shifting both container and mixed cargo operations.
Inside the Port Future Study
Rick Boven is a very trim man, all tucked in and tailored, and he has a way of hunching that makes you think he's hiding something. Which is probably unfair, because he's friendly enough, and as chair of the Consensus Group he has to gain the trust of a lot of powerful people who may have reason to be suspicious.
He is profoundly disinterested in short-term issues. I asked him about the cars parked on the wharf, and he shrugged and said he didn't really know what the deal was. I asked him about the dividend POAL pays to council, and he turned his hands over and declared that he hadn't thought about it.
Boven was hand-picked for the job by Town. He's a strategic analyst and, surprisingly, he thinks a year is plenty long enough to get the big thinking done. What would he like to see? He claims not to have a view. Something good.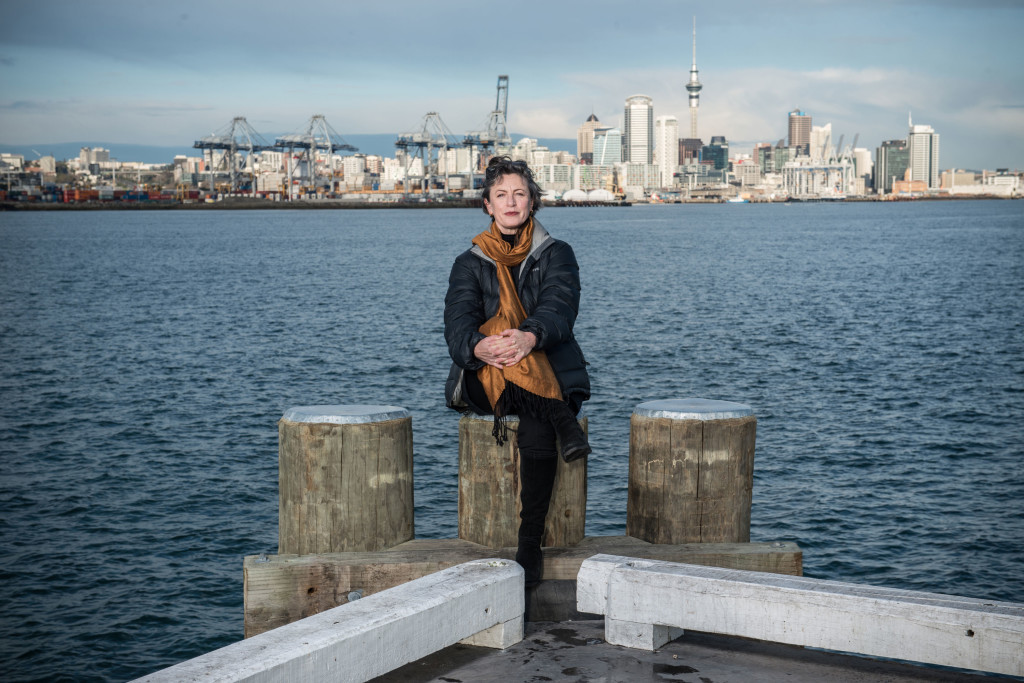 Julie Stout is one of Auckland's best-known architects and the spokesperson for Urban Auckland. She's one of those people you'd have to have something wrong with you not to like. Small and bright-eyed, when she's old people will say she's sprightly.
That'll be a while yet. Stout is new to the political game and you can see her pushing herself forward. She's not a policy wonk, and that's quite rare, and she's not a political beast either. You don't sense any guile. What you do sense is that she's still surprised at herself for being up for it.
Stout fronted an incredible power play over the port, being instrumental in the public campaign against port expansion and then fronting the legal challenge. Nobody thought that would work. Hadn't mayor Brown and his bare majority of councillors wrung their hands and pleaded with us to believe they'd tried, that the best legal advice they could get told them they could not stop the expansion?
Stout wasn't having that. She won, and now she's been co-opted into the inner sanctum of the Consensus Group. As the honest ingénue, she could be done like a dog's dinner.
Or not. If she's immune to the temptations of political deal-making, she could well retain the ability to stand true and keep them — make them — honest.
What they'll all be wrestling with is this…
A new port for Auckland
If it's tempting to think the port dispute pits architects and other liberal environmentalists against the business community, think again. Bruce Howe is a businessman, not an environmentalist. He made his money in computer software and now lives with his wife Jenny on the dress circle of Paritai Drive, in a place they both call "a big fat house on the hill".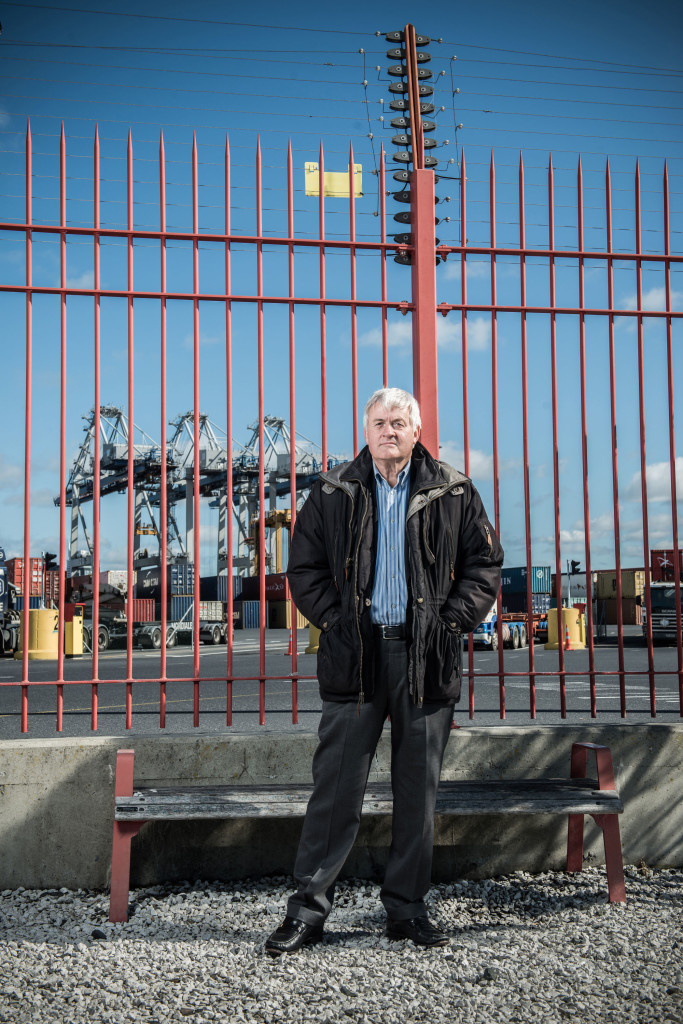 It's not a house that an architect like Stout ever got near, and you sense they might both be a little bit appalled at each other's values.
"Come out here for a moment," Howe says when I visit one Sunday afternoon. He's all in fawn: shirt, pants, Ugg boots. He takes me through the grand front room to the terrace, where we look over the sculpted shrubbery at the harbour. There's the port, way along to the left.
"I wanted to show you this, because people say I'm just trying to get a better view," he says. He's already got a terrific view, and it would not be enhanced if the port wasn't there. With the best will in the world, what Howe wants isn't going to happen while he's in that house. "For the sake of future generations," as he puts it, he wants to get the port shifted. And these things take time.
He's looked at Northport, near Whangarei, but ruled it out. It's not naturally deep, it's not a container terminal, the rail link is very poor (containers won't even fit in the tunnels), and most problematic of all, it's far from almost all the local markets for incoming goods.
He's looked at Tauranga, too. It's efficient but it has nowhere to expand. In fact, as Tauranga now stands, it has only a 20-year life expectancy.
Howe believes we should build a new port for container freight, cars and other goods, with dedicated rail and road links to south Auckland. This port would be in a location where it could continue to grow for a hundred years, pushing further out from land, without compromising its environment to any significant degree.
He thinks the Manukau is possible, just south of the airport, and he has three other sites in mind in the Firth of Thames.
We sit in his TV room, with velvet brocades and a big screen, and he takes me through his pitch. He's an enthusiast, but you can tell he's also frustrated. It's the thing that most business people suffer from when they come up against politics: they're not the boss and they can't tell people what to do, even when the right thing to do is blindingly obvious to them.
He's been at this a while now, pitching his ideas to everyone he can find willing to listen. I would say he thinks he's never met so much obfuscation and stupidity in all his life. He has a measured politeness about him, but actually he's not frustrated. He's seething. Inside those Ugg boots his toes are curled tight.
The best of his sites is Waimangu Point, south of Orere Point, just north of the place where the road from Clevedon and Kawakawa, having wound inland, rejoins the coast.
Waimangu Point is not Kaiaua. There are no birds, no residents, no marae. It's not even on the road.
A port here would be built eastwards. Just 2km from the shore it's 20 metres deep. It could easily be built three times larger than what we have now. A road and rail corridor would run through the Clevedon Valley, north of the Hunua Regional Park. There is no bird sanctuary, although there are some shellfish farms and applications are pending for many more.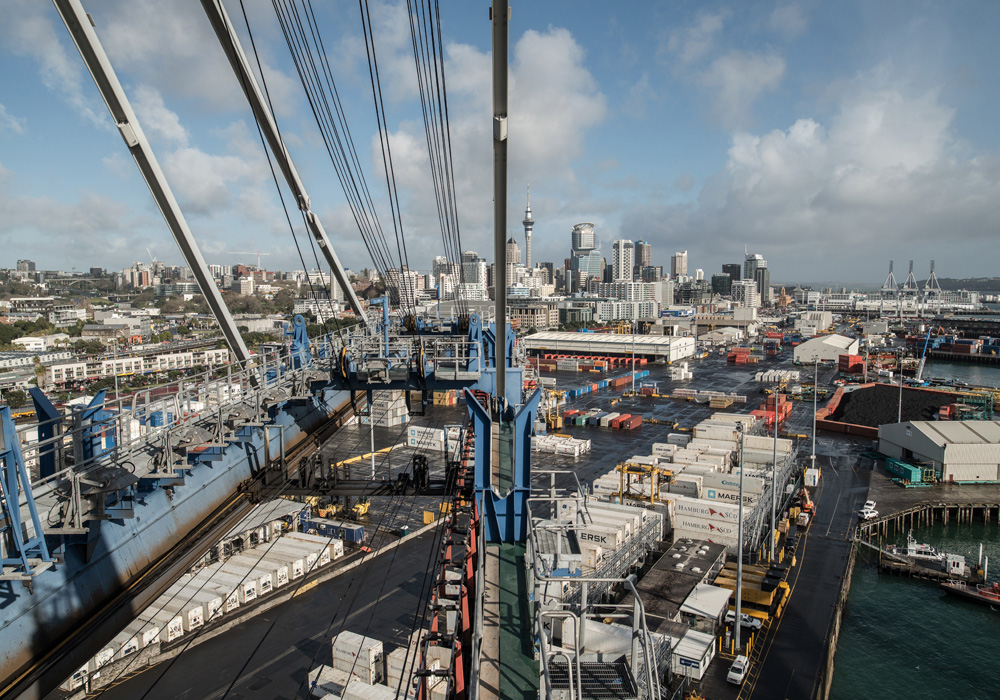 The site is 40km due east from the Wiri inland port, and the route between the two does not go through suburban areas. Shipping access is easy. In 30, 50, 100 years, if or when the port needs to grow again, that will also be relatively simple. With ease of access to Wiri, into the city centre and to the rest of the North Island, freight movement efficiencies are readily achievable.
There are environmental issues, although no obvious big ones. The whole of the Firth of Thames is governed by the Marine Park Act and a Coastal Policy Statement, which make it difficult to propose any kind of non-park activity in the area. That means nothing will happen without a great deal of analysis and a great many reports being written. That's as it should be.
But Waimangu Point, on the face of it, is not Kaiaua. There are no birds, no residents, no marae. It's not even on the road.
However we develop our port, we are going to change the environment. The whole reason the current location in the Waitemata has become so unpalatable to so many people is that it degrades the landscape and seascape around it. The question is this: for the beauty of this city and its environs, and for the economic health of all who live and work in it, where's the sweet spot?
The Waitemata is not it. Waimangu Point might be.
Ports don't seem to cost what POAL says they do — $3 billion for a new Auckland port with all the trimmings seems comparable.
What about the money?
In its submission to the Unitary Plan hearings last year, POAL put the cost of any new port at around $5 billion. That figure applied to Kaiaua and several other potential sites. Howe thinks it's nonsense. He puts construction for Waimangu Point at around $1.5 billion, with another $800 million for road and rail access, perhaps $50 million for dredging and another $400 million for other infrastructure. All up, maybe $2.75 billion.
He says the cost of staying in the Waitemata will be around $1.9 billion. The net cost of moving, therefore, would be about $800 million.
He admits he hasn't had the figures done professionally and he doesn't know if he's right. But he's done some scouting. The London Gateway port, built to handle roughly four times as many TEUs as Auckland, cost £1.5 billion. Bristol has approval for a new port similar in size and scope to Waimangu Point, costing £500 million. Botany Bay completed its third extension recently, with a similar configuration, for A$515 million. At Moín in Costa Rica, with a population of 4 million, they are building their big new port for US$1 billion. Ports don't seem to cost what POAL says they do — $3 billion for a new Auckland port with all the trimmings seems comparable.
It's still a lot. Even the $800 million net cost is still a lot. Not that ratepayers or taxpayers have to stump up the money. Auckland could offer a licence to build and operate. The Dutch company APM Terminals operates 62 terminals in 38 countries; the Dubai company DP World has a similarly scaled operation.
Another option is to sell or lease some of the existing site in order to finance the new port. That's happening right now in Wynyard Quarter, with proceeds from private investment being used to fund public works in the precinct.
Cost isn't the problem. What's harder, but doable, is deciding which parts of the port and the land — in both the existing and new sites — we want to retain under public control, and which we want to sell or lease. There's scope for a mixed model.
The power play
Howe does his presentation with assurance and conviction, but there's one thing he admits he doesn't quite grasp. "It doesn't make sense," he says. "Why are they so fixated on the current site?"
Actually, it's not likely that they are. The Port Future Study process is a power play by council CEO Town and Gibson, backed by his board at POAL.
The best way to describe Town is "clenched". He gives you the sense he thinks pretty much everything we fill our lives with is bullshit, and he doesn't much mind if you know that.
Since taking on the role nearly two years ago, he has systematically strengthened the hand of senior officials in the council set-up. His city infrastructure group coordinates much of the planning. He was instrumental in merging Waterfront Auckland and the property arm of council, to form a kind of super-group inside the super-city. He wants things done. He gets things done.
Town is not subverting the democratic processes. But he's not sitting meekly in his office on the off-chance the mayor or council might reinvent themselves as dynamic leaders of the city. A strong administration strengthens the politicians, because official competence enables political action to succeed. That's the theory.
So, what's the purpose of the Port Future Study? To retain the status quo? Keep the port where it is, keep the cars lined up on it, and hoodwink Stout into accepting a Bledisloe extension and a "small amount" of reclamation?
None of them — Town, Boven, Gibson — say they want to think like that. Nor does the Consensus Group itself.
Gibson tells a story of being in Singapore recently, with people trying to create "a vision for the next 30 years". He says they had to clarify what they meant. "We've already invested for the next 30 years," they told him. "We mean the 30 years after that."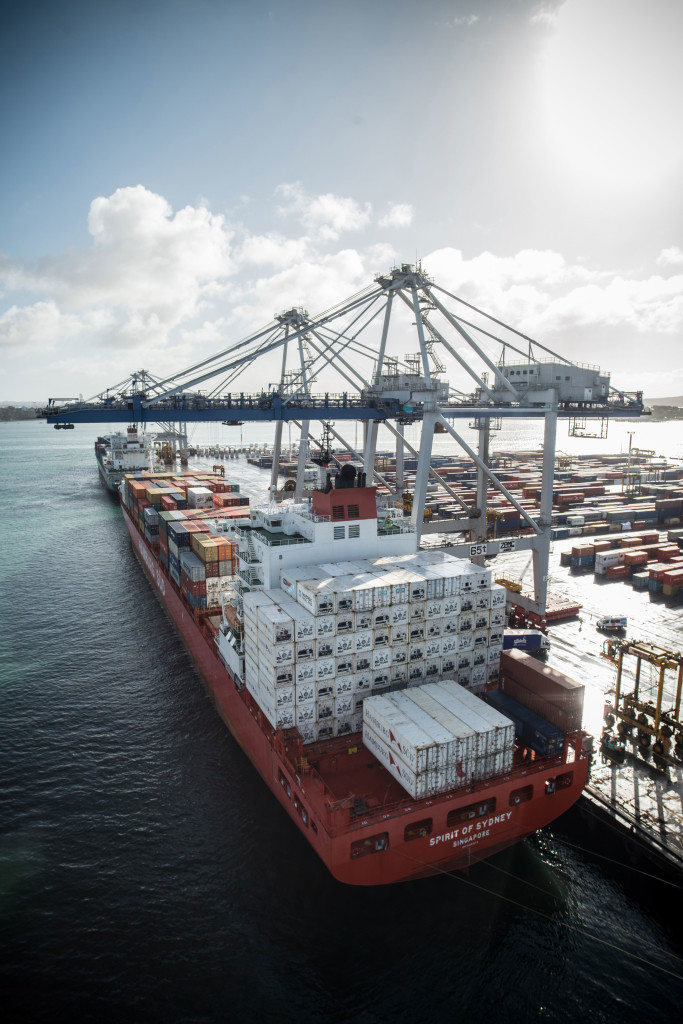 Gibson is as frustrated as Howe that we have trouble in Auckland being strategic. "There is no question we're lagging behind," he says. Because the population is growing, freight is growing. "We have to grow in some way in order to manage that freight. It can't be moved to Northland and a large part of it cannot be swallowed by Tauranga, either. So we're going to have to find a way, or we're going to have to look at an alternative port."
He told The National Business Review much the same thing. That paper quoted him in August saying the Consensus Group "should, before anything else, consider whether the port should be moved over the next 30-50 years and then work from there".
Is he declaring for a Waitemata expansion at all costs, or advocating for a move?
The immediate problem for the Consensus Group is to get past the short-term issues. Should Bledisloe be extended? Should POAL be allowed to reclaim the three hectares it currently wants? Should the cars be allowed to park on the wharf? These are the things that get us fired up, but they are not the big issues.
We don't need a downtown port. It won't work anyway. We do need a port. We're suffering now from a lack of long-term planning by the very people who claim to be committed to it — POAL, business leaders, and politicians at national and local level.
Although the logic of moving the port away from the downtown Waitemata is overwhelming, there are almost no political voices raised in support, and with the exception of Heart of the City, there has been almost nothing from established voices of business. It's enough to drive you to despair.
The irony is, in POAL's Gibson, Auckland has a leader on the cusp of business and politics who is highly skilled and able to think bravely about the future. And he's engaging. It's absurd to require him to waste his time defending the indefensible. Why not play to his real strengths and give him the job of creating a new port?
The future of the present site
And then what? What happens to the land when the containers and the cars have gone? The possibilities are endless and, really, this is the last part of the puzzle. But sometimes it helps to imagine.
So, first, we could move the cruise ship berths from Queens Wharf and Captain Cook to Bledisloe and Jellicoe. Create dedicated transport lanes for their provisioning and movement of passengers, so they're not mixed in with everything else, as happens now, ridiculously, on Queens Wharf.
Build a magnificent Museum of the Pacific devoted to migration stories and our relationship to the sea, reaching from deep history into the future, presented with cutting-edge technology to offer visitors a series of thrillingly immersive experiences. Travel on a waka from Hawaiki. Crew an America's Cup yacht. Swim with whales. A triumph of entertainment and education, a showcase of the richness of our cultures and of our open-minded, open-hearted skills as technological and social leaders determined to embrace the future.
This would be our Sydney Opera House and it would claim careers and swallow fortunes and be much, much harder than anyone brave enough to take it on ever thought. And it would be totally worth doing.
Also on the current port site: apartment blocks for the very wealthy. Of course. They'll fund other developments. And office buildings too. And parkland, canals and islands, a beach and a big range of recreation facilities. A hospitality sector with bars and restaurants. And a stadium. All of it, as a whole, designed to return an income to the city, because it's our waterfront.
And woven all the way through it, a celebration, at last, of the people who made this city possible, through their generosity with the land in the first place. Yes, the tangata whenua.
It will take 50 years to build. The people who start it will die before it's finished. That's what long-term planning means. We have to do this.