Jun 20, 2014 Politics
Tim Lambourne has a big night out with the Young Nats.
Is conservatism cool? Pharrell, Lorde and fiscal policy. Sound like a holy trinity to you?
This year the Young Nats, youth wing of the National Party, cemented their place as the biggest house on campus. Sixteen hundred and sixty-seven students across the country signed up during Orientation Week. More than Young Labour, more than Young Greens, more than Young NZ First. (Jokes. That's not a thing.)
The Young Nats' total membership is over 5000. They are now the biggest political youth organisation in New Zealand.
When did university — once described by National Party president Peter Goodfellow, talking about Victoria, as "a hotbed of socialism and ridiculousness" — become a stronghold of the centre right? Who are these people?
At the Young Nats Ball they gather, in their hundreds, the best and brightest in a room full of their peers and heroes, to drink and be merry, to celebrate National's staggeringly good poll results and to talk about the year ahead. Their guard will be down. I will be free to get to know them.
Destination: the Rendezvous Grand Hotel, looking like a lot of Auckland's architecture — awkward steel bars dressing the front of a building painted in that weird purpley-red colour designers once seemed to love so much. The ball is known for light controversy. In 2012, a set of photos went on Facebook and much mockery ensued. This year, as usual, there were protesters. Maybe a hundred of them, rallying against the $100 ticket price.
At the entrance, three university-aged girls were checking off names, their glamorous gowns making them look a little overdressed for the role. I had booked under the name Tim Lim, an alias. Would it work? My heart was pounding loudly. If that sounds lame, it's because it is: I was going undercover at probably the most friendly political function of the year and there was no reason for all that adrenaline coursing through my veins. This, I thought, must be what skydiving feels like!
I asked the girls if I needed a wristband.
"Nope!" they beamed. "Just get in there and have a great time!"
The Young Nats walking through into the ballroom didn't behave all that young. Perhaps their passion for politics and other serious business, such as serious business, means their big responsibilities show in their demeanour.
Inside, there were dinner tables and a stage with a massive LCD mesh screen hanging behind the podium. The picture changed every 30 seconds or so, jumping from the National logo to #3MoreYears, from quotes by history's favourite conservatives to quips from, bizarrely, Frank Underwood, the ruthless schemer from the political drama House of Cards.
Paula Bennett, the Duchess of Waitakere, was MC. One of her main gags was getting people to write down answers to questions she asked. "How many more Kiwis had jobs compared to this time last year?" How many beneficiaries' lives had she saved? Or something. I stopped listening when I knew I didn't know the answers. No one likes taking a test they didn't study for.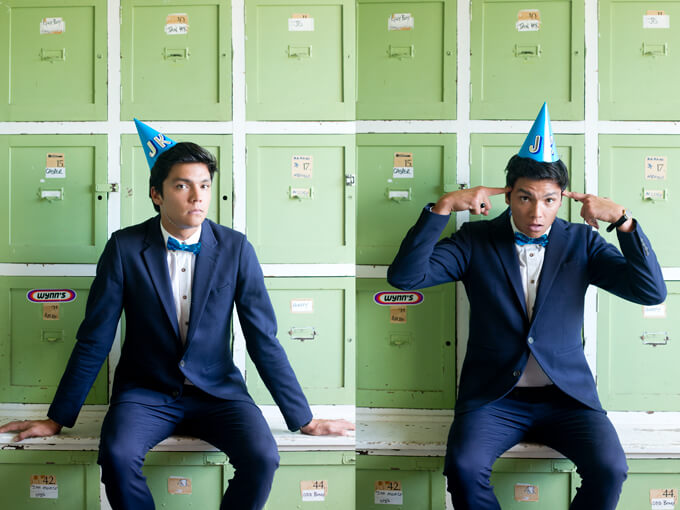 Our table, in a corner at the back, would be described as the "nosebleeds" if we were watching sport. That was confirmed when our designated MP arrived: professional adult Jami-Lee Ross, member for Botany.
He introduced himself to the rest of the table and when he got to me he paused, did a spoken laugh ("Har har") and said: "I remember you!"
I had met Jami-Lee Ross once before, on a late-night chat show I used to work on. We interviewed a different politician every week and because we were off-peak and had lots of time for the interview, we got to know them quite well. After we had Ross on, someone asked me what he was like and I quipped, rather cruelly I'll admit, now that I have to write it in public, that he's "not the sort of person you want to get stuck at a dinner party with".
Fate, eh. I stood up, shook his hand and smiled. I deserved this, I knew it.
After finishing the complimentary glass of champagne, I headed for the bar, where I waited in line behind a scowling silver-haired woman within an elegant dress. Just as she was about to leave and I stepped up to order, a wave of charm in the form of a dapper young man appeared. Tallish, wearing stylish black-framed glasses and a black bow tie, he spoke in a voice that sounded like a Southern drawl baked in a slight Nu Zild twang.
Effortlessly, he flipped the silver-haired woman's demeanour from scowling to smiling, before ordering two bottles of wine for the VIP table, on the VIP tab. Then he turned his attention to me. "Hi, I'm Sean," he said.
"Tim," I replied, scrambling slightly.
"Tim Lim?"
Shit, this guy is good, I thought. He must have been on the organising committee or something. "How is your night going?" he asked without breaking eye contact.
I told him it was going pretty good. "Although, it was slightly better before I was pushed in front of," I said, looking to get a fraction of power back in the conversation.
Sean smiled. "That was very rude of me," he said, and turned towards the bartender. "Can I also get one…?"
"Heineken," I answered.
"One Heineken, also on the VIP tab."
I ain't too good for free booze. I thanked him for the beer and watched as he floated back to the party, absorbed into the Young Nats around him. Who, or what, had I just encountered?
Paula Bennett was bellowing something about star signs into the microphone before introducing the next speaker, the president of the Young Nats, who would then be introducing the Prime Minister. The crowd erupted as Sean approached the podium.
There he was, Sean Topham, my dude with the charm and swagger, his Kiwified Southern drawl now even more pronounced. He opened with a quote from House of Cards (a running theme for the night, apparently), in a reference to Judith Collins.
"I love that woman more than sharks love blood."
His confidence felt effortless. "We had the first Young Nats ball in 2011, National was polling in the 50s, Labour had begun to slide into the 20s, Shane Jones had been all over the news, they had just hired a new chief of staff and speculation was swirling about who the Labour leader was. It's been three years."
A good dig. More cheers. There were a few jokes that didn't quite hit, including something about the "one per cent" that seemed to make John Key, Collins and others at the VIP table slightly uncomfortable. But when he said, "I have been advised by security that they [protesters] have tried to get in and, as Margaret Thatcher would say, 'I don't blame them, it's always better where the Tories are,'" he brought the fucking house down.
He talked about the challenges ahead for the Young Nats: "We must maintain our momentum, we must continue everything that we have been working hard for over the last few years, we have been blessed with strong leadership and a unified team. That is why I am seeking a third term as president of the Young Nats."
The crowd laughed. Then he turned — this was my favourite moment — and addressed Key directly: "John, I believe you're also seeking a third term. I would be happy to compare notes at some point."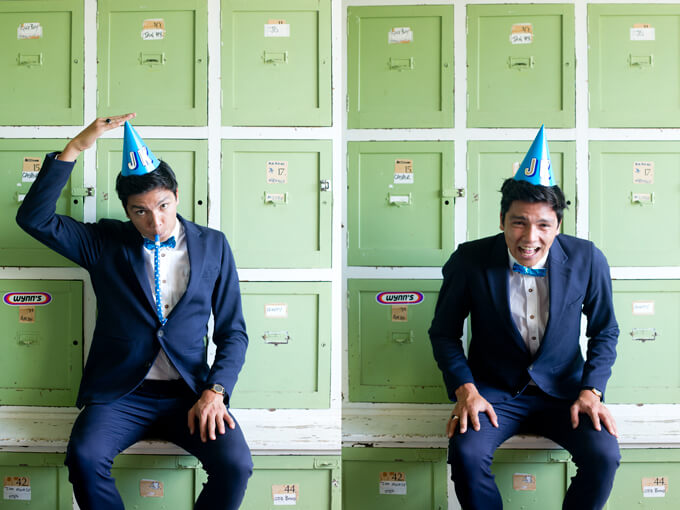 The crowd lost it. Everyone knew this dude had just shown he could hold his own with the Prime Minister, could make a joke at the PM's expense but still know where the line is. Everyone knew we were looking at a future National Party leader, possibly a future Prime Minister.
He had the crowd in a frenzy: political fundraiser was fast turning into rowdy 21st. Who knows where it would have gone if Dad hadn't stepped in.
Key opened with a few lols ("Kim Dotcom sends his apologies — he tried to buy a ticket but the cheque bounced") before working through a standard stump speech about the young families and full-time workers and others National was there to help. Then the band came on; they opened with a cover of Aloe Blacc's "I Need a Dollar".
I wanted to find out more about Sean Topham and went to find the cooler Young Nats. They were outside smoking.
"The thing about Sean," a friendly blonde girl called Sarah explained, "is that he's down to earth. He can laugh at himself."
"He shares that with another successful National leader," I quipped as fast as my wit would allow.
"Rob Muldoon?" cracked a guy sitting to my left. The table laughed.
Apparently Topham got his first taste of Young Nat leadership by staging a coup, Jenny Shipley-style, against then Northern Region leader Emma Mellow while she was overseas. I was amazed, though I sensed the table I was with thought that if Topham hadn't done it someone else would have.
When I sat down with Sean for a coffee a few days later, I asked him about the mutiny.
"Water under the bridge," he said, smiling.
The conversation was free flowing, if a little diplomatic, and the drawl had pretty much disappeared. It turns out Topham developed a passion for politics while on holiday with his family in the States in 2008: in the Democratic primaries, Obama and Clinton were slugging it out, and Topham fell in love with the latter.
A law and arts student (humanities!) at Auckland University, you can tell that while he loves what he does, loves the Young Nats, he can see the bigger picture: he says he's going to take a break from politics and try his hand at the real world once he graduates. Smart move, and not unlike another successful National leader.
Back at the smokers' table, the conversation had turned to the Young Nats themselves. "I get so sick of people thinking it's a bunch of young rich white kids," Sarah moaned.
That's a fair complaint. Nobody likes stereotyping, and in my experience that night Sarah was right: the guests seemed to come from a wide range of income brackets, if not necessarily ethnic ones.
I started talking to Adam, one of the few Asian Young Nats at the ball. He'd been a member since he was 16.
He asked what I did. I told him I worked on George FM and started reminiscing about that time David Dallas, PNC and Scribe freestyled live on the breakfast show. We agreed it was sick.
Adam wasn't planning on going into politics. No one at the table was. In fact, I spoke to only two Young Nats all night who were actually working, or planning on working, in politics.
"People who use the Young Nats for their own political gain are gross," said Sarah. "And they don't last long — you can see it a mile off."
That caught me off guard. I had assumed Young Nats were Young Nats to increase their chances of becoming Old Nats. But no. They're there because they believe in National's idea of a brighter future and they're smart enough to know that in a country of four million often-apathetic voters, every bit of campaigning helps increase their chances of making that future brighter. They get politics. It's not easy, it takes hard work and dedication to a cause, not hollow rants at 3am.
Are they cool? Not really. The closest-to-cool man there, Sean Topham, asked me what I thought of them, what I thought of the night. Cool people don't ask questions like that because they already know the answers.
Is conservatism cool? Well, it's winning. And with victory comes power, support, band-wagoners. Power is cool, or at the very least intoxicating. Power helps you command attention in a room full of your superiors. Will they still be hot when National is not?
"You only keep true believers in between election years," Adam told me.
I spotted Sean at a bar in the hotel lobby as I was leaving, surrounded by an entourage. I made my way through the gaggle and told him he was owed a drink.
He chose shots: "Quick fucks."
I obliged, but before they'd been poured he disappeared — went off to do more thanking, chatting and charming among the departing guests.
I turned to the girl next to me at the bar and asked her why she thought the Young Nats were killing it. She glanced at Sean. I asked her what she thought of him.
"I want to fuck him."
First published in Metro, May 2014 with the headline "Baby Blue" . Photo: Jessie Casson