Apr 27, 2016 Restaurants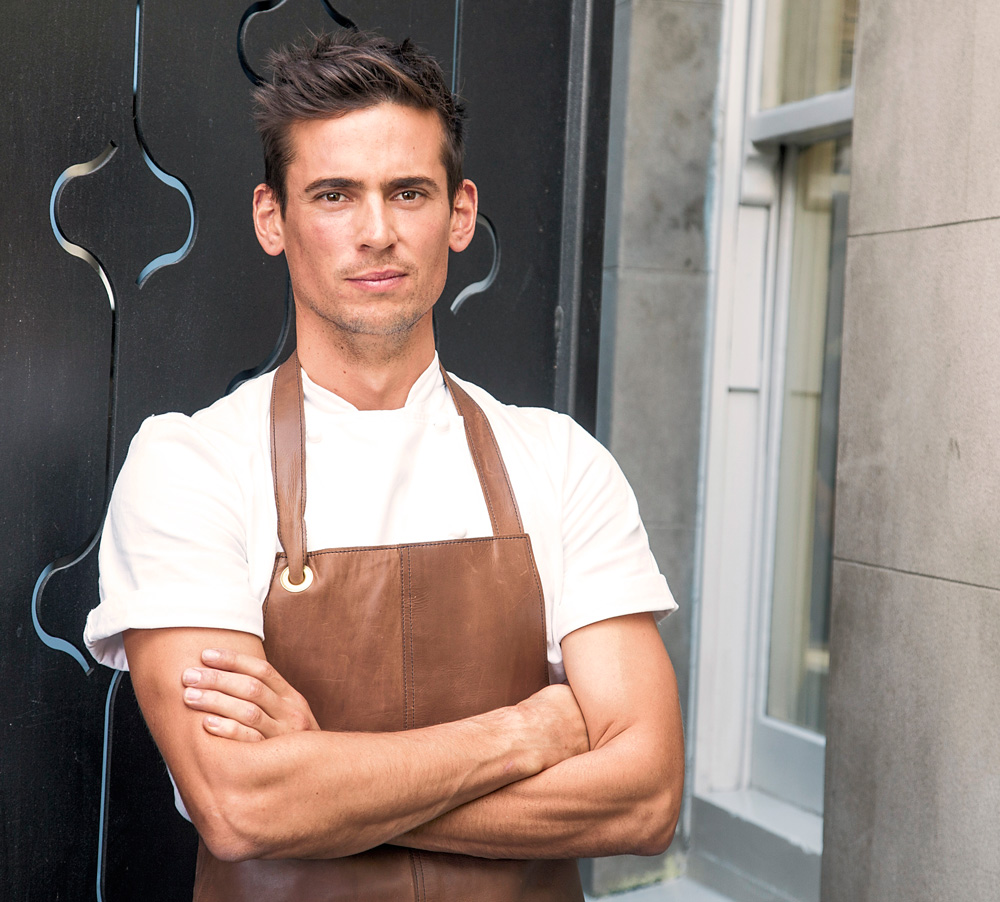 Introducing Tom Hishon, winner of best chef at the Metro Peugeot Restaurant of the Year Awards 2016.
Words by Simon Wilson, photo by Simon Young. 
Tom Hishon was in Riverton in March, round the coast a bit from Invercargill. He has family there. Riverton has a wide, sweeping beach, some pretty colonial architecture, and on a good day it's one of those semi-isolated little coastal towns that make you feel good about the world. There's also a steep gravelly beach where the sea rears up and thumps down on to the land and does its best to suck it all away, and you stand there, above the tideline, in awe. On a bad day, the prettiness of the good days pales before such magnificence.
Hishon, who is the chef and co-owner of Orphans Kitchen in Ponsonby Rd, went to that beach with a sack and filled it with bull kelp. Twenty kilos of it, he reckons, which he then stuffed into his carry-on bag, throwing out everything else, and flew home with it to Auckland. He chopped and braised the kelp and served it to his customers in a dish with mushrooms and little potato dumplings.
That kelp sums up quite a lot about Hishon and about his restaurant. It's foraged food, a sustainable resource and a celebration of the wild, and it's full of nutrients. It's full of flavour, too: the fronds — dried, sliced and flash-fried — were brittle and wonderfully crunchy; the root — sliced and braised in stock — was like salty paua.
And the dish he was serving the kelp in through March? They went exclusively vegetarian that month, for breakfast, lunch and dinner. Half the menu was full vegan, in fact, including the kelp dish: with dumplings like gnocchi, but made with rice and tapioca flours, which gave the potato a more gelatinous texture; portobello, oyster and shiitake mushrooms, karengo, other seaweeds, onions, spices, celery that had been peeled, salted, roasted and "slightly" pickled, fermented garlic.
The stock was cooked down for hours. The dish was served as a main and the bowl they set before you contained a dark mess sprinkled with coriander, and it was glorious, truly glorious, to eat.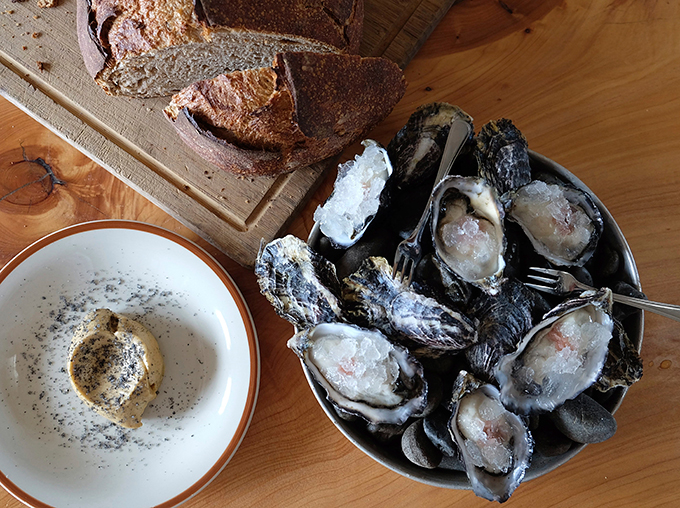 Tom Hishon is our chef of the year. He's a lean man with a kind of brooding intensity, and he gets that gong for the quality of his cooking — to keep all the flavours and textures working with and against each other in a whole large bowl of some dark mess, so the food is good to eat right to the end, is extremely hard to do. Even with meat it's hard to do.
He also gets the gong for everything else that he and Orphans are doing. The beehives on the roof that will produce 180kg of honey this year. The refusal to buy or cook non-sustainable fish species. The way he'll see a tamarillo tree down the street dropping its fruit and go knock on the door to see if he can have some. The growing plots they've got at the inner-city farm Kelmarna Gardens, and the work he does with his team there, and out foraging, so everyone's learning about the provenance of the food.
And that vegetarian month! The most popular dish on the menu was probably potatoes. And yes, there were breakfast regulars who wanted their bacon, but he turned them away, sent them to cafes down the road. They came back, tails between their legs (or so he says), missing Tom's food.
The menu changes all the time — meat's back on, now — and usually there will be just three each of the starters, entrées, mains and desserts. "More than enough," he says. Co-owner and manager Josh Helm says, "Think of it as a feasting menu."
Helm, by the way, who has a big moustache that comes and goes and a much more genial demeanour than Hishon, is not to be outdone. He went hunting recently, for animals, and came back with a sack of horopito.
Kiwis both, the two met in London. Hishon was a trained chef and he's done his time in very smart kitchens (including Clooney here). Helm had never even worked in hospitality before. He didn't know what you were supposed to do; he just went out and organised things the way he thought they should be. "It's a family environment," he likes to say. Actually, his staff say the same, and what they all mean is that warm and cosy family-as-sanctuary thing you see sometimes in movies. The best restaurants create a fantasy world for you to spend a little time in.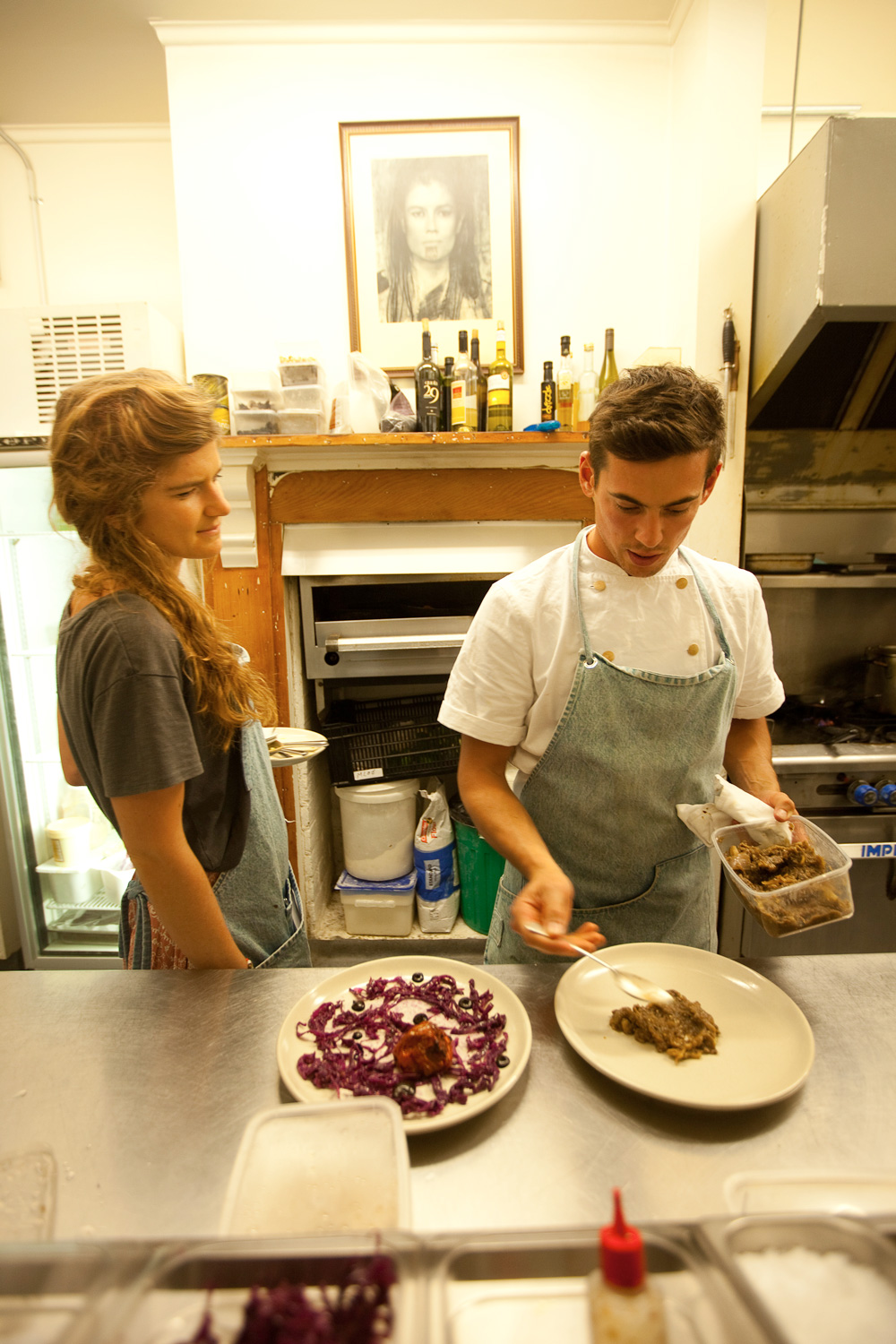 The family thing even comes out in the restaurant's evening playlists, which are compiled by Helm and are full of Van Morrison and the Rolling Stones.
"Josh," I told him, "it's dad music." Turned out that's exactly what the staff have told him, too. During the day, the playlist is more likely to have been created by staffer Brooke Petersen.
We were sitting in the restaurant's private dining room upstairs, and Hishon had a glass teapot with big slices of ginger and kawakawa leaves crammed into it. No, he said, it's not an afternoon ritual before evening prep. He just likes the tea.
Did he have a signature dish? He called that a "crap question". If you get known for one thing, "that's a fail".
Did he find the endless daily repetition involved in being a chef difficult? "I don't think it's repetitive," he said. He didn't want to talk about it, or even seem to know what I was talking about.
What he did want to talk about was being holistic. In many ways, Hishon is a local champion of the international movement headed up by chef René Redzepi at his Danish restaurant, Noma. Menus based on local foraging, often with items you would barely know as food. Stripping everything back to unleash some essential character in each ingredient. Reinventing food by rooting it deeply to the place where you are.
Redzepi, who is only 38, does this in the highest social stratosphere: dinner at his just-ended pop-up Noma Australia cost A$485 per person, and that was before they poured the wine. Hishon, on the other hand, loves that they get all sorts into Orphans Kitchen. And they do: the full age range; you can eat superbly on a budget and you'd find it hard to spend an awful lot of money even if you wanted to.
Being holistic. Sustenance, health, the environment, the economy; the whole place and purpose of food and restaurants in the eco-system. At Orphans Kitchen they're intent on fitting well into the world — ethically well, and with a great deal of pleasure. Seeking out and relying on the neighbours' fruit, harvesting kelp from the country's wildest beaches — it's all about elevating your local circumstances into a hospitality experience that rewards everyone involved.
They're not the only ones. Many of the restaurants in our Top 50 are doing something similar, at least in part. Hip Group eateries like Ortolana and Rosie have a full garden-to-table approach. The French Café has beehives in its courtyard and Bracu and Poderi Crisci maintain their own big kitchen gardens. At Cazador they not only grow many of their vegetables, but hunt for some of their meat too.
As Hishon says, "It's not just about food. We want our customers to know that."
Orphans Kitchen was runner-up for our Supreme Award this year. Hishon is 29. Helm is 31. They're the next generation, and they've arrived.
Read more: