Jun 21, 2018 Restaurants
For Metro's 2019 review, click here.
For more great videos, check out our Youtube Channel.
The Engine Room restaurant review
Metro Top 50 2018 restaurant The Engine Room is a contemporary neighbourhood bistro in Northcote Point.
The mark of a good bistro is when the welcome is genuine and inviting, the menu is varied to suit any mood or occasion, and you could pop in for a quick midweek dinner wearing jeans, or toast a special occasion in your finest threads. After 12 years in the business, Natalia Schamroth and Carl Koppenhagen are still expertly striking this balance at The Engine Room. The food here has a way of evoking good memories, whether it's of the familiar or the exotic. Bistro classics such as schnitzel and steak frites sit alongside dishes inspired by Thailand, Indonesia, Japan and the Middle East. All of it is packed with flavour and accompanied by a stellar drinks list, including exceptional riffs on classic cocktails made using seasonal fruits, herbs and aromatics.
What it offers Free-range chicken and/or pork / Good for vegetarians / Takes large groups / Craft beer selection
A favourite dish Schnitzel with potato rosti, coleslaw and caper butter
Awards Runner-up, Best Neighbourhood Bistro; Finalist, Best Service
Hours Lunch Fri, Dinner Tue-Sat
Bookings Yes
Price $$
Seats 80
Chef Carl Koppenhagen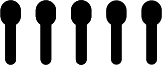 engineroom.net.nz
115 Queen St, Northcote Point
Ph 480-9502
See here for all of Metro's Top 50 Auckland restaurants for 2018