Aug 27, 2013 Restaurants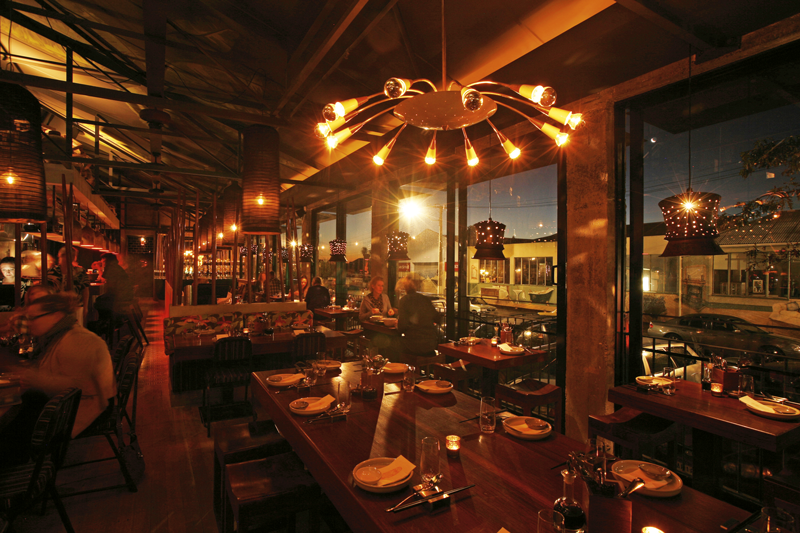 Ph 360-0303. thebluebreezeinn.co.nz
Hours: Dinnner 7 days; lunch Tue-Sun.
Dinner bill: Small plates $4-$18; large plates $26-$30; desserts $10-$15.
By Simon Wilson.
So much of what they do at The Blue Breeze Inn is so spectacularly good — gob-smackingly delicious food, super-functional friendly service, great drinks list, inspired fitout — it's a puzzle that a few other things are really not much good at all. Let's get them out of the way first…
For our ribs and our paddle crab, which was smothered in roaringly moreish chilli sauce, we got one finger bowl containing half an inch of water. Two of us eating, with our fingers. We asked for the bowl to be replenished, and they gave us the same measly amount again. Incomprehensible.
And that crab, while I'm on it, was really big, with legs and pincers so tough they were almost impossible to crack by hand. So why no crab tongs? It's not like they haven't been invented.
No blinds on the sun-struck, west-facing windows. Water glasses not kept filled. A coffee order wrong. Supposedly spicy "Sichuan" lamb ribs where the cumin lay grittily on the meat and the spice seemed to be missing altogether. Steamed monkfish. (Okay, so the BBI are by no means alone with this, but please, chefs: hunks of monkfish are irritatingly chewy and after a while they don't taste great, so you really have to do something clever with them. Please.) And, on a mid-week evening visit, the baskets in the toilets were overflowing with discarded paper towels. Tacky.
The good news? Everything else. The men, including some impossibly charming French lads, wear dinky Hawaiian shirts and are fabulously attentive; the women swoop and glide and look after you beautifully too. This is a very cool crew.
They serve a dry Margaret River riesling that, hallelujah, is not sweeter than it pretends to be — no question, it's the best I've had in an Auckland restaurant. There are more wines of the same quality and with good price points throughout the list.
Beer? What do you think? It's craft and premium beer heaven in here. The cocktails list is also long and strong, although there's such a good-looking list of non-alcoholic cocktails it's tempting to give up alcoholic drinking altogether.
And the food. The thing they long for in restaurant kitchens is that the first thing they serve you will stop you in your tracks. Mid-conversation and not really paying attention, you pop a little something in your mouth and suddenly you are beguiled. You realise, with a thrill, that you are at the start of something very special — and so you decide you really will try to pay attention to every mouthful.
On the "small appetite" section of the menu, the pickled cabbage salad does that, and so do the pork and truffle xiao long bao (Shanghaiese dumplings with soup inside). So does the magnificent tea-smoked duck breast and, I am very reliable informed, so do the bang bang chicken and the barbecued pork buns, which contain both pork meat and crackling.
When you get to the "large appetite" section, don't miss the tofu, served with shredded pork shoulder and a rich, strong chilli paste. A king-hit dish. Don't miss the aubergines either: another chillied-up bowl of juicy fabulosity. Don't miss the paddle crab, for that matter, albeit that you'll need to take your strong fingers with you.
There's a confidence about this place, a seductive panache with which owner Mark Wallbank and chef Che Barrington welcome the world into their stylishly non-kitschy tiki bar. They're the team that created modern Thai at Moochowchow, and now they've done it again with modern Chinese. Like Depot and Coco's Cantina , The Engine Room and Cocoro before them, The Blue Breeze Inn has redefined the possibilities of Auckland dining. All they need to do now is fill the finger bowls, tweak the menu and empty the bins.

4 Spoons
This review appeared in the July/August 2013 issue of Metro.
Book now