Jul 31, 2013 Restaurants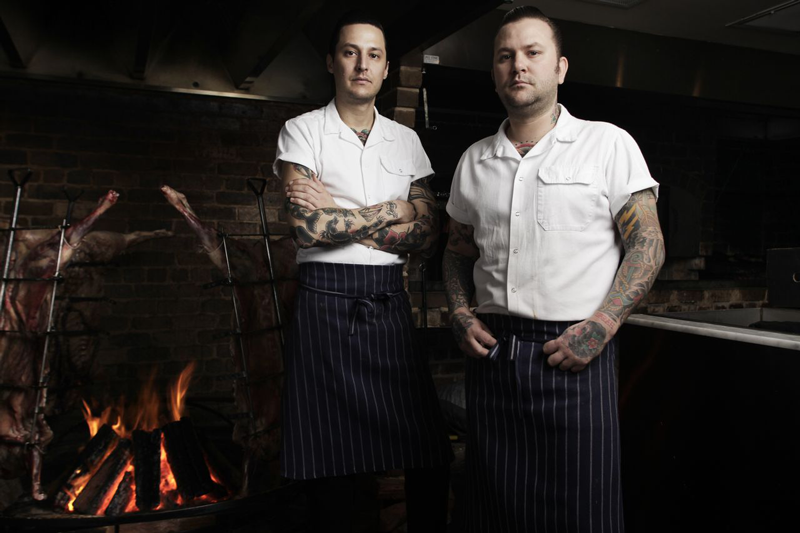 Ben Milgate and Elvis Abrahanowicz of Porteño
August 1 marks the kick-off to Auckland Restaurant Month 2013, a CBD-wide celebration of Auckland dining. More than 120 restaurants, bars and cafés are taking part, with special menus, exclusive tastings and a raft of one-off culinary events. Some highlights:
For unabashed carnivores
For one night only, super cool rockabilly chefs Ben Milgate and Elvis Abrahanowicz bring their Sydney restaurant Porteño to Auckland. They'll be setting up their Argentinian-style asador grill at Vivace, serving a meaty menu including wood-fired lamb with chimichurri and their own homemade chorizo. A Taste of Porteño, August 8, 6.30pm. $170 + bf.
For cheap eats afficianados
It may not have quite the atmosphere of a bustling street in Saigon or Penang, but for one glorious day Shed 10 will become Auckland's street food ground zero. Instead of the usual local food stall names, restaurants including Ima Cuisine, Besos Latinos and iVillage will serve their own versions of street food classics. Street Food at Shed 10, August 10 from 10.30am. Free entry.
For Asian food explorers
A white guy from middle class Vermont isn't the most likely ambassador for über-authentic Thai cuisine. But Andy Ricker has made his name as one of the best Thai chefs in America thanks to Pok Pok, his critically-adored Portland restaurant (he's recently opened a second Pok Pok, in New York). For Restaurant Month, Ricker is teaming up with Auckland chef Nick Honeyman to create a "family style" Thai banquet, held at Everybody's Izakaya in Imperial Lane. A Taste of Pok Pok,  August 28, 6.30pm. $170 + bf.
For wine lovers
If you haven't checked out the newly renovated Victoria Park Market, here's the perfect excuse. Wineries both big and boutique will be on site for the Winter Warm Up, a festival of wine (and the odd beer). Look out for winemaker talks, wine and beer-matching dinners at Libertine and La Zeppa, and tastings at the Boutique Wine Showcase in the main market courtyard. The Winter Warm Up, August 17 & 18 from 11am. Free entry to Victoria Park Market area, Boutique Wine Showcase early bird tickets $20 for glass and first 6 tastings. 
And don't forget, more than 120 restaurants and cafes are offering special Restaurant Month menus during August. Been meaning to pay a visit to 2013 Metro Top 50 restaurants Debretts Kitchen, O'Connell St Bistro, Soul Bar & Bistro" href="/top-50-restaurants/top-50-restaurants-2013/soul-bar-bistro-2/" target="_blank" rel="noopener noreferrer">Soul Bar and Bistro, Ima Cuisine, Number 5, Totó, Wine Chambers, Kura, Depot Eatery & Oyster Bar" href="/top-50-restaurants/top-50-restaurants-2013/depot-eatery-oyster-bar-2/" target="_blank" rel="noopener noreferrer">Depot or Ebisu? This is the ideal opportunity.
Let the feasting begin!
Auckland Restaurant Month, August 1-31.