Jan 15, 2014 Restaurants
St Heliers Bay Cafe and Bistro, Auckland
St Heliers Bay Cafe & Bistro
For more Auckland food news and reviews, including the Metro Top 50 Restaurants in Auckland for 2014, see metroeats.co.nz.
By Catherine McGregor and Simon Wilson. Photos by Ken Downie.
1. Ambitious, affordable eateries
It's how we like to eat: informally, with super-personable, super-efficient service and food you just can't get enough of. While lots of restaurants around town struggle, at places where they aim really high while keeping it casual there are packs of customers waiting to get in. The celeb stars leading the trend are Al Brown with Depot Eatery & Oyster Bar" href="/uploads/Metro/2014/01/depot-eatery-oyster-bar-2" target="_blank" rel="noopener noreferrer">Depot and Federal Deli and Michael Van de Elzen with The Food Truck, but many others are also in the game, including Coco's Cantina " href="/uploads/Metro/2014/01/cocos-cantina-2" target="_blank" rel="noopener noreferrer">Coco's Cantina, Blue Breeze Inn, Mexico, Orleans, Ortolana, St Heliers Bay Cafe & Bistro and The Hamptons (Clooney's summer 2012/13 operation on Shortland St).
The trend also extends to takeaway (take a bow, The Lucky Taco and Bird on a Wire) and into the suburbs: St Heliers has the marvellous St Heliers Bay Cafe & Bistro and La Fourchette (sister cafe to Britomart's L'Assiette), Sandringham locals can't get enough of Petit Bocal, Mt Wellington has Charlie & George and Pt Chevalier is falling in love with The Twisted Tomato.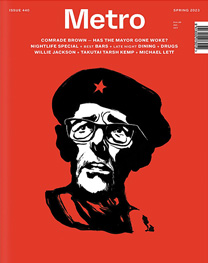 Metro N°440 is out now!
With progressive councillors starting to score some wins under what was anticipated to be a reactionary major, Hayden Donnell asks: Has Wayne Brown gone woke?
Plus: we go out and investigate Auckland's nightlife (or in some cases, the lack thereof), with best bars (with thanks to Campari); going-out diaries from Chlöe Swarbrick, BBYFACEKILLA.mp3, Poppa.Jax & more; a look into Auckland's drugs by Don Roew (who's holding and how much they paid for it); we go on the campaign trail with Willie Jackson, talk to gallerist Michael Lett, drink martinis and alternative wines, start seeing a therapist, visit Imogen Taylor's studio, look into Takutai Tarsh Kemp's wardrobe. And more!
Buy the latest issue