Oct 30, 2013 Restaurants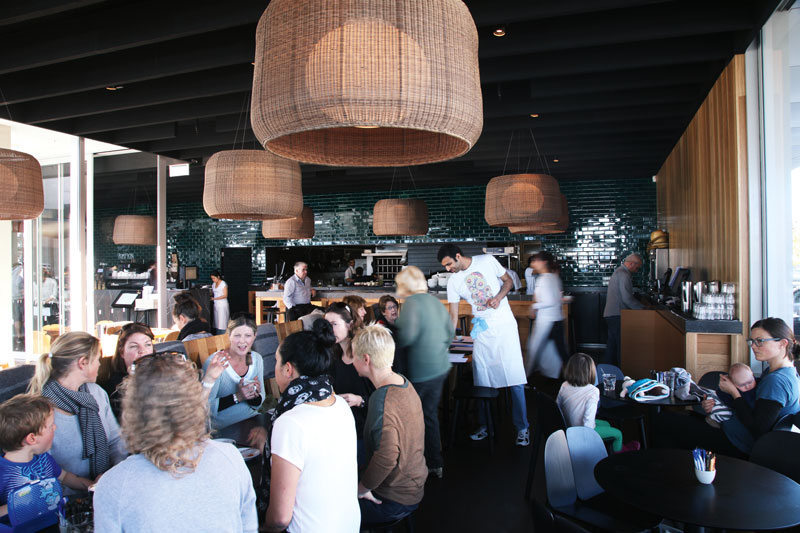 St Heliers Bay Cafe & Bistro
387 Tamaki Drive, St Heliers. stheliersbaybistro.co.nz
Hours: 7 days, 7 am to 11 pm
Dinner bill: Entrées $12-$16; mains $22-38; desserts $9.50
By Simon Wilson.
One of Auckland's lovely new delights right now, as far as I am concerned, is sitting in St Heliers Bay Cafe & Bistro and soaking up all the sights and sounds of locals themselves. That would be St Heliers locals, the very folk I criticised in June for threatening the sky would fall if the Unitary Plan allowed any low-to medium-rise buildings to be erected in their "village".
Forgive me, I'm gloating. The bistro is sited in a new, very modern-looking, three-storey building of precisely the type they objected to so stridently, and yet they seem to love it. Voting with their mouths, that lot.
St Heliers Bistro is one of the best new restaurants in the city. It's comfortable and sophisticated, a lovely place to sit and watch the water, a happily busy hub for the suburb and a repository of excellent service and some very good food.
Which is pretty much what you'd expect, really, from Hip Group, the people who have brought us Ortolana, the Takapuna Beach Cafe and a clutch of other inspired cafes. Great décor, highly trained staff and fresh, tasty food are their hallmarks.
Not taking bookings is also a hallmark of theirs, so if you don't live out east it's a long way to go on the off chance. It's like Depot here — no point in even thinking about getting a table quickly at peak times — but unlike Depot, you can go for a walk on the beach while you wait, and they will text you when your name has got to the top of the waitlist. Gosh, it is tough in St Heliers, isn't it?
What to eat? I deeply recommend you ease into the experience with the smoked fish pâté, which comes with crisply oiled little toasts. The pâté is coarse-ground and delectable. Pork rillettes with apple and mustard, and Wakanui venison carpaccio, are both succulently good too.
If you're there for breakfast, or even lunch, the true indulgence is a Waikanae crab toastie. Made with a tasty cheddar and rocket, it's genius in concept, and (a little shudder of joy here) dripping with savoury goodness when you lift it to your mouth. There are many other original temptations in the combined breakfast/ lunch menu: calves liver; a warm salad of poached egg and smoked fish; whipped goats' cheese scrambled eggs with leeks, and even though they do serve eggs benedict, they redeem themselves by offering it four different ways.
Steak at lunch and dinner is grilled flat-iron (a cut of scotch), served with the silkiest béarnaise imaginable, and you can choose a side of hand-cut, skin-on agria chips to go with it. The trouble with that is, if you have the chips, you can't have the baby potatoes baked in duck fat. It's so tough out there in St Heliers.
Actually, the steak is not the best meat dish on the menu — not when there's a pulled pork burger served with red cabbage and radish slaw, rotisserie beef, slow-cooked lamb, beer-battered tarakihi and duck leg served with duck sausage, lentils and smoked beetroot.
If meat isn't the main reason to eat, you won't miss out: soups range to the adventurous, like parsnip; beetroot served with goats' curd and hazelnuts is simple and exquisite; and wood-fired baked clams are a real treat too. And, of course, they are serving this winter's most fashionable salad: witloof and radicchio in a sweet dressing. St Heliers' version is splendidly enlivened with pear, walnuts and cress.
As for the service, it starts with the door being opened for you, and the standard never lags. The lad refilling our water glasses at lunchtime knew more about the wine list than the waitress in the bar of a very posh restaurant I've been to recently. (Well, okay, it was The Sugar Club.)
Leave room for dessert. A juicy pear tarte, say, or the tiramisu — even that old staple is spectacularly good. Leave room for coffee, too. It's hot and strong.
A bustling, beautiful bistro. Maybe we should all go and live in St Heliers.
4 Spoons
This review appeared in the September 2013 issue of Metro.