Feb 25, 2013 Restaurants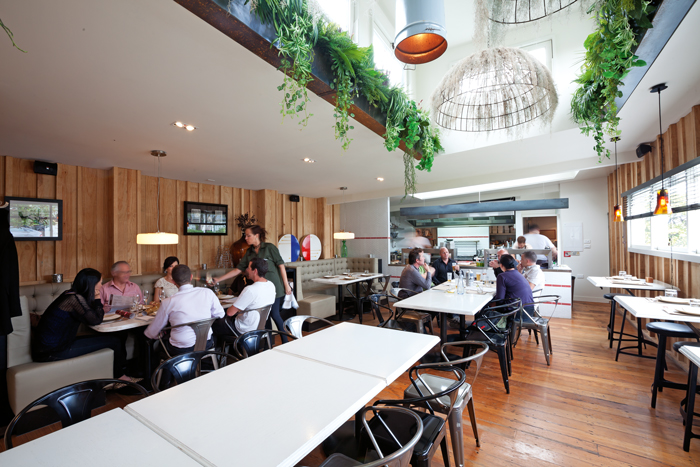 Address: 151 Ponsonby Rd.Ph 378-1719. thetinsoldier.co.nzHours: Tuesday 4pm till late; Wednesday to Sunday 11.30am till late.Dinner bill: Small plates $12-$18; large plates $23-$29.50; desserts $4-$15
By Jesse Mulligan, January 2013.
Casual dining — it's the way forward. All around town the doors are being flung open at a new style of restaurant: food delivered as it's ready, no distinction between starters and mains, cutlery wrapped tightly in a serviette or dumped into a container on your table, reservations banned or eschewed so that we find ourselves sitting down to eat at 6.46, 7.51 or even (god forbid!) 8.23, rather than the former national dining time of 7.30pm.
There's still a time for formal dining in Auckland, but it's usually when you want the evening to be more about fine food and wine than conversation. The French Café, Merediths, Sidart — all these small rooms and white tablecloths say "special event", and that can be way too much social pressure for all but the oldest friends or newest business pals.
Ah, old friends. Aren't they just the best? I've had quite a good time over the past few days, calling my best buddies and sharing the news that we've got another baby on the way. Waiting for that three-month scan takes forever.
We visited Tin Soldier during the first, nervous weeks of pregnancy, and my partner whispered a request for "no raw egg". Some weeks later, I ran into an acquaintance on the street who cheerfully congratulated me on baby number two. We'd only told Mum a few days before, so how did he know?
"Someone at Tin Soldier told me," he said. Ha! It would be nice to think you can let the kitchen in on a secret without having to do an exaggerated "Shhhh" on the way out.
They might not hear it over the deep- fryer anyway. The menu over-relies on hot oil and grilled cheese, which is crazy on Ponsonby Rd, where every second customer is trying to get skinny for their next audition. The chef is brilliant enough to create a divinely fresh small plate of smoked beetroot with apple, walnut and goats' curd, so why is he letting it get menu-bullied by cheese croquette, mac and cheese, and cheese on toast?
The answer, I guess, is that fat, salt and cheese are a fast way to flavour. And what's wrong with that? Well, they blast the subtlety out of everything else. That delicate Provençal classic, courgette flower, is battered like a Ngaruawahia hotdog. Ham hock provides such a salt-blast the scallops and peas don't stand a chance.
But there are bursts of delight: maple-roasted pumpkin with hazelnuts and rosemary; first-class French onion soup; fantastic sous vide lamb with harissa-capsicum coulis, ricotta and black olive; and plenty of interest in the desserts —gimmicky but great "Flavours of Milo" with churros; a compressed watermelon masterpiece; and American campfire classic S'mores, a biscuity chocolate-marshmallow stack.
Service is hard to fault: friendly and confident. So the big question about Tin Soldier is: how much do I want to go back? Well, I went once for curiosity, once for fun and once more for this review. That's probably enough for me, but I'm happy to send you for a look, and I'd be surprised if you couldn't find enough good food and eye candy to have a good time.
One more thing: the top room can get a bit noisy, so if you get a private phone call, you might want to step outside. And if it's quiet, you'll definitely want to.
2 Spoons