Dec 17, 2019 Restaurants
Finely detailed dishes, flavour explosions — this is meatless magnificence.
It's not what you expect and not where you expect it. Across Tinakori Rd from the Prime Minister's residence — the one the state provides to whoever happens to be leading the country, not the actual house the Ardern-Gayfords own — is a modern 'plant-based' restaurant where you might otherwise expect to find a cosy (and definitely meaty) neighbourhood bistro.
Certainly, Hillside Kitchen & Cellar began life in 2015 a little closer to that expectation, serving vegetables, grains and meat to significant acclaim. They dropped the meat in September last year, doubling down on the restaurant's localvore, vegetable-forward, sustainable ethos. As a committed, though not guilt-free, omnivore, I certainly wasn't looking for a many-course vegetarian (not a word the restaurant uses) meal — but I sure was glad I found one.
Hillside does offer à la carte options, which are listed only as a short summary of ingredients (i.e. "pumpkin, sage, miso"). But for those with time to spare, the four-course tasting menu plus extras is an easy choice.
We started, as you often do, with 'snacks', each one a little explosion of flavour (black seed crackers with black garlic and blackberry gels, topped with preserved and fresh onion-weed flowers), tartness (small, crisp radishes served whole with kawakawa butter) or comfort (rewana cheese croquette with magnolia flower sauerkraut). These first small bites encapsulated what Hillside excels at: finely detailed dishes made from locally sourced produce, often foraged or grown on the premises, with a strong inclination towards using native ingredients and minimising waste.
READ MORE: Highwater Eatery in Wellington is somewhere worth recommending
The four courses follow suit, each paired with optional low-intervention wines ($45) or homemade non-alcoholic concoctions ($22). We started with a mushroom tart: the crust made from offcuts of the restaurant's sourdough, dried out and turned into flour, and a filling of sliced mushrooms grown around the corner from the surprising first-course red wine, a cabernet blend from Martinborough's Cambridge Road. The tart was deep and savoury, its umami depth further enhanced by a powder made from slippery jack mushrooms that grow wild around Wellington.
Next, two breads made on site — a pink rewana bread made with purple kumara, and a sourdough that can be bought and taken home after your meal — and served with butter housemade using Zany Zeus cream. The 'potato salad' was an exercise in texture: a base of onion purée topped with a mix of al-dente poached potatoes, tiny slices of fried potatoes, kawakawa syrup, yoghurt and mint 'snow' and baby kawakawa leaves.
Then a warmly satisfying soup of candied carrots and whatever vegetable trimmings remained from other dishes (a sign, perhaps, that restaurants now proudly employ a thrifty technique that's existed as long as restaurants themselves), topped with onion weed in foam and a deeply savoury powdered kumara. We both scraped every drop from the cups they were served in.
The savoury crescendo was a bold and bright dish of fat asparagus, which had arrived at the restaurant the day before for the first time this season. It was glazed in a kimchi reduction and served with buttermilk custard, fried quinoa, sliced onion weed and apple syrup. I can't remember a better asparagus dish. The lack of protein focuses your attention on the bright, fresh spears and their sharp, sweetly sour punch.
After a palate cleanser of apple kombucha sorbet topped with fennel pollen syrup, we were ready for dessert: buttermilk pie made with the remains of the butter-making process, served with stewed blueberries, candied oats and lavender ice cream.
Even with petits fours, a four-course lunch (which, all told, was closer to 10) felt more like a lot of dishes than a lot of food. The meat wasn't missed while we were eating, but its absence was felt in the ease with which we rose from our seats, ordered some bread and walked out into the afternoon. We felt energised to tackle whatever the rest of the day might bring — and my conscience certainly felt lighter.
Hillside Kitchen & Cellar
241 Tinakori Rd, Thorndon, Wellington
Ph (04) 473-7140.
hillsidekitchen.co.nz
Hours: Tue-Fri, 11am–2.30pm, 5.30-9pm; Sat-Sun, 8.30am–2.30pm, 5.30-9pm
Bill: Four-course lunch $55; seven-course dinner, $89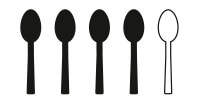 This piece originally appeared in the November-December 2019 issue of Metro magazine, with the headline 'Garden party'.
This story was created in partnership with WellingtonNZ. Metro retained full editorial control for this review.

Follow Metro on Twitter, Facebook, Instagram and sign up to our weekly email