Oct 9, 2012 Restaurants
For the latest review, see the 2018 review of Depot .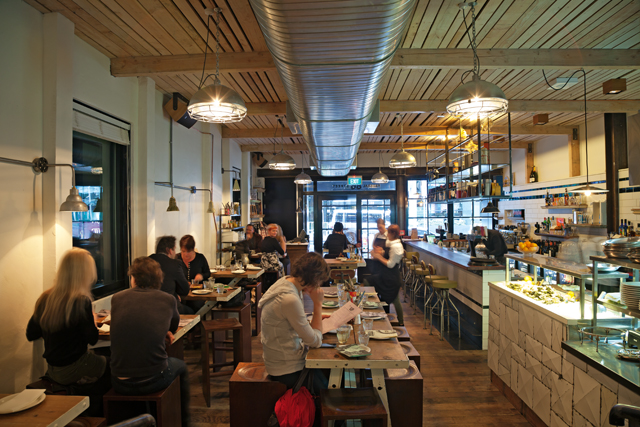 Address: 86 Federal St, City.
eatatdepot.co.nz
Ph 363-7048.
Hours: Daily from 7am till late.
Dinner bill: Oysters from $2.50; small plates $14-$20; bigger $23-$29.
By Simon Wilson, October 2011
Somebody said it was New York and somebody else said London. I'm not sure any place can really claim proprietorial rights to the white wall tiles and industrial wooden benches that give Depot its character. Or to the great piles of still-living oysters, the black aprons the waitstaff strap themselves into over white shirts, the nostalgic photos and postcards.
It's more an age — the 50s and 60s — than a place they've evoked, though even that's not right, because surely no eatery back then ever created such informal cafe chic in the daytime before transforming itself into a glorious bustling celebration of good food and the good times to be had with it at night.
This is the first foray into Auckland by celebrity chef Al Brown. It's not fine dining, like his place Logan Brown in Wellington.  Instead, it's far closer to the spirit he celebrates in his TV show Get Fresh and his food books Fish and (out this month) Stoked.
At Depot, Brown has performed a brilliant conjuring trick: he's taken our memories of the best meals ever — not the ones in smart restaurants, but when we've been on the beach with fish and chips, at the neighbourhood barbie with mussels and bangers, at the bach with mismatched crockery and fresh flounder — and re-invented them as a sit-down, inside experience. He's succeeded because the whole atmosphere presents a cheerful poke in the eye to stuffiness, and because the food is so beautifully cooked. To use a technical culinary term, it really hits the spot.
Wine — good Marlborough sauvignon from Spy Valley and pinot noir from Otago's Mt Edward — is available on tap, served in carafes and drunk from tumblers. It's not that all the carry-on about the right glasses for the right varietal is always nonsense. But what Depot reminds you is that so often it can be.
Cutlery sits on the tables in tins. You perch on stools. And you eat — ah, the things you eat. A choice of oyster varieties and other shellfish, all shucked to order and presented on the half shell. Snapper sliders (mini burgers) with preserved lemon and watercress; battered snapper tortillas served with coleslaw and salsa.
It's a fish restaurant, but also not: they do ribs, steak, chicken, pork hock, brisket and sausages. Best of them: the ribs. Lamb, slow cooked and served in a pile of small pieces, with the gorgeous, cumin-paprika-flavoured meat falling from the bone.
Best dish of all? I'd say the plumply rounded kahawai fritters. I'm always looking for the perfect little moment with a plate of food, and those fritters with a tumbler of the house white go right to the top of my list.
And yes, there is a dud dish. It's lamb's tongue salad. Only an offal lover would order it, and yet you get only a few pieces of meat lost on a platter of greens. Pointless.
That aside, there's nothing else not to like. You can't book at Depot, and it's usually crowded: they say they're doing double the business they expected. But you can perch at the bar and that's just fine. Al Brown himself will probably come past, clearing tables, happy to chat. It's that kind of place.
Hats off to Sky City, which owns the place. They now run three good restaurants and two good bars in Federal St, and though it's still a dreary transit alley, once you get inside and away from the buses and cabs it's quite the place to be. Ponsonby will be worried.
5 Spoons