Jan 14, 2013 Restaurants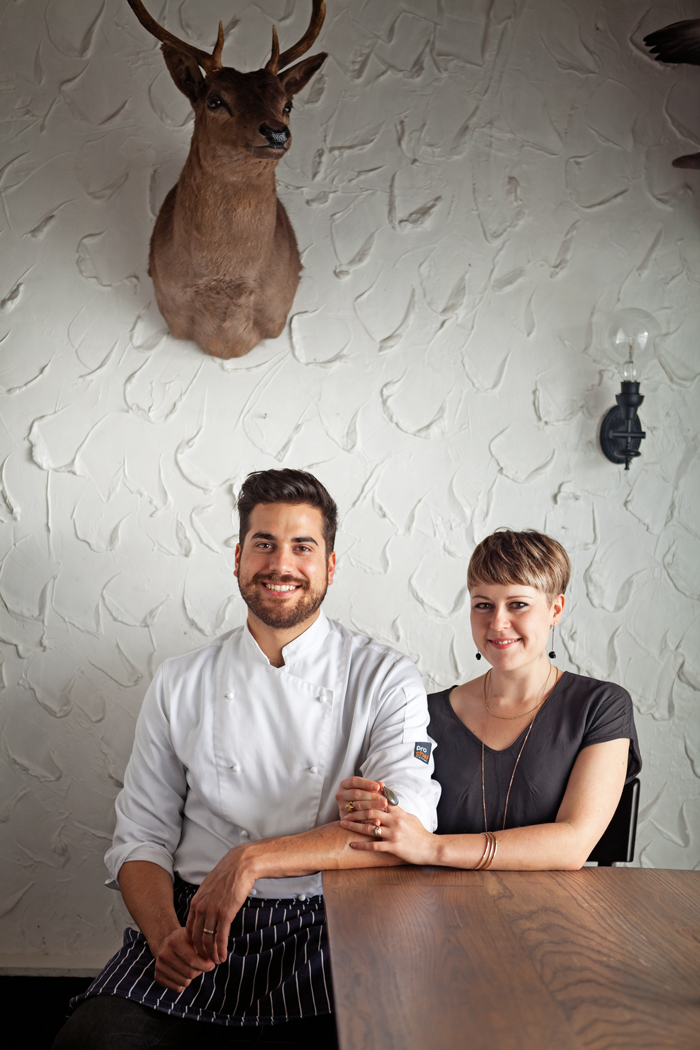 Cazador " width="700" height="1050" />Address: 854 Dominion Rd, Balmoral. Ph 620-8730.Hours: Monday to Saturday 6pm–10pm.Dinner bill: Entrées $14.50-$16; mains  $28.50-$33.50; desserts $12-$13.
By Jesse Mulligan, December 2012.
A chef recently told me that when chefs read reviews of their restaurants, they ignore all the good stuff — they just look at the rating and scan for bad comments to obsess over later. So if I write, "The food and service were fantastic but the atmosphere was a little lacking", what they read is, "The two spoons and two spoons were two spoons, and the atmosphere was a little lacking."
That's a shame. Cazador won't break any records with its rating, because it's far from perfect. But after two visits, I'd name it among my favourite places in the city, and I hope it stays around for a very long time.
A "Middle Eastern game restaurant", Cazador is a family operation, and you don't see many of those these days. Dad shoots the deer, son cooks it, mum runs front of house and the daughter-in-law does the hard yards on the floor. And you thought you saw too much of your in-laws.
Venison, pheasant, razorback, hare — there's nothing else like this in the city, and chef Dariush Lolaiy knows how to get the best out of each, slow-cooking that hare with a bottle of wine then tossing it with pappardelle, the wine reduced to a sticky sauce. Thin pieces of venison are charred on the outside but remain perfectly rare within, fatty roasted boar bits are mouthfuls of indulgence in a fresh green-pea soup.
There are offally treats too, if you fancy them. Lambs' brain ravioli in sage butter was fantastic — brain never tastes of much, actually, but the texture is good, like a tight chewy mushroom. And I loved the jaghor baghor — a venison organ medley finessed on the streets of Iran.
Cazador turns 25 this month, and the younger couple — chef and front-of-house manager — recently returned energised by six years overseas. So now it's time for them to start exerting some pressure to smarten things up. Like, axe those sheets that hang from the ceiling, or at least dryclean them — they look like they were pinched from a student flat. Do up the crummy toilets and get some decent tables and chairs. Oh yeah, and get a website!
I can live with the dozens of stuffed animals mounted around the room but the textured plaster's probably gotta go. The aim should be that Cazador not only outlives its aged core clientele but continues to expand the younger base who've started turning up lately. They'll be much more likely to visit if their friends' recommendations don't start with, "It's hideously dated, but…"
Some of the food needs work: a scotch fillet aged for 32 days was dry and fatless, like suburban rump — probably an aberration, but heartbreaking after I'd been anticipating it all week. And the meat-and-lots-of-sauce dish construction that features throughout can feel a bit 1987.
But how many restaurants do we have that have lasted this long? How many where the staff are so personally invested in your enjoyment? How many that are so different from everywhere else in the city — where you sit there all night thinking, "I know someone I have to bring to this place"?
Still need convincing? They serve four types of sherry, the babaghanoosh is like crack cocaine, and you can BYO game. That's right, bring in a wild boar you've shot and for a small fee they'll cut it and cook it. I guess they call that small fee "porkage", right?
2 Spoons