May 2, 2013 Restaurants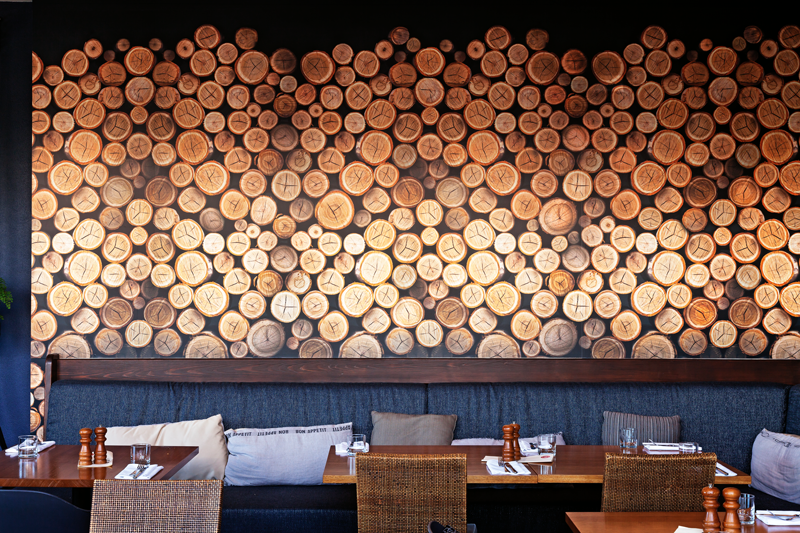 Address: 311 Remuera Rd, Remuera.
Ph 522-6688.
Dinner bill: Plates $14-$31; pasta and pizza $18-$24; the grill $22-$58; desserts $10-$20.

By Jesse Mulligan, April 2013.
The newly refurbished Banque is a good restaurant trapped inside a bad one. Everything is new, the food is fresh and it's the only half-decent eatery for three kilometres in any direction. But the service is too slow, the menu's too long and I fear it's destined to be a place you'd need to live within three kilometres of to enjoy.
Why do I hate long menus? Because they detract from the dining experience they're trying to create. Go to any good bistro: the fewer dishes they offer, the more the selection says about who they are. The Engine Room offers 12 savoury courses. Banque lists 40. Sharing plates and large plates and just "plates". Then pizzas and pastas and oysters. And a bunch of steaks for the grill, and a hamburger. Forget crowd-pleasing, where is the vision? You spend all that money on a new fit-out, then lift the menu from a cruise ship?
Speaking of sticky fingers, Banque Oyster Bar and Eatery could take not just the name but some actual lessons from Depot Eatery and Oyster Bar. At Depot, the staff almost run from table to table, such is their enthusiasm for the job (and, probably, their fear of getting their arses kicked). At Banque, there was a lot of slow, thoughtful walking.
One day, we watched our waiter stroll to the till, stand there trying to remember our orders, stare at the menu to help jog his memory, then have a guess and amble over to the kitchen with the docket. He forgot one dish, mixed up another and invented one more. It's a shame, because I'd been hoping for a big turnaround from my first visit, when the oysters took 25 minutes and the entrée came 30 minutes later. There was a lot of yelling in the kitchen that night, and plenty of harrumphing locals with empty plates and hungry kids. I suspect it wasn't typical, but I don't have any evidence for that.
On the bright side, they serve some tasty food and good wine, and the restaurant is looking a million bucks. As you sit there with a plate of just-shucked oysters on ice, watching the sun set over One Tree Hill, it's easy to daydream of long lunches with envious overseas friends. Though if they're from England they'll probably take some convincing when they first hear that, "We're all going to bonk tonight."
Beetroot salad comes with the best goats' cheese, hazelnuts and a very good blood-orange gel that adds some tang to the earth, sweet and salt. Seafood is treated with love — kingfish sashimi with avocado and pomegranate, seared tuna with bonito flakes, sesame and some good unctuosity via small oyster "beignets". The spanner crab in lettuce cups is tasty, too, thanks to some fresh Asian flavour and crunch, although there's not enough crab to claim naming rights to the dish. I didn't get across the pizzas and pastas, but I tried that burger, which wasn't great. It's allegedly a wagyu patty but the meat is ground and cooked to sausage-like consistency. I've searched hard for a decent, juicy burger in Auckland and this isn't it.
My advice is go raw and go small; there's a lot of talent in the kitchen and this seems to be where it's best expressed. I'd like to tell you about the sweets but on the first visit, our bill arrived as we were looking at the dessert menu and on the second, our waiter walked off to do something else as we were ordering, and never returned. Well, you know what they say: treat 'em mean, keep 'em lean.