Oct 21, 2015 Restaurants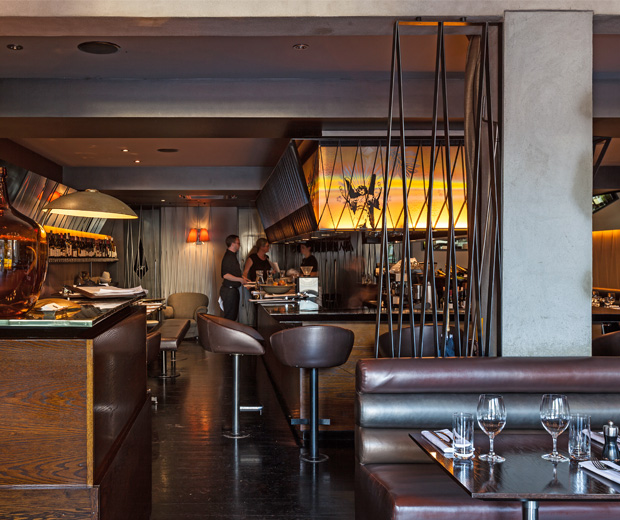 Ponsonby Road Bistro , 
165 Ponsonby Rd, Ponsonby. Ph 360-1611.
ponsonbyroadbistro.co.nz
Hours: Monday-Friday, noon till late (reduced menu mid-afternoon); Saturday, 5.30pm till late.
Dinner bill: Entrees, $19.50-$24.50; mains, $33.50-$35.50; desserts $10.50-$14.
By Simon Wilson. Photo by Sarah Grace.
First published in the October 2015 issue of Metro. 
I've been fond of this restaurant for a long time, although I wasn't at the start. When owners Melissa Morrow and Blair Russell, then in business with Mark Wallbank, first opened on the site, they called the place Magnum and it felt like the whole idea was to celebrate champagne. Fair enough, I suppose somebody's got to, but it's not an obvious recipe for a great restaurant.
Read Simon Wilson's previous review of Ponsonby Road Bistro. 
There was a big bar running down the middle of the main room, very beautiful décor, soft lighting, a vestibule area in front and tables among the shrubbery on the street — the sunny side of the street. Everything said Ponsonby wine bar, and when I reviewed it, I suggested it might not be long before Magnum ditched its restaurant menu, kept pouring the wine, and maybe did a line in gourmet burgers.
I was wrong, and I'm sorry. They doubled down on the food, determined to make the place work as a proper restaurant. They ditched the name and reopened as Ponsonby Rd Bistro, opening up the front as a more obvious dining space but keeping the rest of the gorgeous Magnum décor. Great bistro food, a superb wine list, inspired cocktails: PRB is casual and as elegant as they come — that's quite a trick — and yes, of course you can still get lots of champagne.
And they still have that same big bar down the middle. It does stop the place becoming the fully fledged dining room it deserves to be, but maybe it doesn't matter. You can eat at a table or the bar, and you won't miss out either way.
The secret of PRB, I think, is that it is a true restaurant while simultaneously being a wine bar. Morrow and Russell care deeply about the wine, so much so that you should never take it on yourself to decide what you want. Ask them. Tell them what you like and don't like, and let them titillate you. Me, I don't like stickies, so Morrow gave me a white port to try with my crème brûlée. That port was sublime. The brûlée wasn't, though. The caramelised crust was about half an inch thick — all right, of course I exaggerate, but it might as well have been. All I could taste was burnt sugar.
The rest of the food was much better. As a bistro, they do steak and a clam dish and fish of the day and all that, and of course in addition to the brûlée, there's something Valrhona-ish to follow. (How is it that Valrhona, which is a brand, manages to get its name into the title of every menu item it appears in?)
Chef Sarah Conway presents a classic menu, with lots of good eating. And yet, because it's really good, I found myself getting picky. Was it truly great? Not quite. Why not?
I had the clams, which are served, you are told, with white beans and pork, and that is completely the kind of thing I would eat all the time if I could. The clams were fantastic — I don't think I've had them more delicately cooked. But the bowl wasn't big enough for the food: it was stuffed so full of shellfish I couldn't get my spoon in, so I spent my time removing shells and just eating the clams, rather than savouring the dish as a whole. Which may have been the point, because I counted only two beans, and the broth, while delicious, turned out to be little more than a puddle in the bottom.
The sardine entrée was better: oily, tasty, parmesan crusted, the sort of dish you apply yourself fully to eating and are all the better for it afterwards. My steak (I had scotch, but you can choose eye fillet, too) was easily among the best in town. And a dish of creamy brussels sprouts restored my faith that restaurants don't have to give up when it comes to the vege sides.
But I'd love to see that inventiveness spread a little further into the menu. Currently they offer market fish and also salmon; pork belly and also duck confit; the steak; pizza. You can upsize the clam dish for a main, and you have to ask about their vegetarian options. I get that they have to do classics, but it would be nice to see even one surprise on that list.
There's so much to like at PRB, my quibbles are minor and I look forward to going back. Although there was one other thing I really didn't like: on one visit, my table was sticky.
4 spoons.