Aug 12, 2017 Restaurants
For the latest review, see the 2018 review of Azabu .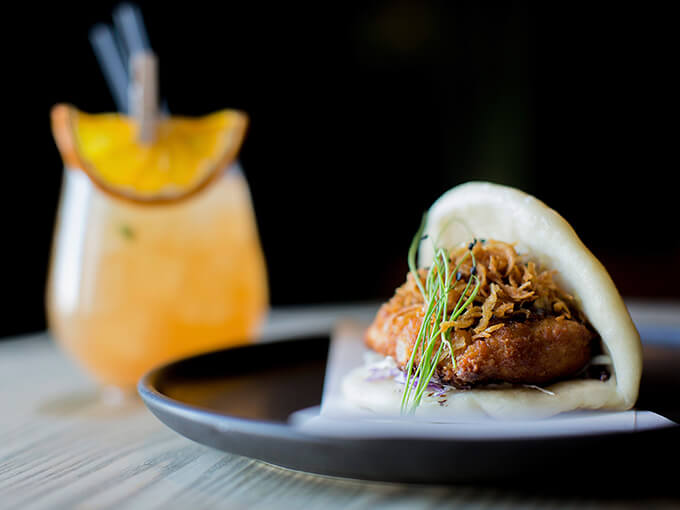 Polished performer
A year after opening, Azabu's still buzzing. 
Amano " target="_blank" title="Book now" rel="noopener noreferrer">Book now
Auckland's a bit of a disappointment to one of the waiters at Azabu. A recent arrival from England, she reveals her true feelings when I confess I also hated this place at first. I landed on a frosty morning in July 2010 to an incredibly sleepy Auckland, and spent the next six months wondering when it was going to wake up.
You'll grow to love it, I tell her, you just have to stop trying to fall in love with the centre and concentrate on the periphery — that's where most of the fun is. That she was ostensibly already working in the nexus of that fun — sleek Japanese- Peruvian restaurant Azabu on Ponsonby Rd, sibling to Britomart's Ebisu and Ostro — either destroyed my argument or proved that everyone is immune to the charms of their own workplace.
It's got to be the second. From the outset, Paul Izzard Design's fit-out seduces. The frontage has a letterbox-shaped window that invites passers-by to peer into an inky little world. Inside, a long, catwalk-like row of tables connects the main dining room with the bar, accessed via Maidstone Lane. Tan leather banquettes soften hard lines, as do mushroom-shaped lamps along a bar designed for solo dining. It's the perfect setting for a fun time, close-together tables encouraging a sense of communal dining without you having to (God forbid) talk to strangers. You can listen, though.
The service is really polished. They'll hang up your coat and ask if you need a GST receipt, but will also perch on the bench next to your table to take your order — a move that can be divisive among service purists. I like it.
I also like the food. Nikkei is the Japanese/Peruvian hybrid cuisine that loosely informs a menu divided into eight short sections of shared plates. The tuna sashimi tostada illustrates the mash-up: nose-hot wasabi tartar parties alongside mouth-hot jalapeño and fresh, cool fish on a tostada dance floor strewn with micro-coriander, sweetcorn and pickled daikon. You eat piled-up slabs of it with your hands and it's messy and engaging. Signature Nikkei dish tiradito is served here with creamy pieces of salmon glistening with leche de tigre — a Peruvian ceviche marinade — and bathed in coconut cream and passionfruit for smooth and tangy mouthfuls. The perfectly grilled octopus offers edible comfort on a bed of aji amarillo-spiked potato mash which chopsticks hinder you from shovelling.
There seems to be an unspoken rule that restaurants venturing any kind of Asian fusion must serve dumplings and steamed buns. The spicy pork gyoza and the chicken and shiitake dumplings are good but not mind-blowing. On the other hand, I thought we'd reached peak bao, but Azabu's braised pork cheek version with tamarind sauce and cucumber is irresistible.
Executive chef Yukio Ozeki honed his sushi skills at Toyko's iconic Tsukiji fish market, but it was a plate of Wakanui scotch with chimichurri and sesame soy dressing that left the strongest impression — primordial cooking at its finest. I'd also return for a dessert of tempura custard with ginger jam and matcha: indulgently greasy fritters that combined all the flavours of an English ginger sponge and custard in silky, crunchy textures.
Eat enough dishes and you begin to detect a formula: almost everything is topped with microherbs, or with some sort of sticky-sweet yuzu glaze. Some of the smokier dishes could do with a stronger acidic element. But in context, Azabu gets away with it. This isn't the kind of food you need to ceremoniously pause to admire — it's the kind that rapidly and quietly appears before you as conversation flows, demanding only the occasional interlude to comment on how tasty something is. Coupled with Kula Watchara's cocktails (some of the best in the city), or a flask of sake or one of Azabu's rare Japanese whiskies, it's hard to have a bad time here.
Azabu's still as good as it was when it opened a year ago, a rarity in new group restaurants with launch budgets that dry up perceptibly over time. It's the mark of a place that opened ready, with an assured sense of personality curated by an experienced team. Azabu continues to buzz. It's a great place to spend your money.

Azabu
26 Ponsonby Rd, Ponsonby
Ph 320-5292. azabuponsonby.co.nz
Hours: Mon-Tues: 5pm-late; Wed-Sun: noon-late.
Dinner bill: Small plates $6-$18; tostada $14-$16; raw bar and sushi $20-56; dumplings and buns $9-$12; main plates $30-35; desserts $12.
This is published in the July- August 2017 issue of Metro.