Jan 11, 2017 Restaurants
For the latest review, see the 2018 review of Amano .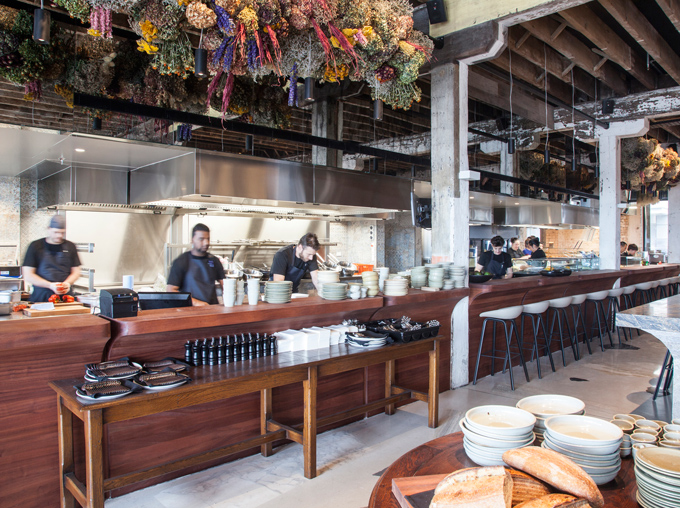 One hand clapping. When great food and décor deserve surer service.
You'll want to introduce Amano to your parents. The shiny new Britomart jewel in Hip Group's crown is their most sophisticated yet; exposed timber beams and dried flowers are as rustic as the travertine, marble and mother-of-pearl interior gets. All the glittery surfaces lend it an air of permanence, something fit-outs rarely achieve, or even set out to achieve, in this fickle city.
You'll be overwhelmed by architect Jack McKinney's interior, you'll comment on how you didn't quite realise it was going to be this fancy. On three separate visits, my uninitiated guests said exactly that. Enter the cavernous space through the large glass doors on Tyler St and it's not quite clear where you're meant to go: there are multiple seating areas and a long, marble leaner that runs through the middle of the restaurant. There's a bakery and 20 metres of open kitchen with chairs in front of it. There are also round, farmhouse tables bearing artisan loaves, breadboards and knives — my boyfriend wondered aloud if he could help himself. I wasn't sure; it's set up that way, but orbited by a steady rotation of staff ready to ward off the greedy.
In any case, I didn't want to draw attention to the fact we'd sat ourselves down at an empty table in a busy section, having been abruptly abandoned by the restaurant's manager at the front door. When discovered, we stood awkwardly while a waiter asked another waiter, who ran and found the same manager who'd left us stranded minutes earlier. It was fine — we could, in fact, sit here. The bread question was unresolved.
On this visit, we were hungry. That's not a problem at Amano; the Italian/New Zealand menu has more than 40 dishes, and changes daily to make the most of  local produce, including that from Hip Group's own farm in Kumeu.
Printed on butcher's paper and doubling as a placemat, the menu is soon soaked in butter and oil, as plates of variously house-made/cured/butchered/milled/cultured pasta, meat, dairy, seafood and vegetables get shared around. Pillowy burrata and globe artichoke are silky with peppery picual olive oil, a garlicky rainbow tomato salad with croutons glistens with butter, and shiny whole baby mackerels are heaped with moist tarragoned breadcrumbs. There's lightness, too, if you want it, mostly in the vegetable dishes — which on my visits included charcoal-grilled asparagus, a chilli cucumber salad and charred lettuce with cultured cream dressing and dill. There's also the obligatory carb-free raw bar. The short, gelato-heavy dessert menu is slightly underwhelming in comparison to the considered mains, but the seasonal cocktails are masterful and make worthy dessert substitutes. 
Executive chef Jo Pearson miraculously balances the many variables Hip Group's strictness about seasonality entails. But it was head chef Andrew Hanson I could see in the open kitchen on my visits — well, the top of his head; a 120-seater restaurant keeps the guy busy — and the 15 near-flawless dishes I tried demonstrate he's clearly a perfectionist.
If only I could say the same for the rest of the team. A rogue host is perhaps understandable, but then there was the waiter who couldn't tell us what a kiyomi was (Japanese citrus fruit, grown here), when unusual ingredients are the USP of the place. On another visit, my friend was given a sample of the Soave to try (to save describing it, presumably). She wasn't a fan, but instead of taking the opportunity to investigate her preferences and show off the versatility of the tightly curated New Zealand and Italian wine list, the waiter simply shrugged.
What Amano — inspired by the Italian for "by hand" — is missing is staff willing to take diners by theirs. To charm us with the components of the restaurant that in isolation are exceptional, to tell us if we're allowed to eat the bread, and where the hell we're meant to pay. With stronger personalities on the floor, Amano will hopefully gain one, too, because at the moment, with its grand interior and bountiful summer menu, it makes a glorious first impression that fades on reflection. Still, your parents will love it. 


Read: How we review
Amano
66-68 Tyler St, Britomart,
Ph 394-1416. amano.nz
Hours: Open 7 days, 7am-late
Dinner bill: Dairy: $14-$26; pasta: $13-$34; seafood: $18-$29; meat: $20-$110; sides $10-$12; desserts: $8-$14.
This article was first published in the January-February 2017 issue of Metro.
Follow Metro on Twitter, Facebook, Instagram and sign up to the weekly e-mail