Jan 22, 2014 Restaurants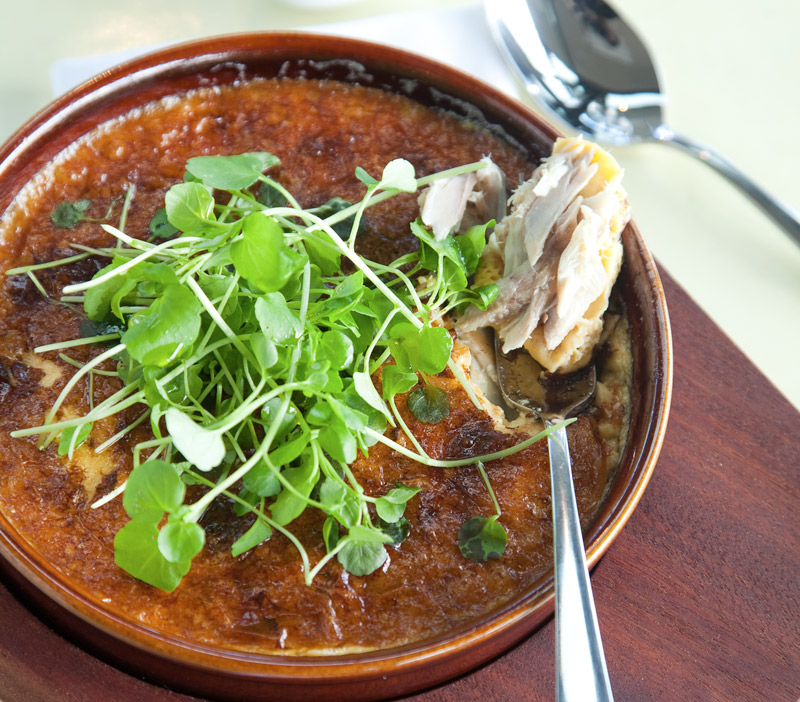 52 Tyler St, Britomart.
Ph 302-9888. seafarers.co.nz
Seven days, noon till late.
Small plates $16-$24; mains $29-$45; desserts $9-$15.
By Simon Wilson. Photo by Ken Downie.
The waiter has such a gorgeously thick French accent, we can't understand what he's saying. What sort of clams are they? Dayma?
Diamond. It strikes me he's so cute he'll get away with it most of the time, but my lunch companion says she would rather know what he's talking about. A wasted moment all round, really.
Can I say this with a straight face? It's so lovely to sit on the balcony at Ostro and look down on what should be a pretty tree-lined boulevard but is actually the terribly bleak Quay St. And to look across at what should be busy, open, mixed-use public and commercial space on the finger wharves but is, instead, a park for used cars disgorged from the boats. It really is lovely, if you can look past the urban blight to the beautiful harbour. But it also confronts you with what it isn't.
In so many ways, Ostro celebrates the emerging city. It's in Britomart's Seafarers Building, with an inspired refurbishment by Fearon Hay, who did North Wharf and the Imperial Building. The service, by a mix of locals and visitors like our charming young Frenchman, is enthusiastic and skilled — although I was asked four times how I liked my steak, which is slightly overdoing it.
You can book — hooray! — although the online system tends to offer you times like 3.45pm, as if the system is offering you the opposite of "best available". You can also just turn up: they keep some areas reservation-free, for casuals.
And, most striking pointer to the new city of all, there's the food. Ostro is the creation of Josh Emett, who's got a whole drawer full of Michelin stars. But it's not fine dining.
Emett calls it a "modern New Zealand brasserie". Like Nic Watt at Masu " href="/restaurant-reviews/masu/" target="_blank" rel="noopener noreferrer">Masu, he's a top-of-the-line expat chef who knows that what seduces us most easily is not a restaurant where we have to raise our little fingers, but one where it's fine for us to lick our fingers. (It remains a mystery why the charmingly informal Peter Gordon seems not to have intuited this — why have both his Auckland restaurants been so stuffy?)
Not that a brasserie is a sure way to success. You don't want the drinking to overwhelm the eating, or you end up with just a bar. If your menu is all steaks and pan-fried fish, the cooking has to be exceptional, and even when it is, the lineup of dishes can't be too predictable.
Ostro has a big bar, sure, but it is obviously a restaurant, not a bar that serves food like Tyler St Garage next door.
The cooking is very good: Cobus Klopper, Gordon's main man at Dine, is Emett's head chef. My scotch fillet was tasty and tender, albeit not quite as rare as I was expecting. I've also had some terrific tongue, fresh and flavoursome fish, a perfectly nice pasta dish of braised duck agnolotti, a perfectly acceptable Eton mess with spiced cherries, ditto the remarkably moreish brandy snaps with vanilla cream.
They don't really put a foot wrong in the kitchen (although the salt pork belly pie seems a weird choice for a summer menu). And the steak is grass fed, the tarakihi line caught, the chicken free range: good on them for all of that.
But, I took a vegetarian to lunch there, and she ate a flavoursomely dressed salad of different types of tomato and a side of asparagus. There was nothing else on the menu she could touch. For a restaurant of this class, that's ridiculous.
There is one really great, original dish: a smoked kahawai omelette. Rich and magnificent, it jumps straight into my list of the city's top dishes. But it's the only one. For Ostro itself to join the list of the city's top restaurants, they need several more like it.
What they do is very fine. What they don't do suggests a lack of imagination, or courage, or both.
4 Spoons.