Jun 25, 2013 Restaurants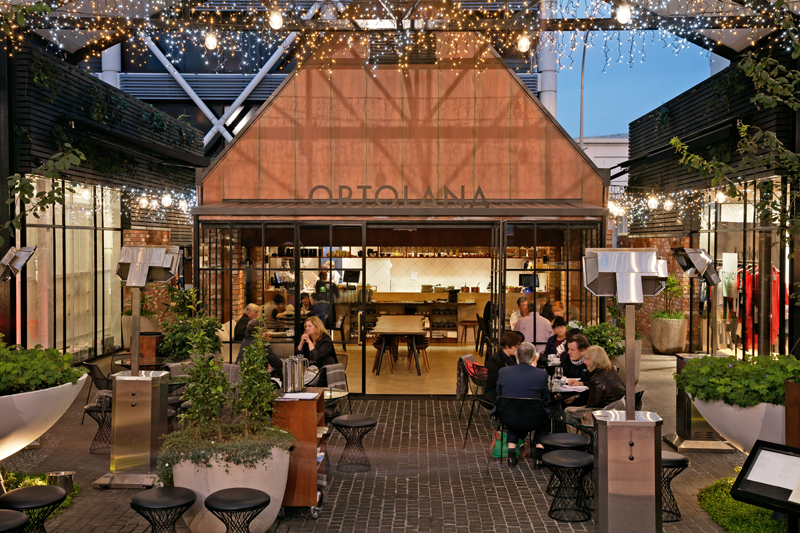 Address: 31 Tyler St, Britomart.
Ph 368-9487. britomart.org/ortolana
Hours: Seven days, 7am-11pm.
Dinner bill: Plates $15-$32; desserts $8-$13.
By Jesse Mulligan.
Like Depot , the iPad and Rihanna, Ortolana is so good that we didn't know we needed it until it arrived. Riding the Britomart wave of success, the restaurant is in the right place at the right time, sure. But District Dining was just around the corner, and it was great, and it lasted only a year. So there's more to the recipe than just competence and location.
It's the first restaurant proper from the people behind Takapuna Beach Cafe and its various suburban brethren. The Takapuna place is so reliably a winner of our cafe awards, it must be thinking of withdrawing out of good sportsmanship, the same way Bret and Jemaine eventually (gracefully) asked to not be considered in the comedy industry's annual award for Best International Achievement.
At Ortolana, they've taken their winning formula — immaculate service, first-class food and removing strangers from the supply chain — and applied it to a much tougher trade: the restaurant business.
The room is beautiful, open, an attractive mix of modern architecture and old brick, with views of a fairy-lit courtyard and potted greenery. The menu is varied and unboxable, but let's try "ingredient-led, European-style plates". Then there are the drinks — carbonated water as standard, a dozen really good non-alcoholic offerings and outstanding wines offered in half-measures to encourage adventurism.
Several of Auckland's top restaurants have started experimenting with herb and vege gardens, but Ortolana totally owns it, with a dedicated farm out west. As a result, the produce is cheaper and fresher, and they get to grow the crops that taste best, not the ones that survive best in a coolstore.
The floor staff are so good I think they must grow them on a farm somewhere too. Somewhere near Swanson is a ring-fenced flock of young women, bred for their warmth and efficiency, chewing cud thoughtfully while they await their next assignment.
Ortolana isn't farming its own meat yet, but I think it could do a better job of sourcing and caring for the stuff they get in. My rib eye was suffering Rolf Harris syndrome: it was possibly underaged. But even if it had been Helen Mirren, it would have struggled to stand up to a school gala-strength green tomato relish. Roasted spatchcock had plenty of flavour — but too much, I think, for those fresh figs that came with it to do much more than taste delicious on their own.
Mostly, though, the plates work beautifully — a handful of fresh veg, a hunk of good cheese or meat, and some nuts and spices for texture and warmth. As on the farm, tomatoes and radishes will go the way of summer, while walnuts and squashes keep arriving by the barrow.
Any other quibbles? You may have heard about the micro-greens that cover each dish, but don't let them worry you. They don't taste of much except freshness.
For dessert, pick what you fancy from the menu or go window-shopping next door at Milse, their purpose-built pastry kitchen. Finally some adult entertainment in downtown Auckland for women.
Ortolana's soundtrack is the excited giggling of Britochicks as they take turns alighting from their chairs to go browse gelato. I used to wonder what girls wanted, but now I know it's sugar, and everything sugar represents: freedom, indulgence, pleasure and bad behaviour. Forget the dancefloors nearby, boys; your best bet on Tyler St is about to finish her Bombe Alaska.
4 Spoons.
[booking_form]