May 11, 2018 Restaurants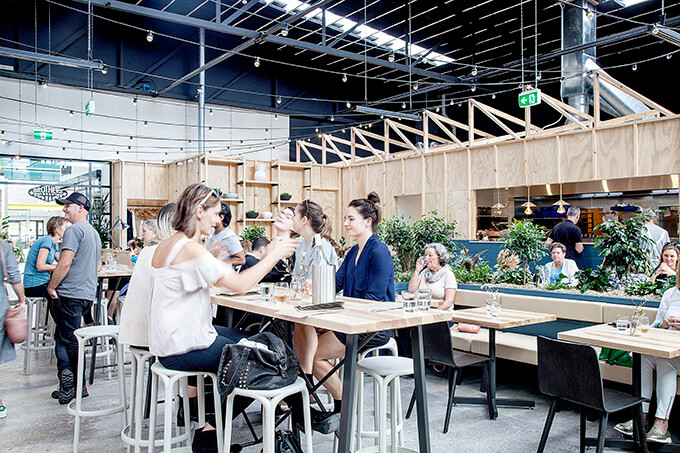 Pass the salt
An Orakei bistro with great service needs to ramp up the flavour factor.
Ampersand, tucked neatly into the back of the inexplicably named Orakei Bay Village (less village, more glorified mall), is a solo venture from ex-Bracu chef Mikey Newlands and his wife, sommelier Amanda Rogers. It shares the space with Espresso Workshop, who roast coffee on the premises during daylight hours but whose presence is slighter in the evening, when the lights are low and the place seems intimate in spite of being a cavernous, teal-blue warehouse with an enormous neon '&' on the back wall.
Whether eating at lunch or dinner, you still might leave feeling a little bit special. Rogers, who previously ran the floor at Sidart , has trained the young team of waitstaff working alongside her to reach her own exacting standards. So, while an initial greeting may be slightly brisk — "Can I get you anything yet?" — by the end of the meal your waiter will have schmoozed the millennial in the corner as effectively as she has the grumpy businessmen on the next table, along with the large-sunglassed, Louis Vuitton-clad women who frequent the place.
Unfortunately the food is too often a let-down, suffering from trying to be too many things to too many people. A ceviche, for example, is bland. A mix of snapper, citrus, chilli and avocado should be balanced, while still offering a good whack of flavour, but the chef has been light-handed with all but the snapper and avocado.
<!– –>
The chicken liver parfait is better, a silky iteration that comes with Barbie-sized brioche toasts and tangy vinegared apple slivers on the side. After running out of toast you eat it by the forkful.
The best tables in the house, overlooking the water, are too small. So when the main arrives — a large dish to share and two sides — there's barely room left to balance a side plate. The whole roasted sole needs salt. For all it's served with (capers, chard, brown butter, lemon, buckwheat), there's a distinct absence of flavour, nothing quite singing. Thankfully, shoestring fries with parmesan and truffle oil absolutely smack of truffle, as they should, and a side salad of crisp mixed veges is all the best parts of mid-summer in a bowl, topped with a thick avocado and anchovy dressing.
A plate of Abruzzo-style saffron spaghetti, cut flat and square as opposed to cylindrically, comes tossed through with "prawn bolognese", which is actually sweet pieces of prawn, lusciously rich tomato sauce and courgette ribbons. It's a generous serve for a $21 entrée and gracefully treads the line between perfectly unctuous and too rich. 
Also good are grilled diamond-shell clams, or tuatuas when clams are unavailable. Just more than a mouthful, each plump piece of shellfish is topped with a spoonful of buttery picatta and a dot of tart finger lime — that underused Australian citrus. Resist the urge to over-order; you'll only need three per person.
Another winner is the dessert of verjus-poached peach, raspberries and the creamiest yogurt ice cream — so criminally delicious that when the waiter offers another bowl, you really have to fight the urge to say yes. 
And the wine list has been expertly curated by Rogers. She hasn't cowed to conformity by listing a glass-pour each of run-of-the-mill rosé, sav and over-oaked chardonnay, rather offering a balanced list of favourites alongside more interesting options such as an organic, wild-yeast-fermented syrah rosé (effervescent, dry, with a slight funk). 
But for all the good things here, Ampersand ultimately has too many flaws, and not all of them on the plate: why go to the effort of hanging people's coats, offering posh Laguiole knives and using the nice soap if you're going to leave a coiled-up hose outside (there must be somewhere to store it) and have naff, plastic-framed specials ads on the backs of the toilet doors?
Newlands' best dishes hint at how good this place could be. That only makes its shortfalls more disappointing. 

Ampersand
228 Orakei Rd, Orakei
Ph 522-9503. 
Hours: Mon-Tue 7.30am-4.00pm; Wed-Sun and public holidays 7.30am-late.
Dinner bill: Entrées $15-$24; mains $27-$39; desserts $9-$15.
This review was published in the March – April 2018 issue of Metro.