Oct 18, 2019 Restaurants
?Unlimited meat and side dishes for just $25pp, and $22pp at lunch. What a deal.
If someone doesn't film a mukbang at this restaurant in the next two months, it'll be a travesty.
Upper Queen Street has a whole stretch of mostly-not-talked-about Asian restaurants (plus Le Garde Manger) of the Japanese, Chinese and Korean variety, great for a pre-show dinner if you're popping down to Q Theatre or The Civic. The restaurants here seem to always be in flux; new places pop up all the time. I went to check out one of the newest additions, Mukbang BBQ + Soup Buffet, and two shops down another new Korean place had just opened (K.Soup).
Let me start by saying: this is extremely good bang for your buck. For $25 per person, you get a soup to share, plus unlimited meat to cook yourself on the hot plate, lots of side dishes, and free fizzy drinks. Betraying their newness, the fizzy drinks are arranged on a help-yourself table in the same 2L bottles you can buy from the supermarket.
If you're not familiar with Korean BBQ restaurants, the do-it-yourself grilling can be confusing, but just chuck the meat on the hot plate and turn it around with tongs when need be. Here, they use tinfoil on top of the hotplate (for ease of cleaning) which can get a little messy when the burnt bits stick to the foil, so clever manoeuvring is required, though you can replace the foil whenever you like. Choose from lamb ribs, unmarinated pork belly (my all-time favourite), marinated pork, marinated beef and beef ribs. It's plentiful and of good quality.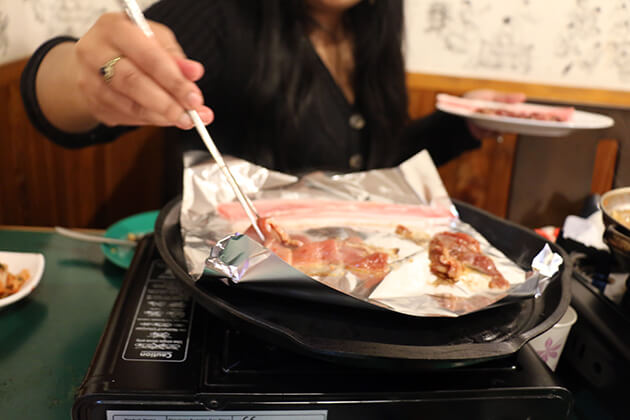 Load up on the usual sides, including kimchi (theirs is crunchy, if you're into that), fried rice, sweet-and-sour chicken wings, tteok-bokki (spicy rice cakes), lettuce (to wrap your meat in).
You can choose from a seafood stew, gamjatang (pork backbone), mandu jeon gol (dumplings) and budae jeon gol (with sausage, ham etc.) I got the seafood stew, which that day had fish, squid and octopus. To be honest, we didn't really need it in the end (there was so much food) but I can imagine during winter it'd be a godsend.
Everything here is humble, run by a small family, who will patiently explain how your two gas cookers work when you come in. The do-it-yourself nature makes for a perfect first date ("or a bad date" my friend chips in) to fill in any silent gaps, and it'd be pretty fun in a big group, huddled around the cookers, interspersing turning meat on the hotplate with en-masse trips to gather some side dishes.
The entire strip was fairly dead on a Tuesday night, but please don't sleep on them. In a city full of hyped-up, trendy openings, it's the small mum-and-pa restaurants that I think of – and eat at – most often. I left Mukbang BBQ + Soup absolutely stuffed.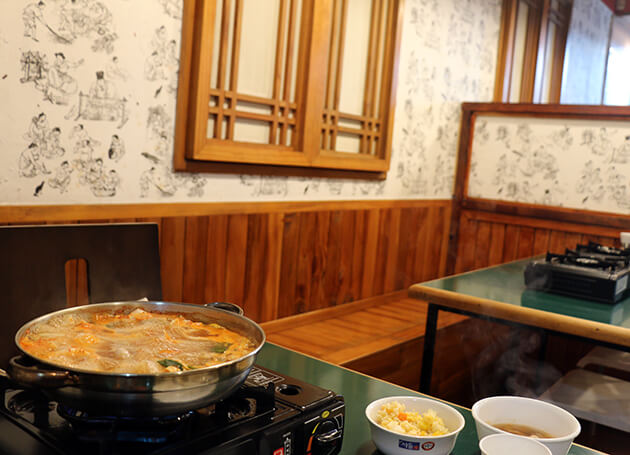 480 Queen St, Auckland CBD