May 24, 2016 Restaurants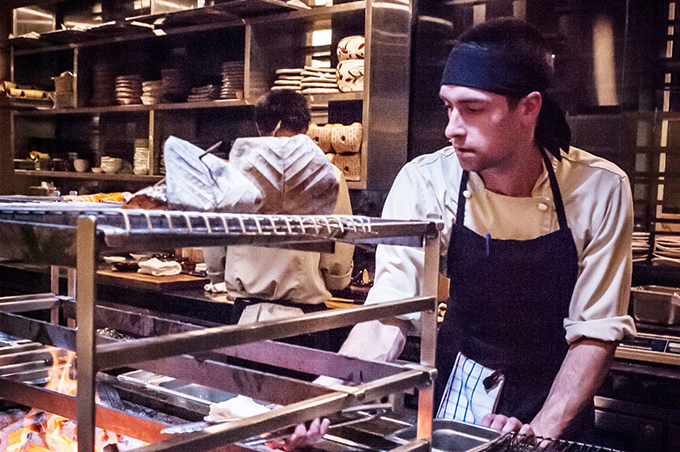 What makes it special?
Cooking as theatre: at Masu, you get to watch the action in the fully open and very busy kitchen. Eating as entertainment: at Masu, it's not just about the food or the drinks; it's also that you get to watch a fascinating parade of local celebs and casino high rollers. And did we say the food is fantastic?
Behind the scenes
If you have the wherewithal, you can have your own jar of sake stored for you at Masu. On the other hand, the Nichiyo buffet on Sunday mornings offers an especially good family fun meal. And if you're looking for sophistication, Masu is your spot. All the still wines on a long, strong list are local, with champagne available by the glass. As for the food, whether it's from the Robata grill, the regular kitchen or the sushi bar, it's exquisitely presented and bursting with flavour.
A favourite dish
Sugi ita yaki: Cedar-roasted Ora King salmon in teriyaki with pickled cucumber and sesame.
What it offers
Shared-plate options / Fixed-price meals / Degustation options / Chef's table for 12 / Eki Ben express lunch / Nichiyo buffet Sunday brunch (specially but not exclusively for families: kids under 5 dine free & there's a kids' activity room / Good for vegetarians / Free-range chicken and/or pork / Semi-private room for 18 / Takes large groups / Bar / Craft beer selection
Smart Dining
Bookings: Yes
Price: $$$
Seats: 120
Hours: Lunch and Dinner 7 days
Chef: Nic Watt
90 Federal St. Ph 363-6278, skycityauckland.co.nz

Finalist, Best Bar; Finalist, Best Wine List