Dec 19, 2019 Restaurants
Little Bird's dinner feels just like a cafe-style lunch, writes Metro food critic Simon Farrell-Green.

It's not that I don't like Little Bird. I do like it. I like its intention. I like the space — bricky and warm, with high ceilings and a stripped-back, slightly Scandinavian experience. And I like how it's evolved. It started as a cafe in Eden Terrace, serving plant-based food where nothing was heated over 46 degrees — their baking is extraordinary, and the juices are good, too.
Then last year, it opened at night, Wednesdays to Saturdays: there's a small menu of craft beer and organic wine and, as the light fades, it's a nice place to be. The service is casual but friendly — though they never offer you the salt, which some of the dishes do need — and I like that there's one chardonnay and one pinot noir, and a couple of types of beer, in the way that a really good bistro in Paris might only have a handful of wines on the list, and you don't really care.
It's not very expensive: the mains are in the low $20s and you could happily get in and out on a Tuesday night with a plate of their excellent "carbonara" and a glass of Loveblock pinot noir each for about $60.
You know there's a 'but' coming, right? I'm really sorry about this. Part of me doesn't want there to be one, because, as I say, the intention of Little Bird is a good one: serve healthy, plant-based food in an elegantly simple environment. We should all be eating like this more — no meat, no dairy, no unhealthy fats, and organic booze. A small carbon footprint that's good for you and the planet. A way of eating that is still a bit on the fringe, but will no doubt come to be entirely normal as we seek to avoid climate apocalypse.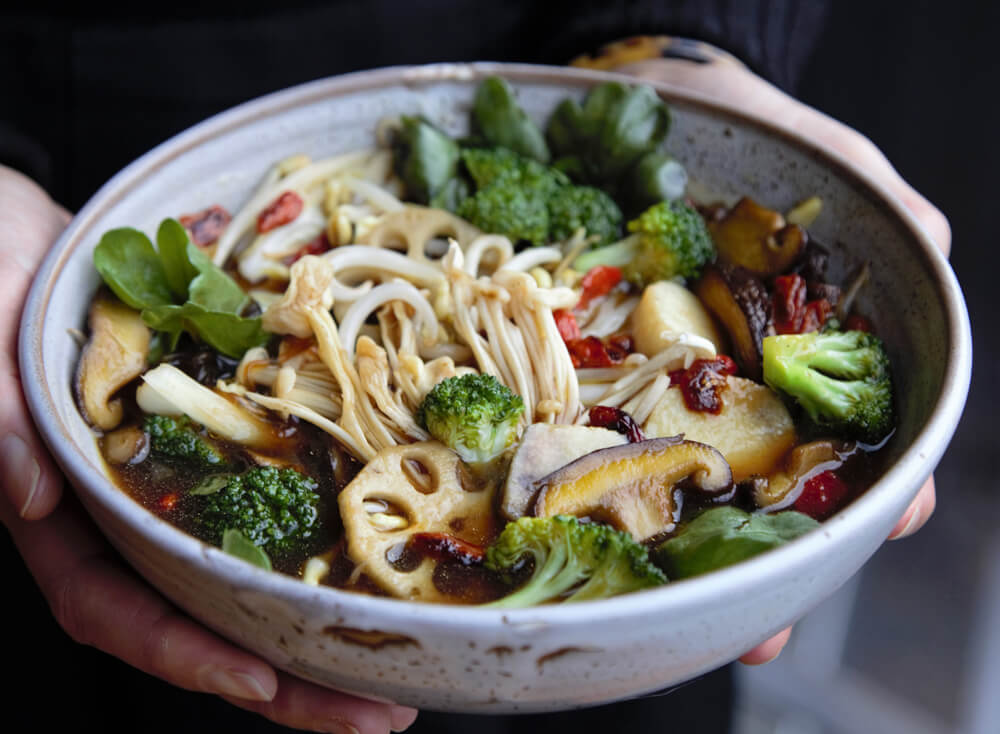 My 'but' is that dinner at Little Bird doesn't really feel like more than an extended cafe-style lunch. There are a lot of microgreens to pad out the meals, and the menu doesn't really hang together properly, because they've taken the things from during the day and just made them at night, with the option of booze. Moreover, there doesn't seem to be any difference in size between appetisers, entrées or mains, so you always end up with too much food.
During the day, you probably won't sit there for multiple courses, so you never see how the empanada fits with the "Vietnamese pancake". I can report it doesn't, not really, though the Vietnamese "pancake" is great, with a crunchy buckwheat skin surrounding microgreens and a salty-sweet sauce that you would swear contained fish sauce but presumably doesn't.
You probably won't try to combine the excellently creamy — I can't believe it's not butter! — "carbonara" (which also comes with unnecessary microgreens) with the mushroom broth, which is a deep, bassy stock and kelp glass noodles. That probably doesn't matter: you should just eat the broth on its own, because it was the single best thing I had at Little Bird across a couple of visits. Possibly, that's because it wasn't trying to be a broth; it was just a fabulous example of a plant-based meal that was complete, perfect and tasty in and of itself.
I feel terrible for saying this, but the dud dishes are pretty bloody awful, regardless of whether you have them for lunch or dinner. You walk in, and it's spring, and the menu has kumara gnocchi on it with a "winter" salad, which just turns out to be more microgreens with some dry little lumps that taste faintly of kumara and blobs of dressing. Or you order the whole roasted head of cauliflower, which is really just a bit steamed and doesn't have enough of the fabulous turmeric sauce surrounding it so that by the time you get half way through, all you can taste is slightly undercooked cauliflower. Or there's the empanada, which is a flat, chewy, not very warm doughy thing — with microgreens.
Thankfully, the desserts are amazing. Back when they started, this is what the place made its name from. They're all cold — a "cheesecake" and a wondrous chocolate ganache, and not so long ago we just had a couple of little chocolate and raspberry tarts that were extraordinary.
There's potential in Little Bird at night, and I hope they get there. Strip back the menu to something that feels deliberate and progressive rather than derivative, delete the cafe classics, think about what we might like to eat for dinner that feels distinct from lunch. Offer four or five dishes a day, say, and four wines and a couple of beers, maybe even offer a prix-fixe menu. Lose some microgreens; drop the gnocchi. And bring me salt.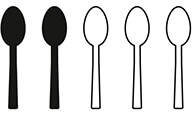 Little Bird Kitchen
Cnr Summer St & Ponsonby Rd
Ph 555 3278
littlebirdorganics.co.nz
Hours: Mon–Fri, 7.30am-4pm; Sat-Sun, 8am-4pm; dinner Wed–Sat, 6pm-9.30pm
Bill: Entrées and mains $15-22; dessert $14

This piece originally appeared in the November-December 2019 issue of Metro magazine, with the headline 'Pass the salt'.