Apr 29, 2019 Restaurants
Tucked away in bustling Ponsonby Central is The Hidden Village, a Southeast Asian-inspired restaurant whose head chef has worked at Metro Top 50 restaurants Blue Breeze Inn, The Engine Room , and Cafe Hanoi .
"We want people to discover this place, to stumble across it and feel like you're somewhere different," Jason, one of the owners of new eatery The Hidden Village, says. "We want them to say, 'We found a hidden village.'"
And hidden it is. Tucked away in the depths of Ponsonby Central's luxe food arena, the space feels quieter and calmer, no doubt aided by the blonde wooden fit-out, white brick walls and bamboo-esque chairs. There's also an open kitchen fringed with seats, a conscious choice for the team. "We have nothing to hide," Kino, their chef and co-owner, tells us. "We want people to see what we're doing."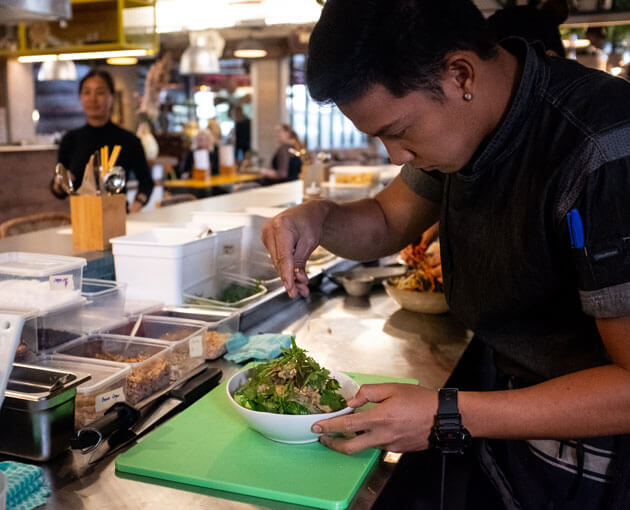 Kino's Southeast Asian-inspired dishes are taken from the flavours of the street, with twists or innovation from their use of fresh New Zealand ingredients and fusion of different nations' flavours. They're a result of getting to know himself after stints at restaurants like The Blue Breeze Inn, The Engine Room and Cafe Hanoi, travelling Asia, and testing the waters with his fellow co-owners/friends – partner Lichelle, Jason, and his partner Melissa – at the Night Noodle markets.
Names on the menu are slightly deceptive and intended that way, for that sought-after element of surprise: satay chicken, for example, is inspired by the Indonesian origins of the dish but comes out smokier, darker, a little less sweet, with the peanut flavour more subtle than what most Kiwis are used to. "We'd like for diners to go, 'I haven't tasted this before, I haven't seen this before.'"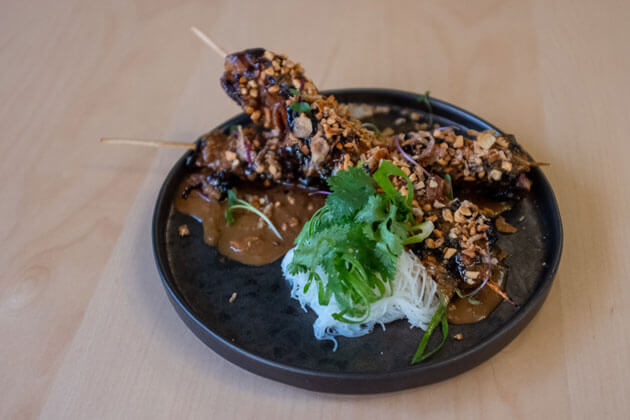 READ MORE: Olas Arepas finds a permanent home in Ponsonby Central.
?
Their most popular dish, the savoury pancake, is wrapped like a burrito around generous chunks of fried tofu, carrots, bean sprouts and peanuts and refreshing hits of coriander, while the drizzled sweet condensed milk fights with the spicy sauce, ultimately melding for the best of both worlds.
Kino's background is Filipino, which is seen peppered through the menu in a non-traditional chicken adobo, tokwa't baboy and his take on snack turon, thin slices of banana and jackfruit rolled in a deep-fried wrapper. Kino pairs his with almond praline and drops of yema, which is similar to dulce de leche but not as sickly sweet, and vanilla ice cream with dark soil.
Passion for the food he devises is made obvious. There's an earnest pursuit to discover which flavours can, as he puts it, "work together as one." And, he adds, "I'm going to Vietnam, Thailand and Singapore soon, so I hope I can bring back some inspiration from those trips, too."
Photography: Alex Blackwood
The Hidden Village is open Monday – Sunday, v in Ponsonby Central
Follow them on Instagram: @hiddenvillagenz