Nov 21, 2019 Restaurants
Everybody Eats has found a permanent space in Onehunga which they share with ONE – Onehunga Neighbourhood Eatery in the daytime.
Thomas Howard and Nick Loosley have known each other for 15 years, and together have opened a new community hub in Onehunga: day-time cafe ONE – Onehunga Neighbourhood Eatery and, by night, pay-as-you-feel restaurant Everybody Eats.
Walking up from the street, you'll spot their two signs side-by-side and back-to-back, black against an eye-catching white exterior. The inside floods with light, tall and airy with a modern fit-out washed in neutral tones. It's also huge, blocked off into several spaces: one which will soon become a co-sharing workspace and is used for the restaurant at night.
The Everybody Eats restaurant carries out the same service Loosley and his team have been providing at St Kevin's Arcade's Gemmayze St and Woodworks (later Te Whau Eatery) in Avondale, but moved into a permanent space. It's been the plan since the very beginning to have their own eatery, but finding the right location has proved difficult. Both Loosley and Howard agree the Onehunga neighbourhood is special and are happy they've moved into the area. Amidst wider claims of gentrification in the suburb, Howard, who heads ONE, says inclusivity is key. "It's about creating an amazing space for everybody to enjoy."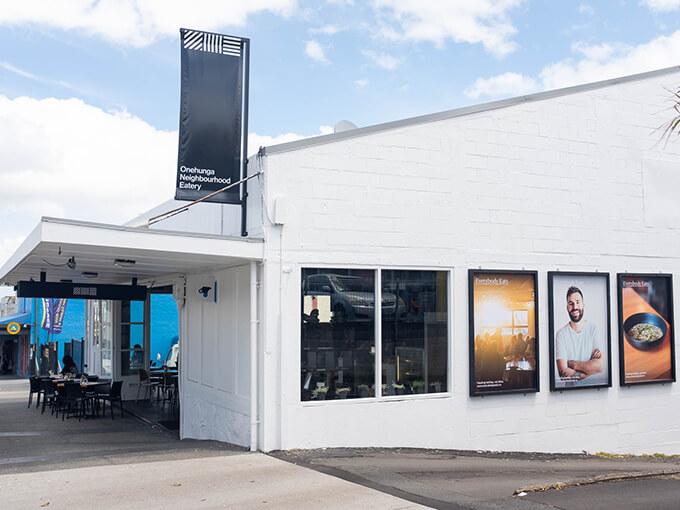 Although the two eateries are technically separate, bisected by name, it's obvious that Howard considers ONE part of the Everybody Eats family. He's been washing dishes for Everybody Eats over the last couple years, and folds the same community-minded philosophy into the cafe. He wants to ensure it's as welcoming as possible: a reasonably affordable, classic menu with injections of modernity that will serve the older Onehunga community as well as the recent influx of younger first-home buyers moving into the area. That means there are the usual plates of eggs benedict and Caesar salads, plus pulled jackfruit sandwiches and green bowls filled with green tea soba noodles tangled up with asparagus and broccolini.

Their new space invites all diners; quite literally everybody eats. In fact, the model relies on it: those who can afford to pay do, and those that can't, don't. The balance ensures their survival and speaks to their underlying ethos of inclusivity and building stronger social connections between different communities.
The space is open in Onehunga from Sunday-Thursday nights, sprawled over their large dining area, including the upstairs space, and serves three-course meals using food which has been rescued ("exactly like what you'd find in a supermarket," Loosley says), plus a small amount of ingredients which are purchased.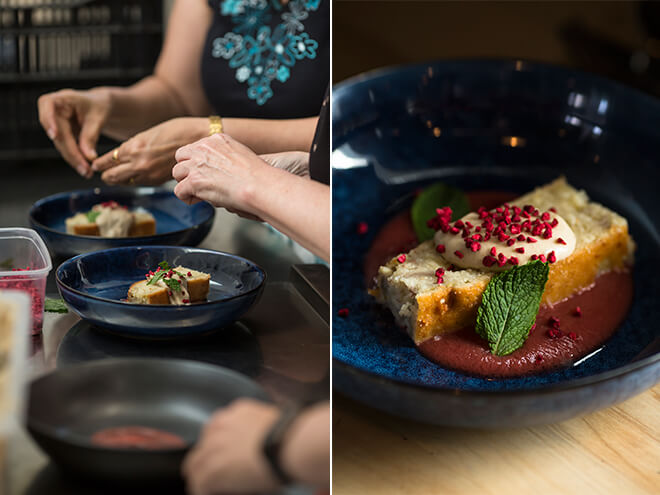 Loosley's hired head chef, Jamie Johnston (formerly of Judge Bao) and experienced restaurant manager Amanda Butland, but Everybody Eats still largely relies on volunteers. The menu understandably revolves according to availability, but you're able to view the daily menu on their Instagram story (@everybodyeatsnz) and their website, everybodyeats.nz. There's always a vegetarian option. Tonight they've got on a courgette and cheddar soup to start, a Moroccan lamb tagine (or carrot and courgette tagine) with grilled eggplant on the side, and a spiced orange polenta cake to finish. Apart from the pay-as-you-feel concept, the food is serious. It's just as they say: turning rescued food into restaurant meals.
With this new, relatively flash space, there are questions of accessibility. People can initially be intimidated, Loosley says, and that's always been the case since they started in 2017. They're always waiting for the catch, with the initial barrier being that it sounds too good to be true. "You mean, I can sit down, be served a three-course meal, and not pay for it?" But once they come in and understand the kaupapa, those doubts fall away.
Everybody Eats still operates in Gemmayze St on Monday nights as usual. "We just can't close it," Loosley says, referring to the fact that vulnerable communities in the central city rely on their service. It's been a touchstone on Karangahape Road for the last two years, and a pioneering endeavour which stirred up welcomed conversations about food sustainability and food poverty in Auckland, so here at Metro we're happy it will continue. Plus, Loosley reminds me, it's also a nice way to collaborate with volunteer chefs wanting to give back to the community.
They've had a great response to calls for volunteers in Onehunga, but are looking for more, particularly those who can commit for a weekly or biweekly shift. If you aren't able to commit, you can also make a donation through the website.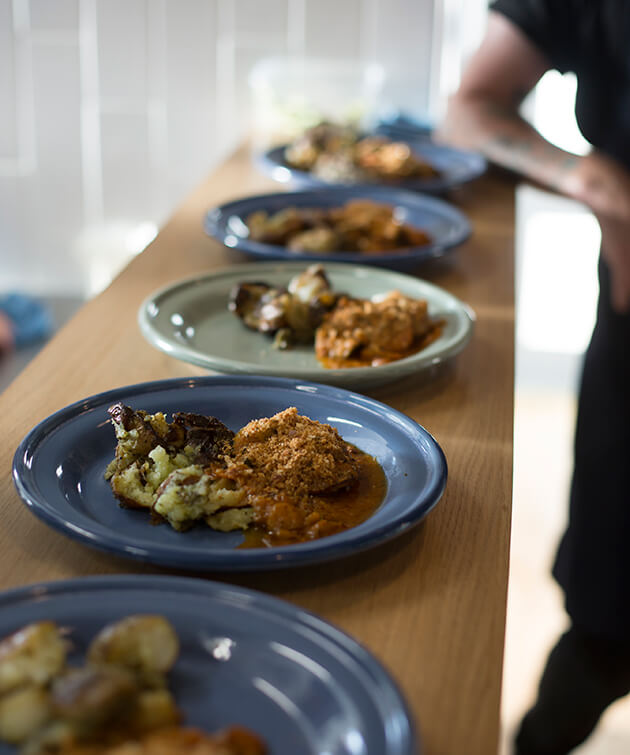 306 Onehunga Mall
Opening hours:
ONE – Onehunga Neighbourhood Eatery: Seven days a week, 6am-3pm
Everybody Eats: Sunday-Thursday, 6pm-8pm