Jun 21, 2018 Restaurants
Cazador restaurant review
Metro Top 50 2018 restaurant Cazador on Dominion Road excels at contemporary wild food.
There's a story behind every dish on the menu at Cazador, where game animals meet the flavours of Persia and the southern Mediterranean. Chef and co-owner Dariush Lolaiy draws inspiration from his travels as well as his hunting background; right now, a slow-cooked octopus is Lolaiy's homage to the pulpo a la gallega he enjoyed recently in Mexico. But you'll most likely hear things like this from Lolaiy himself as he delivers a dish here and there and stops for a chat with guests, many of whom have been coming since the late 80s, when his folks opened the restaurant. Lolaiy's wife, co-owner Rebecca Smidt, runs the floor and bar with laid-back charm and she and her well-trained team are masters at convincing diners to try new dishes featuring unusual cuts of meat, all of which is hunted, or sourced, and then butchered by Lolaiy himself.
For more great videos, check out our Youtube Channel.
What it offers Shared-plate options / Set menus / Free-range chicken and/or pork (wild) / Good seating outside / Takes large groups / Bar / Craft beer selection
A favourite dish Rare-roasted saddle of hare with ajo blanco.
Awards Winner, Best Neighbourhood Bistro; Finalist, Supreme Award; Finalist, Best Chef: Dariush Lolaiy; Finalist, Food for Good
Hours Dinner Tue-Sat
Price $$
Seats 45
Chef Dariush Lolaiy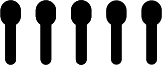 cazador.co.nz
854 Dominion Rd, Balmoral
Ph 620-8730
See here for all of Metro's Top 50 Auckland restaurants for 2018