May 25, 2016 Restaurants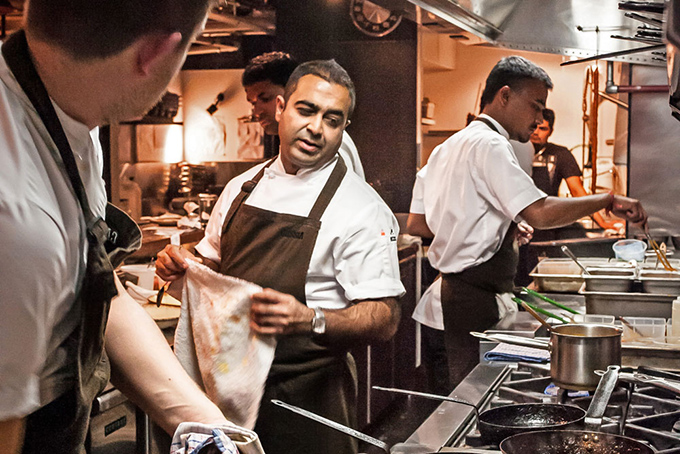 What makes it special? Impeccably cooked Indian food served with panache in a warmly inviting bunker-like restaurant.
Behind the scenes: Is gin and tonic Indian? At Cassia, they're in on the joke, with a long list of g&ts, each made with different gin, tonic and botanicals. In a restaurant where the pani puri, a mouthful at a time, are bombalicious. Where the lamb chops are almost unbearably succulent, and the pork vindaloo, made with apple and ginger, is utterly unlike what you might expect. Cassia is a concrete bunker with a low ceiling, made luxurious with glimmering lights, very comfortable seating and secluded nooks. It's the labour of owner/chef Sid Sahrawat's heart, and when you walk in it's like discovering something no one else knew about. A very special place.
A favourite dish: Tandoori fish with dry korma, smoked yoghurt and pickled cucumber.
What it offers: Shared-plate options / Fixed-price meals including business lunch / Degustation option / Good for vegetarians / Free-range chicken and/or pork / Private room seats 16 / Semi-private areas / Takes large groups / Bar / Good cocktails / Craft beer selection
 
Smart Dining
Bookings: Yes
Price: $$
Seats: 75
Chef: Sid Sahrawat, executive chef; Lesley Chandra, head chef
Hours: Lunch Wed-Fri; Dinner Tue-Sat.

Supreme Winner; Winner, Best Smart-Dining Restaurant; Finalists, Restaurateurs of the Year: Sid Sahrawat and Chand Sahrawat; Finalist, Best Chef: Sid Sahrawat; Finalist, Best Service; Finalist, Best Bar; Finalist, Best Wine List
5 Fort Lane. Ph 379-9702, cassiarestaurant.co.nz