Aug 21, 2019 Restaurants
Last week, chef Giulio Sturla cooked a best of menu of his recently closed Lyttelton fine dining restaurant Roots as past of Auckland Restaurant Month. Henry Oliver was there.
There are an infinite number of reasons why restaurants close, but it usually happens in one of two ways: so slow that passersby start to ask "how is that place still open?" or so fast that those same people say "What happened? I thought that place was killing it."
Lyttelton restaurant Roots – at least to those like me, who only appreciated it from afar – was like a definitive example of the latter when it closed in late May. Opened in 2012 by Chilean chef Giulio Sturla and his partner in life and business, American Christy Sturla, Roots was part of a new generation of restaurants to offer a contemporary New Zealand take on a global movement towards foraging, fermentation, sustainability and hyper-localism. I don't know whether it was ever a super profitable business (few restaurants are), but it definitely was a critical hit, winning Cuisine's Good Food Awards Best Restaurant in 2015 and Sturla winning Best Chef in 2018.
Roots' sudden closing was a reminder that restaurants – no matter how awarded – don't last forever. You've got to go to them while you can. I never went to Roots and when the news hit, I deeply regretted the oversight. So what an amazing turn of events then that on Wednesday night, less than three months after closing the restaurant, chef Sturla came to Auckland Restaurant Month to cook a menu of Roots' greatest hits at The Grove with the help of its chef Kira Ghidoni.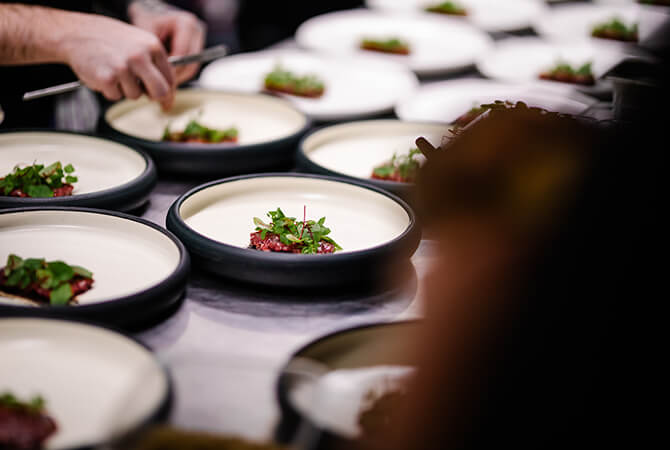 The seven courses opened with "Snacks": a hot (but not melted) cheesy ball of fermented cheddar and a small pork taco – purple tortillas topped with meat, pickles wild herbs and flowers which tasted like Anastasia. Both were enjoyable (and devoured), but underwhelming. The little bits and pieces are often what I like the most about fine dining, small imaginative bites that drill own on a single technique or flavour. I immediately feared that my expectations had grown too high and that the night was going to be a crushing disappointment. I needn't have worried. The snacks were quickly followed by a wagyu tartare: tiny cubes of bright red beef sitting atop a smear of black garlic (the last of Sturla's crop from Lyttelton). It was subtle and smokey, with a hint of balsamic-like sweetness. That too was topped with foraged herbs.
The third dish, simply entitled "Mushroom", a medley of mushrooms too numerous to identify, and topped with at-the-table shavings of black truffle (pity the waiter who gets told to "not be shy" twelve times as they make their way around the dining room). Next came paua – deeply rich and leathery – then a lightly cooked piece of hapuka and a charred semi-circle of celeriac with a sweetly oniony, slightly gingery and heavily buttery sauce. Meat returned with "Venison" – "the best venison I've ever had in my life" someone at the other end of my table said loudly – immaculately tender, small round fillets. I wondered if there was any better use for a deer that met its end sooner than it might have otherwise.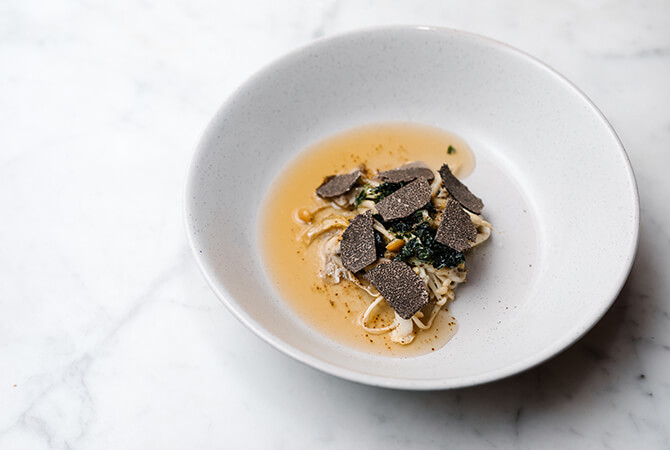 Desert was a Caramel Cremaux, an ooze of soft caramel, light ice cream and chocolate cake that, as you ate it, swirled into one. It was delicious if not the kind of inventiveness you'd expect from a chef with such a reputation. Still, I lapped it up. A tablemate stopped after two spoonfuls out of distaste – "I don't like it!" she said. "You must not like pleasure," I snapped back before apologising for mistaking two hours of wine and conversation for an invitation to make any joke that sprung into my mind. What can I say? I felt high on sugar. I knew how my kids felt when they went to the movies with their grandparents. While some diners ate their desserts, and some started to shuffle out, Sturla reappeared, going around the tables, spooning off the last of the Roots honey to each remaining guest. It was incredible. Better than the caramel. I wish he did that thing fine dining restaurants are starting to do where they give you something to take home and make for breakfast.
When we arrived, Sturla had, under each menu, left a blank piece of paper and a Roots-branded pencil for guests to write down whatever they felt. He said he was unsure what he should do next – write a book, do some events, do something new. I wrote: "Move to Auckland."
Follow Metro on Twitter, Facebook, Instagram and sign up to our weekly email